Image by Alexis Chloe/Unsplash
Stumbling upon a $500 hair dryer or $75 deep treatment mask may make you turn your nose up, but trust us, there are some that have been raved about amongst the natural hair community.
Curly hair products and tools range in price from single to triple digits, but are the more expensive products good enough to convince you to pay up? Of course, and you should treat yourself every now and then.
Here are 10 curly hair tools and products that are completely worth the splurge:
2 / 6
This new state-of-the-art hair dryer is nothing like you've seen before. Though the Dyson Supersonic hair dryer comes with a hefty price tag of nearly $500, it's technology engineered to protect hair from extreme heat damage, with fast drying and controlled styling.
Why it's worth the splurge: Let's break this Dyson dryer down, shall we? Not only is it made with 23.75-karat gold, but it also comes with its own carrying case. Wait, there is more. It comes with three magnetic attachments, three-speed settings, four heat settings, a cold shot button and one of the fastest digital motors a hair dryer has ever seen. Still not convinced? All of the features are packed into this device that weighs less than two pounds.
If your curls need are in need of a quick refresh, look no further than the Q-Redew. This handheld hair steamer turns water into steam within seconds! Sure, it comes with a $78 price tag, but it has many uses.
Why it's worth the splurge: This hair tool is easy to pack into a suitcase for overnight traveling. There are also endless ways to use this tool as well. You can restyle your hair without washing, boost your deep conditioning regimen, detangle and more.
Aimed to hydrate dry curls, this moisturizing styler from Miss Jessie's has received high praise despite its $33 price tag. It can be used to instantly soften children's curls and adult's hair, as well.
Why it's worth the splurge: It is ultra moisturizing while adding a plump sheen to lifeless curls. In addition, a little of this product goes a long way so you'll be sure to get your money's worth.
3 / 6
Paying $44 for a hair mask is unheard of in some households, but this deep treatment from Ouidad just might change your mind. If you've ever been desperate to fix a situation — like maybe ditching your crunchy, lifeless, curls for good — you'll do anything, right? This $44 hair mask is worth every penny.
Why it's worth the splurge: Dry and damaged curls are restored by a protective moisture barrier created by the use of mafura butter and kalahari melon seed oil. The best part? Its creamy texture makes it extremely moisturizing for all curl types.
You may feel a little hesitant to dish out $75 for a deep treatment mask, but once you do, your curls will sing praises! OK, yes, it's $75 for a 16-ounce jar, but it completely transforms hair within 5-7 minutes. It's that simple.
Why it's worth the splurge: The ingredients are fantastic and truly make the magic happen. This product is rich in argan oil, shea butter, and reparative proteins that will help improve your hair's elasticity.
4 / 6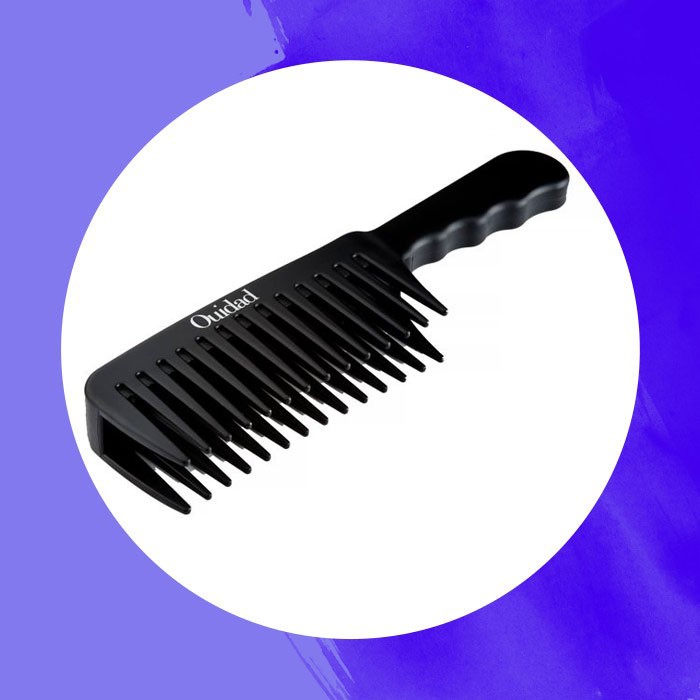 Typically you'd spend nearly $30 on a good meal at a restaurant or maybe a manicure, but believe it or not, there is a detangling comb that could get just as much of your money.
Why it's worth the splurge: Ouidad's Double Detangling comb, priced at $26, does twice the work as it's equipped with two rows of wide teeth to glide through curls. You'll find that you are able to manage your curls with shorter detangling sessions.
When you spend $25 on a hair product, you expect to receive at least enough product to last for months at a time. Lush's Superbalm Scalp Treatment 1.5 oz container focuses not on how much you're getting, but instead on the value in the product that can help soothe an inflamed scalp.
Why it's worth the splurge: Though small in size, this Lush scalp treatment is mighty and made with ingredients needed to relieve scalp irritation. You'll find ingredients like coconut oil, candelilla wax, and lavender oil.
5 / 6
No matter if you have a special occasion or simply want to change up your look, Curlformers are the way to go. Unlike other hair rollers, you'll achieve perfect spiral and corkscrew curls without worrying about if you followed the instructions correctly. Curlformers use a simple installation process that leaves you with curls that form perfectly within hours.
Why it's worth the splurge: These hair rollers work on all hair types from wavy to kinky curls, and the best part is, the company guarantees they won't cause heat damage. That's surely some confidence you can get behind, right?
6 / 6
Sure, it comes with a $50 price tag, but wash and go lovers will want to get their hands on this DevaFuser as soon as possible. Equipped with 360-degree airflow, this diffuser that attaches to the DevaCurl DevaDryer that helps curls dry faster than when using traditional tools.
Why it's worth the splurge: Who doesn't want to save time when it comes to caring for their curls? Your time is precious, and DevaCurl understands that, which is why this diffuser will help you preserve moisture while drying all parts of your hair.
What can a $42 shampoo get you? A reduction in itchiness, irritation, and flakiness. The use of charcoal helps detoxify the hair and scalp by absorbing impurities.
Why it's worth the splurge: It truly steps up your shampoo game! You'll experience cleaner hair with an added bonus of an exfoliator, which can gently massage the scalp to lift dirt. We don't know about you, but scalp massages each time we shampoo sounds incredible!
What curl products and tools have you splurged on? Share them with us in the comments below.