If you're visiting NaturallyCurly.com you have probably heard of the Grace Eleyae Slap. This e-commerce brand's viral marketing via Facebook and Instagram has spread the good news: curly hair textures no longer have to suffer having their tresses roughed up by hats. Grace Eleyae markets a series of headwear that is all discreetly satin-lined. Their products, for both adults and children, range from beanies to fashionable turbans, to winter-weather headbands and hats to satin pillowcases.
I took advantage of a two-for-one sale to grab their satin lined slaps in gray and olive green. Here are my thoughts!
Price and Shipping
Maybe it's because I pounced on an amazing sale, or maybe it's because Grace Eleyae is family owned, but I was disappointed with the slow shipping time for my Slaps. An order placed at the beginning of October didn't ship until the end of October, and I received no warning to expect slow shipping times. To be honest, this will affect how I make future purchases at Grace Eleyae. If you're looking to grab one of their warm Slaps in time for your holiday vacation, maybe think twice unless customer service can guarantee a quick time to shipment!
The quality of the Slaps I purchased is really stellar, and I think they completely justify the price. But you need to buy more than one product to qualify for free shipping on the website. With Slaps priced at around $24-$40 apiece but with free shipping kicking in at $50, pricing out an order can feel a bit frustrating.
2 / 3
The Standard Slap
The standard Grace Eleyae Slap — their signature product— is a rayon beanie that can easily fit all of my thick, type 3, chin length hair. And they have options for you if your hair is longer and thicker! It is discreetly lined with charmeuse satin such that the satin will never poke out from under your cap. The brim of the cap has a half-inch elastic band woven into it that keeps the Slap securely attached to your head, whether you wear it at your hairline or halfway down your head.
What I've Used the Slap For
The Slap is really versatile! I've swapped out my satin night cap for the Slap and slept in it overnight, and found that it stays securely on my head much more easily than my night cap! I don't even need to pineapple my hair since the shape of the Slap does that for me!
I've tucked all of my hair into it and worn it to the gym to keep my hair off of my face and neck and to keep my curls from becomes sweat-soaked from a workout. Although I suspected I would overheat with a hat on, I actually found it much cooler to have my bangs off my forehead and my hair off the nape of my neck! And I've worn my Slaps with my bangs poking out on a lazy day running errands.
3 / 3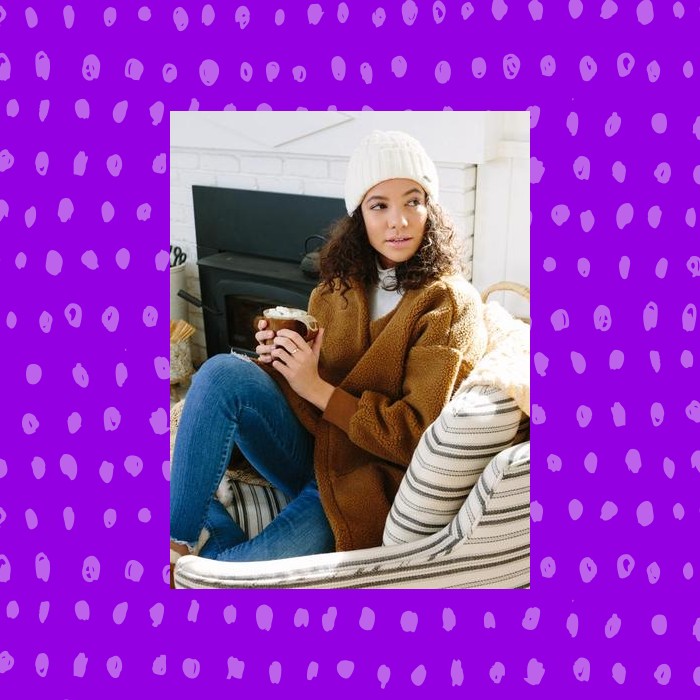 I've struggled to find a way to wear the Slap that fits well with my personal style. So far, I prefer to wear my Slap as a lazy, comfy garment in my lazy, comfy places — in bed, runnings errands, and at the gym. But I'm interested in trying out the foldover warm Slap in royal blue to see if I'm not compelled to wear it with an outfit!
Final Verdict
I think the Grace Eleyae Slaps are an amazing product — one of those kinds of products that you're surprised didn't catch on way earlier. The curly, coily, and wavy hair care community has always had to think about whether or not our hats, our pillows, etc., will contribute to breakage and frizz. It's such a relief to have products out there like the Slaps that acknowledge our needs!
Have you tried the Grace Eleyae Slap or other products from their website? How do you use your Slap and what do you think of it? Let us know in the comments!