Dianne Nola is a master at bringing out the full potential of waves, curls and coils. Inside her sun-filled San Francisco salon – she was named Best Curly Hair Stylist by San Francisco Magazine's - Nola's clients can relax knowing they are in expert hands.
NaturallyCurly: What made you decide to become a stylist?
Dianne: I graduated from U.C. Santa Cruz with degrees in the performing arts and became a stylist to provide a stable income for her creative pursuits, providing me with the flexibility I needed as a performing musician. Plus, I had no desire to be in an office!
NaturallyCurly: How did you gravitate toward curly hair?
Dianne: Focusing on texture meant focusing on who you were naturally and that was always my intent. I had taken many classes and had my own method of cutting curly cuts dry. But after training at DevaCurl in New York, I felt like I was home.
NaturallyCurly: You were once quoted that an experienced curl stylist is like a psychic and hair doctor in one. What did you mean by that?
Dianne: When you go to someone very experienced, they already know a lot about your hair. The missing piece is your lifestyle and expectations.
2 / 5
NaturallyCurly: You've continued to hone your craft, with certifications from DevaCurl, RËZOcuts and RËZOlites and Curly Hair Artistry, to name a few. How would you describe your technique?
Dianne: I utilize a very wide and deep toolbox. I am extremely meticulous, yet intuitive. I also have pictures and hair maps of all my clients. I cut dry with a rotating gravitational and sculptural approach, considering the bone structure and body frame. I teach using cooking analogies.
NaturallyCurly: In addition to taking classes, what are some of the other secrets to honing your skill.
Dianne:  Constant study! Focused practice! I am only curly so that practice enables me to be at the top of my game. Workshops, classes, certifications, YouTube, closed online pro groups, reading threads, friends, stylists, and most importantly clients.
3 / 5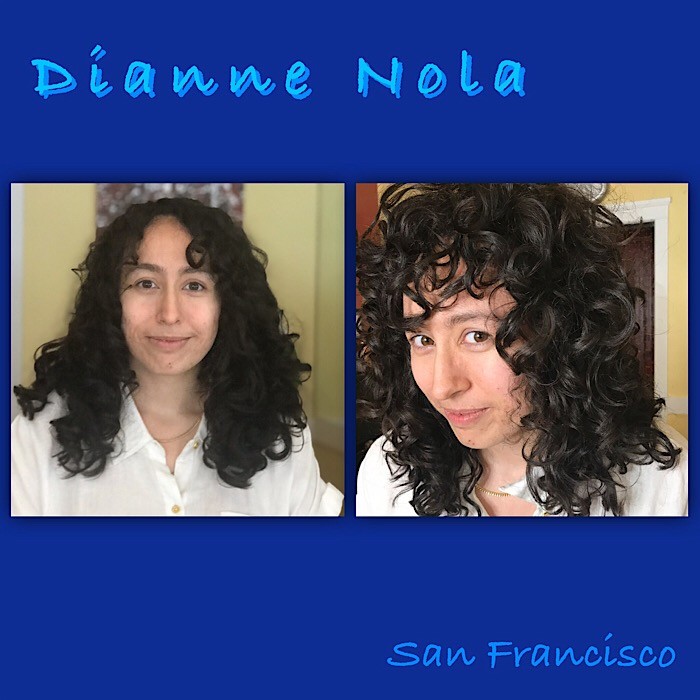 NaturallyCurly: You work with such a wide variety of textures. What are some of the different considerations when working with waves, curls and coils?
Dianne: When cutting, I use more tension on wavy hair but no tension on coils. When working on the set, I work with water differently depending upon the texture. For waves, I use Light and voluminous products stacked without much water verses extremely hydrating products with all the water left in on coils.
NaturallyCurly: Who are the stylists that inspire you?
Dianne: I love Atoya Bass' work and personality; she cracks me up! Mona Baltazar is extremely gifted.
NaturallyCurly: What are some of the hottest curl trends?
Dianne: The Shag! The shag with bangs, without bangs, short and long!
4 / 5
NaturallyCurly: What are the biggest mistakes that curly girls make when working with their hair?
Dianne:
Using product incorrectly and blaming the product.
Thinking your hair is like the vlogger or pictures, when in reality it cannot be so easily defined.
Thinking your whole head is just one texture or one porosity. It is much more complex than that. In the same way that you might have many tones of hair color all over the head—your hair is extremely unique.
NaturallyCurly: Can you share a few of your favorite curl tips - things curly girls can do at home to make their hair look its best?
Dianne:
Clients often tell me, "you're so gentle!" My technique for scrunching is to gently "hug the curls" with your hands and scrunch out the crunch.
Most curly girls ask me how they can get rid of their cowlick in back. Two tricks: 1. At the end of your shower, arch your head back and gently rake your cowlick but just the first few inches in an arc up and back and/or 2. Marry the two sides of the cowlick together with a clip so they dry that way.
5 / 5
NaturallyCurly: Who is your curl crush?
Dianne: That's a tough one! I'm in love with most of my clients' hair. Alex Kingston's curls are always beautiful to me.