Lauren Murray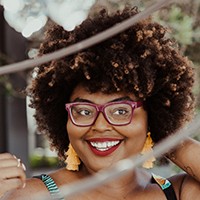 Lauren is a content editor for Naturally Curly and freelance digital marketing creative, focusing on holistic self-love, body positivity, culture, and 3c hair. When she isn't obsessing over the latest tech trends, she can be found curating playlists on Spotify, meditating over a cup of coffee, or owning the social media profiles for Open Architecture Houston.
BTS: Grace's Wavy Hair Journey
"There might be bad hair weeks where your hair looks like string cheese because you tried castor oil infused hair butter. It'll get better."
Sign up for our newsletter to get more tips and tricks