Lauren Murray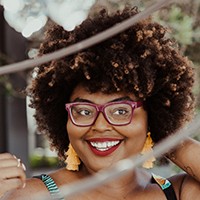 Lauren is a content editor for Naturally Curly and freelance digital marketing creative, focusing on holistic self-love, body positivity, culture, and 3c hair. When she isn't obsessing over the latest tech trends, she can be found curating playlists on Spotify, meditating over a cup of coffee, or owning the social media profiles for Open Architecture Houston.
How I Rock Prints In the Office #OOTD
Traveling to Austin from Houston has allowed me to create a style experiment for myself allowing me to showcase the different facets of what I like to wear, based on how I want my travel experience to be!
Sign up for our newsletter to get more tips and tricks