Michelle Breyer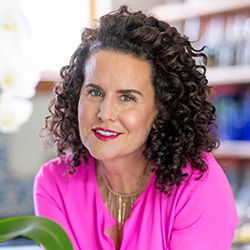 As co-founder of NaturallyCurly.com, a website for curly hair she began with her business partner and friend, Gretchen Heber, Michelle Breyer helped create the leading community and resource for people with curly hair. Frustrated by the lack of information on curly hair and the limited products available in the marketplace, the duo launched the site in 1998 with the help of a 14-year-old web designer. When Procter & Gamble called three years later to advertise to the NaturallyCurly.com® audience, Breyer knew they had indeed created a force in the industry, providing helpful information and unparalleled expertise for what was then considered a niche market.
Curly Hair Product Spotlight: Blended Beauty
It's been a busy two and a half years for Blended Beauty. During that time, the Canadian curly-hair product company has grown from five to 23 products -- a vast array of cleansers conditioners, spritzes, lotions, butters masks and puddings. The company has had three web sites, and the products have had three different labels.
Curly Hair Q&A: Tom Brophy
Tom Brophy, inspirational educator and former creative director for Vidal Sassoon, has developed a reputation for his ability to interpret trends for individual clients. London-trained Brophy, who now owns a salon in Beverly Hills, is also a big fan of curly hair. He encourages his clients to work with, rather than against, their natural texture. NaturallyCurly talked to him recently about his philosophy on curls.
Sign up for our newsletter to get more tips and tricks