Michelle Breyer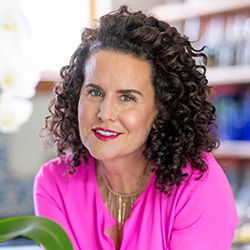 As co-founder of NaturallyCurly.com, a website for curly hair she began with her business partner and friend, Gretchen Heber, Michelle Breyer helped create the leading community and resource for people with curly hair. Frustrated by the lack of information on curly hair and the limited products available in the marketplace, the duo launched the site in 1998 with the help of a 14-year-old web designer. When Procter & Gamble called three years later to advertise to the NaturallyCurly.com® audience, Breyer knew they had indeed created a force in the industry, providing helpful information and unparalleled expertise for what was then considered a niche market.
Curly Hair Product Spotlight: Vanitees
Like many people with curly hair, Sharon Levy was sick of the question. She was so tired of it, in fact, that she decided to make herself a t-shirt that said "No, it's not a perm." The back says "Natural curls rule!"
Brazilian Keratin Treatment
Known as Brazilian Keratin Treatment, Brazilian Hair Straightening, Brazilian Blowout or just BKT, the treatment is very popular
Curly Hair Product Spotlight: Hairplay
With the wide variety of mousses, creams, gels, waxes and pomades now on the market, setting lotion has gotten lost in the shuffle. That's why Fritz Clay created his Hairplay Set, a line of setting lotions. These weightless foaming products provide flexible hold for all hair textures.
Sign up for our newsletter to get more tips and tricks