Michelle Breyer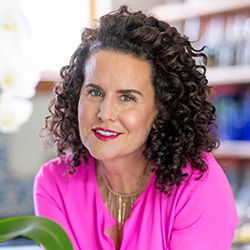 As co-founder of NaturallyCurly.com, a website for curly hair she began with her business partner and friend, Gretchen Heber, Michelle Breyer helped create the leading community and resource for people with curly hair. Frustrated by the lack of information on curly hair and the limited products available in the marketplace, the duo launched the site in 1998 with the help of a 14-year-old web designer. When Procter & Gamble called three years later to advertise to the NaturallyCurly.com® audience, Breyer knew they had indeed created a force in the industry, providing helpful information and unparalleled expertise for what was then considered a niche market.
Curly Hair Product Spotlight: Sabino
Sabino believes silicones actually can help the hair by serving as a barrier against damage from appliances and the elements while keeping out frizz-causing moisture in the air. His line of products is designed to protect the hair from all forms of external moisture and humidity while maintaining the right internal moisture content.
Nick Arrojo and Curls
Stylist Nick Arrojo doesn't believe in "curl-only" specialists. "Good hairdressers can do everything," says Arrojo, who has curly hair himself. "I believe I should be able to make anybody look good."
Protecting Your Hair from UV
UV exposure can sap the hair of strength and elasticity and cause photo-oxidation, which triggers discoloration.
New Dryer Gently Diffuses Curls
Curls and waves need special attention. Too much air power can make them dull and frizzy. That's why Conair developed the new Curl Fusion Ionic Styler. This special dryer is designed to gently diffuse each curl with 1800 watts of power, using the latest ceramic ionic technology.
Sign up for our newsletter to get more tips and tricks