Michelle Breyer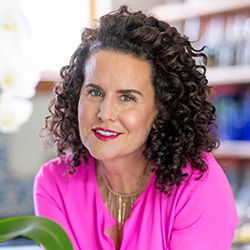 As co-founder of NaturallyCurly.com, a website for curly hair she began with her business partner and friend, Gretchen Heber, Michelle Breyer helped create the leading community and resource for people with curly hair. Frustrated by the lack of information on curly hair and the limited products available in the marketplace, the duo launched the site in 1998 with the help of a 14-year-old web designer. When Procter & Gamble called three years later to advertise to the NaturallyCurly.com® audience, Breyer knew they had indeed created a force in the industry, providing helpful information and unparalleled expertise for what was then considered a niche market.
Summerizing Your Curls
If you swim a lot, make sure to rinse your hair with water before taking a dip, and put a little leave-in conditioner on it. This helps prevent the hair from absorbing the damaging chlorine. If you can bear it, wear a bathing cap. Periodically, use a shampoo designed to remove chlorine and mineral buildup.
Curly Kids in the Media
Curls, kinks and coils, once all but ignored by the media, now are celebrated by such companies as GapKids, Nordstrom and Children's Place.
Zen and the Art of Curly Hair
He may ring a Tibetan "mindfulness bell" several times during a haircut to remind the himself, and the client, to breathe and to stay present. Clients also are instructed to look at their former selves in the pile of hair on the floor.
Sign up for our newsletter to get more tips and tricks