Michelle Breyer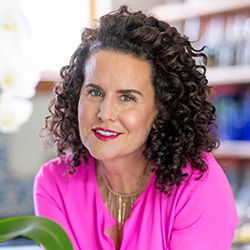 As co-founder of NaturallyCurly.com, a website for curly hair she began with her business partner and friend, Gretchen Heber, Michelle Breyer helped create the leading community and resource for people with curly hair. Frustrated by the lack of information on curly hair and the limited products available in the marketplace, the duo launched the site in 1998 with the help of a 14-year-old web designer. When Procter & Gamble called three years later to advertise to the NaturallyCurly.com® audience, Breyer knew they had indeed created a force in the industry, providing helpful information and unparalleled expertise for what was then considered a niche market.
Curly Hair Product Spotlight: Long Lovely Locks
When Kechi launched Long Lovely Locks two years ago, she thought she could do it as a part-time endeavor. But demand far exceeded her expectations, and she quickly found herself overwhelmed trying to juggle a full-time day job and her growing hair-care company.
Curly Hair Product Spotlight: Innersense
When Gregory Starkman and Judie Maginn decided to create an organic beauty company, they drew on more than 40 years of combined experience in the hair-care industry.
Alison Stewart: Remaining True to Her Locks
In an industry where conformity is the rule, Alison Stewart's willingness to stray from the norm has made her a positive role model for curly women everywhere. The e-mails she receives most often are from fellow curlies looking for advice, and she always writes back.
Get a Boost — Curl Rejuvenators
Many curlies aspire to achieve second-day hair, while some of us would just be happy to make it through the day with our waves and ringlets looking shiny and defined. That's where curl rejuvenators come into play.
Frizz Free, One Quarter at a Time
The Straight Up "hair straightener" vending machines have popped up in more than 700 clubs, bars, gyms and shopping centers around the UK
Sign up for our newsletter to get more tips and tricks