Michelle Breyer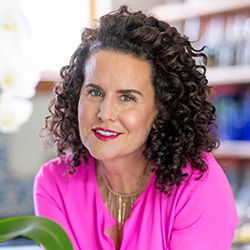 As co-founder of NaturallyCurly.com, a website for curly hair she began with her business partner and friend, Gretchen Heber, Michelle Breyer helped create the leading community and resource for people with curly hair. Frustrated by the lack of information on curly hair and the limited products available in the marketplace, the duo launched the site in 1998 with the help of a 14-year-old web designer. When Procter & Gamble called three years later to advertise to the NaturallyCurly.com® audience, Breyer knew they had indeed created a force in the industry, providing helpful information and unparalleled expertise for what was then considered a niche market.
Caring for Active Curly Kids' Hair
The right haircut, styling techniques and products can keep your curly kid on the go looking good as they run, jump and cartwheel their way through their many activities.
Longer Curls Are Hot for Men
The current trend is for men to flaunt their curls, thanks to advances in products and cutting techniques. The look is stylized, with natural movement.
Patience is Key to Hair Growth
The reality is that genetics determine how tall you are, your eye color, your hair texture and the "predetermined maximum growth rate" of your hair.
Patience is key to Hair Growth
Although there's no magic potion for hair growth, there are things you can do to make sure your hair is growing at it's optimum rate.
Snapshot of Yanai
anai Van has spent the past two decades styling the hair of clients around the globe, working with a diversity of hair textures in a variety of climates.
Sign up for our newsletter to get more tips and tricks