Michelle Breyer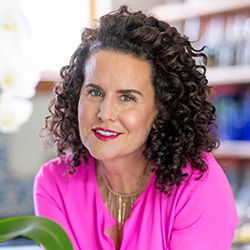 As co-founder of NaturallyCurly.com, a website for curly hair she began with her business partner and friend, Gretchen Heber, Michelle Breyer helped create the leading community and resource for people with curly hair. Frustrated by the lack of information on curly hair and the limited products available in the marketplace, the duo launched the site in 1998 with the help of a 14-year-old web designer. When Procter & Gamble called three years later to advertise to the NaturallyCurly.com® audience, Breyer knew they had indeed created a force in the industry, providing helpful information and unparalleled expertise for what was then considered a niche market.
Curly Kids: Curls 101
When it comes to curly kids this school year, the message is loud and clear - Celebrate it!
Beauty Industry is More than Skin Deep
It may seem that the beauty industry focuses only on outside appearances. But many manufacturers -- from homegrown companies like Jessicurl to large corporations like Redken -- have made it a priority to give back to society
Spring Bling Shines!
Spring is the perfect season for curlies to try out the many new hair accessories.
Perms Can Hurt or Help
Many curlies now are wondering whether a perm might help make their hair more manageable, giving them looser curls or more uniform ringlets?
Sign up for our newsletter to get more tips and tricks