Michelle Breyer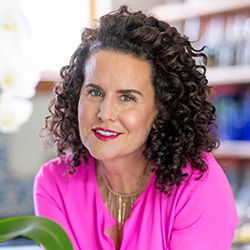 As co-founder of NaturallyCurly.com, a website for curly hair she began with her business partner and friend, Gretchen Heber, Michelle Breyer helped create the leading community and resource for people with curly hair. Frustrated by the lack of information on curly hair and the limited products available in the marketplace, the duo launched the site in 1998 with the help of a 14-year-old web designer. When Procter & Gamble called three years later to advertise to the NaturallyCurly.com® audience, Breyer knew they had indeed created a force in the industry, providing helpful information and unparalleled expertise for what was then considered a niche market.
The Lowdown on Buildup
If you're Holy Grail products stop working or you're finding dandruff-like particles on your hair and scalp, you're probably a victim of buildup.
A Model of Natural Beauty
Model Tomiko Fraser says her decision to go natural was one of the best decisions she ever made -- not only for the health of her hair but also for her career.
A World of Wavies
Despite the frustrations, stylists say waves are the most versatile hair type because they can have it both ways.
The Jane Carter Solution: Homegrown, Natural Haircare
When New Jersey hairdresser Jane Carter developed severe asthma in response to the chemicals she was using, she decided to learn about what went into haircare products. As a result, she created her own line of natural products.
Bumble and bumble creates Curl Consciousness
When haircare company Bumble and bumble launched its Curl Conscious line of products, it wanted to do more than sell shampoos, conditioners and styling products. It was about creating a curl culture.
Sign up for our newsletter to get more tips and tricks