Michelle Breyer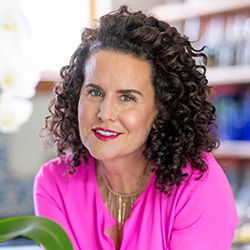 As co-founder of NaturallyCurly.com, a website for curly hair she began with her business partner and friend, Gretchen Heber, Michelle Breyer helped create the leading community and resource for people with curly hair. Frustrated by the lack of information on curly hair and the limited products available in the marketplace, the duo launched the site in 1998 with the help of a 14-year-old web designer. When Procter & Gamble called three years later to advertise to the NaturallyCurly.com® audience, Breyer knew they had indeed created a force in the industry, providing helpful information and unparalleled expertise for what was then considered a niche market.
Antonio Soddu of Curl Friends is Back
Veteran hairstylist Antonio Soddu is thrilled about the prospects for Curl Friends, the line of hair products he created four years ago for curlyheads.
Have Silicones Gotten a Bad Rap?
Though some in the beauty industry bash silicones, Guita Dovas of Oloff Beauty believes the right silicones are the best thing for reducing frizz and defining curls..
Ouidad Celebrates 20 Years
Once dismissed for her focus on curly hair, Ouidad celebrated her 20th anniversary with beauty editors who now acknowledge what the 'Queen of Curl' has known for so long.
Fine-Tuning Fine Curls
Fine curly hair can be challenging. But we provide tips, products and hair styles that can make fine hair much easier to work with.
Sign up for our newsletter to get more tips and tricks