Kiana Tipton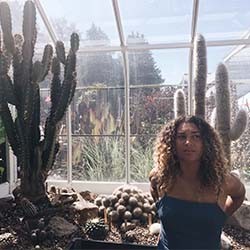 Currently in ATX pursuing a masters in media studies, Kiana's research surrounds digital technologies and its intersections with race/gender/sexuality- Which is an academic way of saying she went back to school to study Black twitter. Kiana is passionate about criminal justice reform, media representation, and finding innovative ways to protect the marginalized. Kiana is friendly as long as you don't try and touch her hair, so leave her a comment/message and she'll make sure to respond.
SHOP: DevaCurl How to Quit Shampoo Kit
The easiest thing you can do to get gorgeous curls is to ditch your shampoo. Without the harsh chemicals found in most traditional formulas, your hair is transformed. No more dryness. No more frizz.
SHOP: Curl Junkie Curls in a Bottle (12 oz.)
Curl Junkie Curls in a Bottle is the ultimate solution to maintain and enhance your curls every day. This lightweight hair styling product gently conditions your hair while controlling frizz and adding shine to help your curls pop!
SHOP: AG Hair Mousse Gel (10 oz.)
Are you looking to sculpt your curls without weighing them down with heavy product? AG Hair Mousse Gel is here to transform how you style your locks.
Sign up for our newsletter to get more tips and tricks