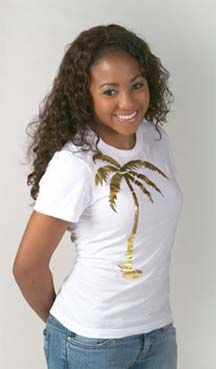 When women look at her t-shirts, Judy Hanson wants them to see themselves.
Her inspiration for Macú Tees, she says, is the urban woman. This is a woman who likes to have a good time. She wants to be comfortable, but she also wants to look sexy. The company's slogan is "Love What you Wear."
"The graphic calls to people from different cultures," says the Southern California curly.
Hanson, who was born in the Dominican Republic, grew up in an artsy environment. Her sister was a painter and her brother was a graphic designer.
She dreamed of being a fashion designer. She went to the Fashion Institute of Design and Merchandising in Los Angeles, graduating with a degree in fashion design. She wanted to start her own business, and t-shirts seemed a natural choice.
"I wore t-shirts all the time," Hanson says. "I wanted to create t-shirts with designs that captured my style, my environment. I wanted to create t-shirts with good quality fabric and a flattering cut."She launched Macú in 2005 with her first design -- a woman's face.
"She has perfectly done hair, beautiful earrings and makeup to match," Hanson says. "I get a lot of inspiration from my culture."She now has six designs, ranging in price from $22-$26.She plans to introduce several new designs next season.In the future, she'd like to launch a sportswear line."It's a lot of hard work," she says. "But it's so fulfilling."