Julia Rizzo
CurlyTeen Scene is a column especially for curly teens. Julia Rizzo is a teenager living in Central New York. When not writing, she enjoys acting, reading and snow skiing. She has loved writing as long as she can remember, and plans to pursue a career in English. She hopes her column will provide encouragement and inspire girls to love their curly hair
If you're like millions of Americans, you probably watched the American Idol finale recently. I'll be the first to admit I've been less than a devoted follower of the show. I tune in when I have time, rooting for my favorite contenders between dinner and math homework. However, there is one contestant whom I've followed closer than all the others; 17-year-old Jordin Sparks.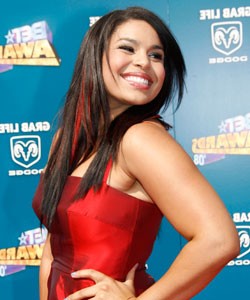 Jordin Sparks
Her talent and charisma caught my eye, but there's another reason I was so exited to see her become this year's American Idol; she is an amazing example of a curly teen. The media tells us that a "pop star" is a blond twenty-something with blue eyes and pin-straight hair. Bonus points if she weighs less than 110 pounds. However, Jordin Sparks breaks all the molds. She's curvy with warm brown skin and tight shoulder length curls. Although her stylists straightened her hair into loose waves for the finals, she rocked her hair naturally for the vast majority of the competition.
As I watched her perform, I realized that she wasn't selected by a music executive or a high-powered agent; her support came from average America. Everyone from middle-aged women to teenage boys chose her as their American Idol. Talent in specific packages may be what record companies are selling us, but it's encouraging that we chose something a little more genuine for ourselves.
As the youngest American Idol in the show's six-season history, Sparks is the same age as my classmates and me. She would fit seamlessly into my diverse, arts-minded high school. She's proof that as teenagers, we're just as capable of achieving our goals as adults. We have a secret weapon; enthusiasm and vigor. We're not afraid to tenaciously go after what we want.
"Talk about hard work" my mother gently prods me as I'm writing these sentences. And she's right. Whether you're trying to accomplish a goal or change your mindset, it takes effort.
When I was fifteen I discovered this site after searching "naturally curly hair" on Google. I was a sophomore who loved to write and believed that I had something to contribute to the NaturallyCurly community. More than two years later, I still enjoy writing the Curly Teen Scene column, and to this day it proves over and over to be a valuable learning experience.
So, if you want to be singer, a writer, or just more confident about who you are, and you're willing to put forth the effort, you can make it happen.
Stay Curly,

Julia
---
Email your questions/comments to Julia.