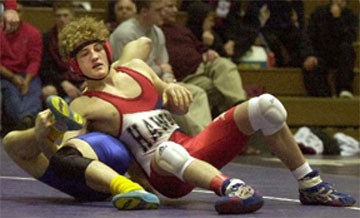 Ben Askren hopes his curly hair gets him some attention in Beijing.
Ben Askren is headed to Beijing this summer for the summer Olympics. Askren's toughness, work ethic and competitive grit have been compared to boxing great Muhammed Ali.
But his trademark curly hair has gained him as much recognition as anything. In a recent press conference, Askren told reporters "I actually don't really like my hair that much, but I'm a man of realism, and I realize that people like gimmicks. I'm going to Beijing and my hair's going to be my gimmick. Hopefully, I'll get a sponsorship or two, maybe get some money out of having stupid, curly hair."