Meet 25-year-old Zindzi Drayton, director of the UK mini-documentary called Hair Freedom.
Drayton defines Natural hair as defined "Afro textured hair that isn't chemically straightened," Drayton wrote on the Hair Freedom YouTube page. "In our society and throughout the world, straight hair is so normalised that a large number of black women chemically straighten their Afro texture. Touching on topics from rocking an Afro in the workplace to the legacy of slavery, I find out the pressures and joys of women who have embraced their 'natural hair'."
Join us as we dig deep about what led her to do this impromptu video that was featured on BBCRAW a Pilot Project, currently in an incubator for socially and racially diverse young people who want to develop into filmmakers for the British Broadcast Channel.
What inspired you or led you to film this documentary in its street-style interview format?
I was inspired to film my documentary in a street style after watching episodes of the YouTube series 'Strolling' by Cecile Emeke, in which she interviews different people on a range of topics, always in an outdoor location. Also, practically it was the easiest option, when I was meeting with my different interviewees I wasn't able to guarantee a quiet indoor location, so I decided to make the most of free outdoor spaces.
How long did this documentary take from beginning to end, was there a call for submission or were all the women interviewed, colleagues of yours?
The documentary took a month to complete. I work full time and so only had weekends and evening to try and film and teach myself to edit, as well as working with everyone else's schedule. All the women I interviewed are friends I have made from different walks of life.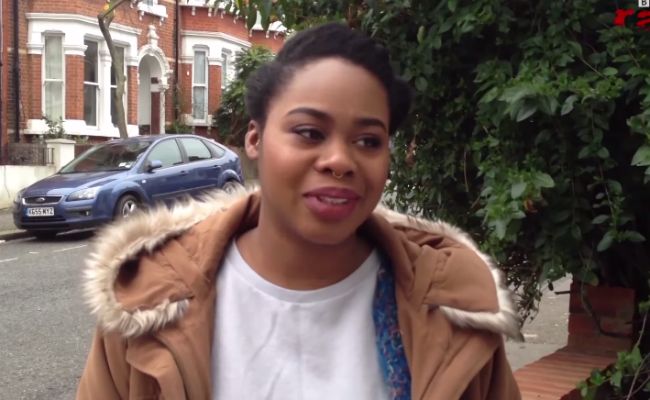 What is the end result you're aiming to achieve with this documentary?
When I came up for the idea of my mini-doc Hair Freedom, it was really to explore how women have been able to embrace their Afro hair and feel beautiful and confident with it--while straight hair is idolised as the norm, even for Black women. I only spoke to girls with Afro hair styles as I wanted to give them a voice that was celebrating rather than defending their hair, which seems to be the case, whenever Afro hair is mentioned in mainstream media. Overall I wanted to explore how for Black and Mixed Race women to embrace their afro hair, they are required to adopt a mind-set that challenges the dominant perception of hair norms, beauty and professionalism.
You chose to focus on 5 major issues for this documentary--the definition of natural hair, its professionalism in the workplace, response from others, the natural hair argument, and black beauty.
From my research, it seemed that those were some of the biggest obstacles to embracing natural hair. I had also never before heard anyone question, why Afro hair is now called 'natural hair'? --so I wanted to explore the significance of the term in the natural hair movement.
Can you share your hair story and was there a time where you experience hair prejudice? Are there similarities in the stories of you and the doc's participants?
By the time I was 16 I was the only girl in my friendship group still with Afro hair and that contributed to feeling like straightening my hair will help me fit in and look good. I developed the idea that Afro styles were infantile and that I should grow out of them.
I first relaxed my hair when I was 19 after starting university and I loved it and wore it that way for 5 years. But I couldn't help but notice that every time I relaxed it, I was left with scabs on my head and no matter how much I straightened my hair I knew I would be feeling the new growth soon enough. My daily life seemed to be a constant battle to repress my natural hair.
Some girls I met suggested I should go natural and I would get really defensive, thinking they were criticising my current hair. But the idea stayed in the back of my head and as I started discovering natural hair blogs I realised natural hair was definitely something I wanted for myself. Most of the negative thoughts I had about my own Afro hair and the beauty of straight hair, I feel like I internalised subconsciously.
I think I definitely could relate to my interviewees in the film, in terms of actively having to change my perception of what is 'neat' hair.
In 6 years where do you see the Natural Hair Movement?
I think and hope that in 6 years time the Natural Hair Movement will continue to grow across the world, to the point where Afro hair will be so common it can just be 'hair' again and not 'natural hair'. There's so much inspiration and tutorials online and so the wealth of knowledge of good hair care I hope will become second hand. Also I hope women continue to find empowerment in the natural hair movement, which they can use to inspire other areas of their lives.
What have you learned since filming this documentary either about yourself or about Textured Hair?
I've learned a lot since filming this. I had been growing out my hair for the last year and a half, but even after the video first came out, every morning I would still be squeezing my Afro hair into a tight bun. So definitely not embracing my curls, even though I had just made this vid, which I hoped would encourage other women to question why they chose to relax their hair. I don't know what I thought would happen, but I couldn't imaging rocking an Afro outside of the house. Eventually a few weeks ago I finally decided to let my hair be free and wore it in an Afro and I love it so much, I feel like I've found 'my look'.
Also, another great thing I learnt in this experience is, if you have an idea, just do it. This is the first mini-doc I've made and I spent more time worring about how to do it, than I did actually making it. But once I began the process it was such a rewarding feeling to create something from just an idea. I used my phone to film the footage and edited it in a community centre, using YouTube tutorials to teach me the basics.
What's next for Zindzi?
I definitely plan to make more mini-docs and hope to create more content, with the aim of empowering women and challenging the accepted norms of mainstream society.