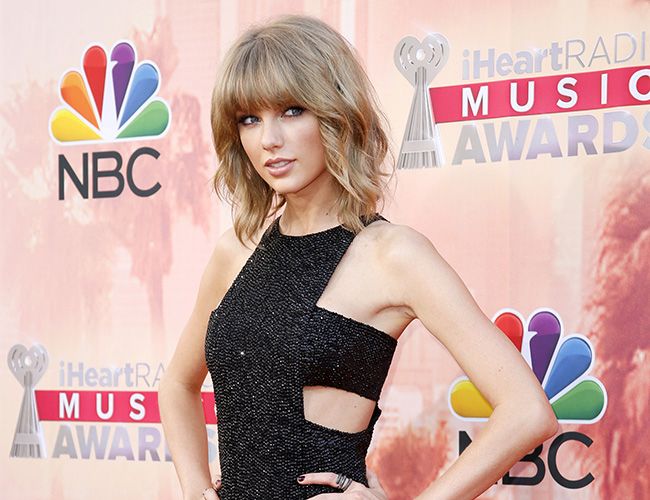 No, I'm not hating on the short bob she rocked at the "I Heart Radio Music Awards" Sunday night. The cut was sassy and stylish. But it seems like years since we've caught a glimpse of the 3a/3b ringlets that made her a curly icon when she hit the scene as a country-singing teenager. Those curls inspired an entire generation of teens to give their flatirons a rest – at least for a day or two.
Her hairstyles have evolved along with her musical journey. Early on, as a young teenager, she rarely changed her curly style. It made big news in 2009 when she straightened her long curls for her 20th birthday.
Over the last few years, she began testing out shorter hairstyles, and made the big cut in February 2014. She actually uploaded a video to Instagram taken during her latest haircut in London. In the clip, she is surrounded by a huge group of cheering people.
"This is how many people are watching me get a haircut right now," she says. "We don't do anything without an audience, do we?"
As you know, NaturallyCurly has always been about styling options. If people want to straighten their curls, we provide them with the information and tips they need to do it with as little damage as possible. But what bothers me is the impact – and reaction – to her straighter look.
When Swift cut her hair last year, ET published an article titled Taylor Swift's 'Hair-Story': From Curly to Chic. Teen Vogue called her transition from long, flowing curls to her "chic lob" on trend. Some have said the new look is more grown up, as if you can't be a curly adult.
Some have said the new look is more grown up, as if you can't be a curly adult.
It's as if the word curly and chic are oxymorons, which they aren't. Looking through her transformation galleries, my reaction was that Swift can look beautiful, stylish and yes, chic, with her hair curly, straight, wavy, up, down, etc.
We've seen similar transformations on a regular basis on such reality shows as American Idol, with contestants getting straighter makeovers the further they advance in the competition. It's troubling that there still seems to be a perception that in order to be successful, you have to change something so central to your identity.
I'm not the only one who misses Swift's curls. There have been numerous discussion board threads dominated by this topic.
"The sundress and curly hair Taylor is the one I want," lamented one poster.
"Taylor was interesting to me because she was the only one curly in a world where straight is the ideal of hair beauty. But she made me feel like curly can be beautiful too, and it's also unique and cool.
When she straightened it I got disappointed because for me, it was just like she became like everyone else. And lost that thing that made her look so special."
What I worry about now is that Swift is trapped with this new look and curls aren't even an option. The precision cut with bangs doesn't really lend itself to a wash and wear look. As someone who rocked bangs and layers in the '80s, I was a slave to my blowdryer and curlers.
On one site, a fellow curly provides a step-by-step tutorial on achieving Swift's new lob. It had 8 steps, involving a blowdryer, flatiron and curling iron as well as a number of products.
I fear that Swift has gone the way of other famed curly like Juliana Margulies, Debra Messing, Julia Roberts and Keri Russell who now wear their hair straight as a bone all the time. It's almost as if the more "acceptable" curly has become, the less you see it among celebrities.
I don't begrudge Swift her right to change up her look. I just miss her curls.
What do you think about Taylor Swift's "hair transformation?"