There's big hair and then there's big, defined hair. I prefer the second option. 
Hi NaturallyCurly world, Style Feen here. My 3a to 3b textures tend to get looser as the day goes on. Especially when I wear collared shirts and jackets in the winter, those 3a curls closer to my neck like to straighten out.
To minimize or prevent this from happening, I do these things to get ultra defined curls:
My current hair routine consists of the DevaCurl No-Poo Decadence Cleanser, DevaCurl One Condition Decadence Ultra Moisturizing Conditioner, DevaCurl Coconut Super Cream Styler and the Bounce Curl Light Creme Gel.
After using the cleanser, I leave about 40% of the One Conditioner in my hair before getting out of the shower.

I make sure my hair is wet before styling and proceed to section my hair to apply the DevaCurl Coconut Super Cream in combination with the Bounce Curl Light Creme Gel.
I use about a quarter amount of each product and mix them together for each section of my hair.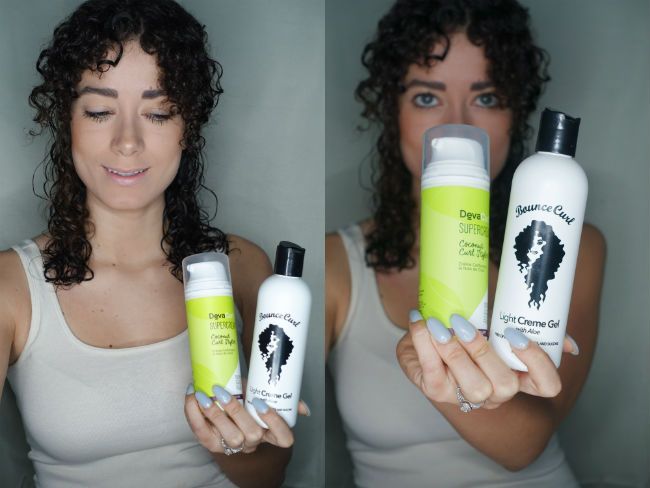 The DevaCurl Coconut Super Cream moisturizes my curls and keeps them hydrated. The Bounce Curl Light Creme Gel defines my curls and holds them not only for first day hair, but day 2 and 3!
These 2 products are my go to for definition and frizz control. I have low porosity hair so my hair is always crying for moisture and it's the perfect balance to have products that achieve all your hair needs.
Once I get to the top of my head and where my bangs are, I start to finger curl them to get the most definition. This also helps me make me sure I get products in the frizziest parts of my hair. I find finger curling to be important to individualize my curls and keep them from clumping together.
Once finished with styling, I use a cotton towel or a cotton T-shirt to take out the excess water to make diffusing time shorter.
After 15-20 minutes on temperature "warm to hot" using my diffuser, I shake up my curls at the root with my fingers and BOOM! Defined and shiny curls.
Have you entered my giveaway yet?
NaturallyCurly and I are giving away a Bounce Curl Light Creme Gel & the DevaCurl Supercream Coconut Styler to one lucky winner! Follow @naturallycurly and @stylefeen, repost your favorite @stylefeen selfie, with the hashtag #naturallycurlystylefeen. Tag your curly BFFs in the comments below! Winner will be announced April 30th! US only.