Carol's Daughter paid homage to the many facets of Brooklyn style at this year's Texture On the Runway powered by Sally Beauty. Before the show I spoke with Carol's Daughter's lead hairstylist for this event, Mezei Jefferson, and he told me what to expect when it came to the hairstyles and how they interpreted the theme Brooklyn: Then & Now, but nothing could prepare me for the way the collection took shape on the catwalk.
From the moment the bright, pop prints flashed on the screen and three dancers entered the stage jumping rope to the tune of Mary J. Blige's Real Love, the 90's nostalgia hit me hard. The cabbage patch and running man made cameos, along with a solo sung by Renee Neufville of Zhané. 
This was swiftly followed by the one true sign of any successful show - iPhones in the air. Instantly, the moment was shared with hundreds of thousands of people.
Next the models began strutting down the runway representing the street style of Brooklyn, Afropunk, and the Caribbean flavors of carnivale.
While the collection brilliant showcased a variety of hair textures, stylists Ty Hunter and Imani Rose brought texture to the clothing as well with a mix of metals, crochet and denim from a selection of Brooklyn designers. I spoke to Imani Rose after the show to learn more about the looks we saw.
The designers – who did you choose and why did you choose them?
We used different pieces from Laurel Dewitt, who's known for all of her metallic elements, really elemental work, with all of the chains. Also Dope Tavio who's a cool Brooklyn artist originally from Miami who designed all of the cool deconstructed jackets with the camouflage and the denim, and all of the layered, textured sleeves. We also used Batista Collections who is originally a Dominican designer. It was really great to work with her because she does a lot of crochet and knit pieces. 
Were there any women who you were channeling as you styled the models?
There are so many really dope Brooklyn women. I'm really inspired by Cipriana and Takenya Quann the sisters, they're so beautiful and they do such amazing work, they're really multi-talented and they epitomize Brooklyn women. We were also really inspired by, of course, our girl Beyonce.
You can tell us more about working with her if you want… we won't stop you.
I've worked with Ty for years, he is the consummate professional and such an example of peace and energy. I've worked with Solange and Beyonce through Ty, and they helped inspire the collection tonight. Black women in general. Black women, Latina women, they are so multidimensional. We're still so underrepresented today in 2017 so what I really loved about this project is the fact that it's highlighting everything we've brought to American culture. Big bold earrings, big bold hair, layered hair, textured hair. We're unapologetic and we're fearless. We do things that most women in other cultures, especially New Yorkers and Brooklyn girls. That was really inspirational.
The major icons from back in the day inspired us as well, the Black Panthers were so bold with their fros. Diana Ross and the Supremes had big hair, Donna Summer, all of the tribal women in Africa wore the original, major necklaces so there's been a long tradition of bold, beautiful women of color behind it. We really tried to take that history and bring it to modern day because it's always great to honor that history and let that flag fly. Especially in this industry where we do so much mainstream work, it always feels good to highlight what makes being a woman of color so awesome.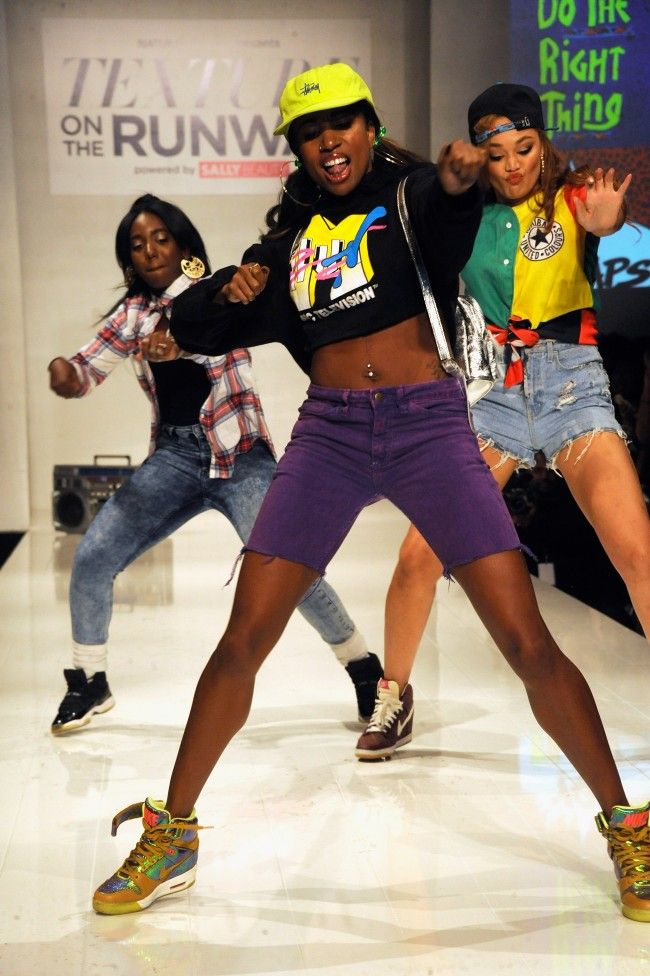 To read more about the hairstyles you've seen here, read my interview with Carol's Daughter stylist Mezei Jefferson. 
This post is sponsored by Carol's Daughter.