Many people embark on their Curly Girl Method journey with the ambition of achieving ultimate ringlets or maximum volume; however, what most end up realizing is that healthy hair is the real goal. Nourishing your hair is as important as nourishing your body when trying to achieve thicker, shinier, bouncier hair. Below is a bountiful banquet of CG-friendly products that curly people love for nourishing and feeding their hair to achieve healthy, glorious curls, coils and waves.
What is the Curly Girl Method?
The Curly Girl Method, from Lorraine Massey's book "Curly Girl: The Handbook," is a hair care method that trades in damaging habits (like shampooing and heat styling) for a healthy curly hair regimen using just conditioner and gel. While this set of recommendations has been shown to have incredible results for many curlies in our community, you should always feel free to modify them to suit your hair!
Kick off the feast with this healthy appetizer for tired, malnourished hair. It packs a nourishing punch with its 98% natural ingredients and 100% vegan formula blended with banana and shea and its smell will tickle your tastebuds! This widely loved, flexible treatment can be used in 3 different ways: as a conditioner, rinse-out hair mask or leave-in conditioner, plus it's easy on the bank balance too!
You can use Hair Dew to moisturize freshly cleansed hair or use it as a refresher throughout the week for second, third and fourth day hair. This light leave-in will refresh your curls and coils, making them feel more pliable without fully rinsing and re-styling your hair. It also serves as a great moisturizing base for your styling products, or as the "L" in your LOC method.
The ultimate indulgent treat for hair, Infinitii's Luxury Hair oil is made up of a heady cocktail of purely natural penetrative oils including olive, castor, sweet almond, flaxseed and avocado oils. Infinitii claim their clients have noticed 'an immediate visible improvement'. Infinitii Oil can be used as a pre-poo treatment by applying a few drops to the scalp and lengths of hair, massaging in and leaving for 30 mins or overnight before washing out and following up with your usual routine. It can also be used to 'scrunch out the crunch' or in other words break the crunchy cast caused by applying gel, mousse or other stylers on wet hair, once the hair is dry. Rub one or two drops of oil between your palms and scrunch your curls to reveal glossy, healthy hair.
We all know how good blueberries are for us and this also applies to our hair. Formulated with certified organic blueberry extract, aloe leaf juice and chamomile extract, this deliciously-scented conditioner detangles, moisturizes, conditions and hydrates your curls. It also contains a healthy dose of protein with hydrolyzed quinoa and silk amino acids. Use after your usual shampoo/co-wash and conditioner and comb through with a wet brush for even distribution. Squish-to-condish for maximum moisture absorption and nourishment.
Add another dish to your healthy hair menu with this glorious leave-in conditioner. Containing a plentiful dose of rice water, as well as chamomile flower extract, slipper elm extract, nettle leaf extract, melissa leaf extract, peppermint leaf extract, horsetail leaf extract and yucca vera leaf extract, it includes many nutrients that your curls need. It also smells incredible with jasmine and vanilla oils. Apply after shampoo/co-wash and conditioner to keep hair bouncy and healthy.
Kinky-Curly Knot Today is the ultimate multi-tasker. It has won a total of 9 Editors' Choice and Best of the Best awards over the years, making it a member of our Hall of Fame, so you can feel that this will be a $12 well spent. Use it in the shower while detangling, as a rinse-out conditioner, as a leave-in conditioner, and in your product cocktails.
This 97% natural, super-lightweight oil contains a blend of banana and coconut and is jam-packed with antioxidants, potassium and vitamins A, B and C. Umberto Giannini recommend applying a few drops to the lengths of your hair between shampoo and conditioner, but curlies also use as a pre-poo or for a scalp massage. It's also light enough to use for refreshing hair to bring life back to dull curls.
This botanical shampoo contains a natural cocktail of coconut-derived cleansers, fortifying wheat proteins and tangerine fruit oils, rich in vitamin C; it also contains sweet almond oil and argan oil to restore the health of the scalp. Its citrus aroma leaves your scalp energised and hair refreshed. Massage well into the scalp before rinsing and following up with Flora and Curl Honey & Rose Cream Conditioner.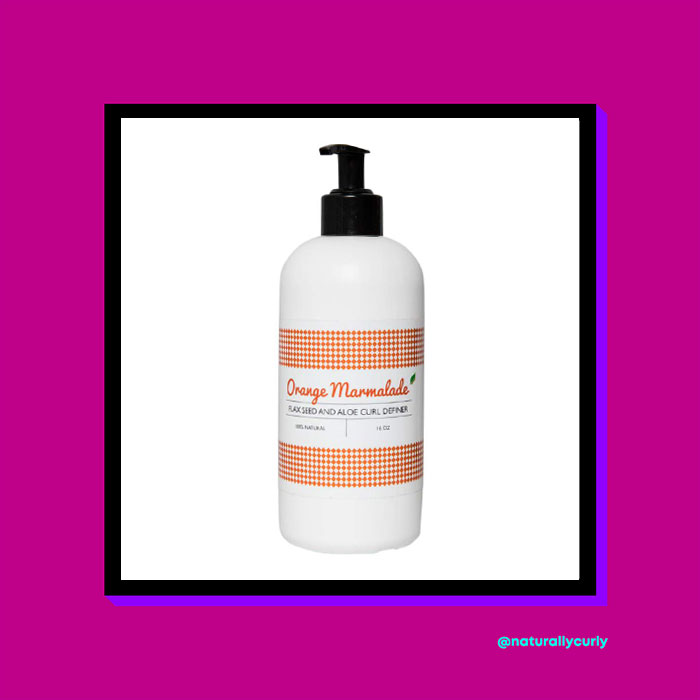 A curly cult favorite, this gel is like a superfood breakfast for the hair! Flaxseed extract, agave nectar extract, pectin, aloe vera juice, marshmallow root extract, vitamin E, xanthan gum, and sweet orange essential oil combine to create this impressive gel which is so natural, you have to store it in the fridge! As a styler, it gives a powerful hold and combines well with the Ecoslay Rice Pudding Leave-In. Apply a few pumps to the lengths of the hair and scrunch to create smooth, healthful ringlets.
This Whipped Butter Gel is a product that receives high marks from tight coilies and loose wavies alike. It can be used for a soft wash and go, twist outs, and refreshing hair. This moisturizing, all-natural gel gives curls, coils and waves a light hold for natural curl definition that doesn't crunch. If you like a hard cast or strong hold, you may want to cocktail this with another styler.
Many curlies are raving about this plant-derived formula containing moisturising aloe vera, nourishing grape seed oil and zingy, refreshing orange peel oil. It boasts of being able to replenish and strengthen hair, while reducing frizz and stimulating hair growth. Apply as a light conditioner after shampooing with the Ooh So Soft Shampoo.
An extra moisturizing formula like this Jessicurl Deep Treatment works best when you apply it to the hair, wear a shower or heat cap and allow it to sit for 20 minutes, then rinse. Another thing we love about Jessicurl is that they have a unique offering of fragrance-free versions of their products for those of us who are sensitive to fragrance or have skin sensitivities.
This rich, nutritious conditioner is a unique mixture of extracts of coconut, sugar cane, green tea, apple, lemon, shea butter and vitamin E. Curlies love it for its deep conditioning properties which promote healthy hair from the follicular level. Asiam recommends feeding your hair with this delicious concoction every 2 to 3 weeks but it's possible to use it more frequently if your hair needs the nourishment!
While some curlies choose to cut shampoo out of their regimens completely, others prefer to use it occasionally. A gentle, sulfate-free shampoo like this one by Jessicurl won't be drying or harsh. Ingredients such as cocamidopropyl betaine (which this product contains) or coco betaine are mild cleansers that you can use when you're CG.
Finally, adding this sumptuous styling cream to your repertoire can help to replenish dry or damaged hair. This aromatic cream contains exotic oils such as organic black seed oil, avocado oil, Egyptian Abyssinian oil, Moroccan rose oil and argan oil from the Middle East, North Africa and Mediterranean regions. It is enticingly scented with exotic fruits, white jasmine, magnolia flowers, sandalwood and vanilla. This cream can be applied before or after other stylers and, as it is thick, it's best to use small amounts on sections of hair.
Go ahead and indulge your curls in some of these scrumptious treats. Bon appetit!
This article has been updated with new products.
No comments yet.