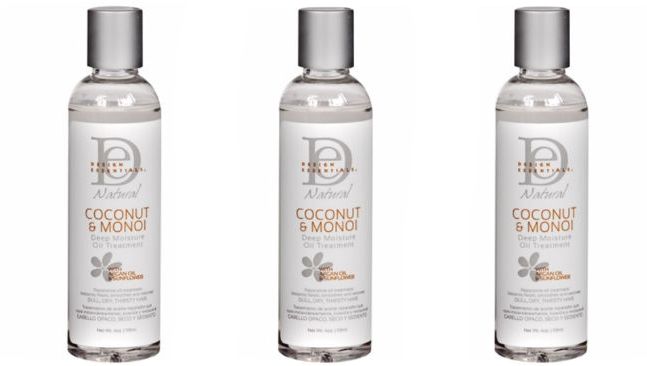 Design Essentials Natural Coconut and Monoi Deep Moisture Oil Treatment is supposed breathe life back into dull, dry and thirsty hair.
Quite frankly, I feel as though it sucked the life from mine. The packaging, which I really like, claims that the product is a "reparative oil treatment that instantly heals, smooths and restores" hair. When applied to damp hair, it does feel as though the product is doing just that. Once my hair dried, however, the results were something else entirely.
I received this product as part of a care package from NaturallyCurly (this review is not sponsored). It is available in Target stores; the online retail price is listed at about $13 for a 4 oz bottle.
Key ingredients
The first five ingredients of this deep moisture oil treatment are neopentyl glycol diheptanoate and isododecane, ethylene/propylene/styrene copolymer, butylene/ethylene/styrene copolymer, cocos nucifera (coconut oil), gardenia tahitensis (tiare) flower extract and argania spinosa (argan oil).
Now I'm an industrial paint chemist with over 10 years of experience and I'm still a bit baffled by the ingredients list. I'm not sure if some of these names should be read as one or two separate ingredients. Needless to say, the list seems complicated to me--it's something I think the manufacturers should definitely review. The product has no parabens, gluten, petrolatum, paraffins, mineral oil or phthalates.
I used the product to seal my hair. No matter what, I couldn't get my hair moisturized; nothing I tried could penetrate the film this product left on my hair.
First impressions
The Deep Moisture Oil Treatment is a clear liquid that is moderately thick. It's not as heavy as a castor oil, but it's also not as lightweight as jojoba oil. It's somewhere in the middle of the pack. It has a light and pleasant fragrance and a nice slippery feeling similar to silicone-based serums. It glides onto the hair, feels like silk, and spreads easily.
How I used it 
I used the product to seal my hair. After my typical wash and deep conditioning routine I applied my leave in, followed up with a moisturizer and sealed it all it with this oil. My hair felt great when I applied the product and while it was still damp but then it all went downhill. My usual routine is to re-moisturize my hair each morning and night but no matter what, I couldn't get my hair moisturized. Nothing I tried could penetrate the film this product left on my hair. My hair was left feeling crunchy and brittle.
My review: Will I use it till it's empty?
Absolutely not. I do believe that this product is meant to work for naturals who have looser curls--or those who do wash-and-gos regularly--but that's just not my hair. I'm a low maintenance type of person and this product has no place in my regimen. It has great slip ideal for detangling and will coat strands to minimize frizz, but if you're a protective styler or infrequent hair washer this is not the product for you.
Have you tried this product? Please share your experience below.