It is a truth universally acknowledged, that for people with textured hair, moisture is everything (word to Jane Austen). Hydrated hair means the difference between enjoying easy maintenance and battling knots, splits, and tangles during the curly hair torture process known as dry detangling. Dry, tangled, "unmanageable" hair is a serious no-no for everyone, especially lazy naturals in search of the simplest approach to curly hair care. Simple rarely equals cheap though, and quality moisturizers can often cost a grip.   
Tired of deferring student loan payments in order to afford luxurious leave-in conditioners? You and your wallet can rest easy, once you check out my fab five list of creamy leave-ins for $10 or less. Whether you're down with the LOC or LCO methods, or just looking to give your curls an extra hydrating kick, these products will transform your tresses.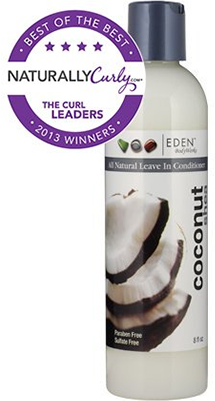 With a sweet tropical fragrance and rich consistency, this daily conditioning treatment keeps curls and coils soft, supple, and scented year-round. I love that aloe vera juice and coconut oil are among the top ingredients. Best of all, it's heavy enough for my 3c/4a curls to use without an additional product to seal.