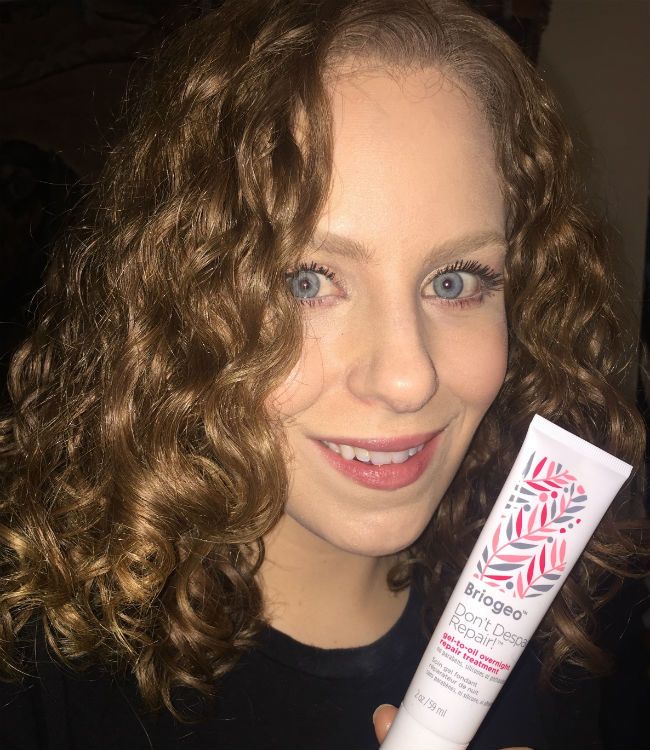 Briogeo has been around for quite some time now and as a fan of theirs since the beginning, I have watched the brand expand in both their popularity and product offerings. As someone who has been loving their signature Don't Despair, Repair Mask, I was ecstatic to see them expand the line with an Overnight Repair Treatment from the franchise!
Why I love the Briogeo Don't Despair, Repair line
What makes Briogeo special is the ingredients it includes, and the ones it chooses to exclude. Each item in their brand is infused with their exclusive NOVA complex which is a "professionally cocktailed blend of potent natural oils, vitamins and antioxidants," according to the company's website. They never contains sulfates, silicones, parabens, phthalates, DEA, or artificial dyes. Ingredients matter, and these formulations not only provides styling benefits, but also keeps hair healthier in the long run. Not to mention, it is cruelty-free, gluten-free and vegan.
Gel-To-Oil Overnight Repair Treatment Key Ingredients
Rosehip Oil: Maintains hydration and controls frizz.
Argan Oil: Provides extensive conditioning, helps combat dryness and damage, and diminishes frizz.
Coconut Alkanes: Acts as a natural humectant to deliver intense hydration to the hair, seal in moisture, and protect from breakage.
Algae Extract: Nourishes and strengthens the hair, protecting the scalp from free radical damage.
What the brand claims
"This nutrient-rich hair treatment gel melts into an oil to release Briogeo's signature NOVA complex in its purest, most potent state. This complex encapsulates a reparative blend of natural oils, vitamins, and antioxidants which prevents oxidation, thereby exposing hair to fresh nutrients as the formula melts down upon use. A unique blend of biotin, argan oil, rosehip oil, algae extract, and coconut alkanes strengthens hair, replenishes moisture, and increases elasticity to make hair more resistant to breakage, while enhancing shine and luster as your sleep."
Why I love it
It comes with a pump.
I have a love for pumps because they help control how much product comes out so I can make sure I evenly coat all the sections of my hair equally.
It doubles as an overnight treatment.
I love that I am able to treat my hair overnight without making a mess of my pillows. I slept with coconut oil in my hair for the longest--until I noticed it was staining my pillowcases. My fiancé wasn't thrilled with it either so I needed a better solution, and this is it.
My hair absorbs this formula so well.
It leaves no stains and no mess on my bedding or clothing.
Finally, the results!
When I go to cleanse my hair the next day, I notice less hair in the shower which is great. The whole
Don't Despair, Repair
franchise from Briogeo actually helps with breakage with consistent use. Even after cleansing and conditioning, my hair feels so silky.
This treatment helps my hair become more manageable with nice curl definition. 
Sometimes, if my ends look extra unruly (since they are still colored and I'm due for a trim), I will use a pump or two on dry ends even if I do not plan on washing for a few more days. It tames them without leaving my hair greasy at all. As far as consistency goes, I describe this treatment as a lightweight, non-sticky, oil-serum. It falls somewhere between a runny oil and a thick gel.
How I use it
I use it once every other week, or every week depending on how my hair is behaving. I also use it based on my hair's mood, and determine if I should follow it up with a regular conditioner. I might go for the Double Duo Treatment and use the mask afterwards. I suggest the duo if you have an event or something special to go to because you will have such an incredible hair day after using both of them, but you get benefits from either alone. I apply before bedtime using one pump per section of my hair, for a total of seven sections. Based on how damaged or healthy your hair is, you may need to adjust the amount of pumps needed.
To sum it up
The Briogeo Don't Despair, Repair Gel-To-Oil Overnight Repair Treatment has become a staple in my hair care regimen and if you are looking overnight hair benefits that won't make a mess, you have to check it out! Find it here.
Read How to Stop Your Second-Day Hair from Looking Like Stringy Noodles
For more of Diane Mary, follow her personal blog, Diane Mary Beauty. Follow her on Instagram and Twitter @dianemary126.