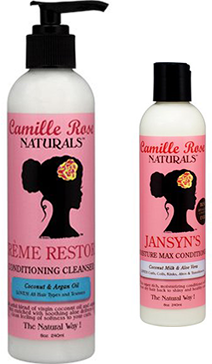 What's the difference between a cleansing conditioner and a regular conditioner?
Different hair types require very different haircare regimens. Every woman needs her own custom hair routine with a cabinet stocked with products that work for her specific needs. In a typical curl cabinet you might at the very least find shampoos, conditioners, moisturizers, oils, and styling products. And if the curl is really advanced, she has a leave-in conditioner on deck. In some sink cabinets you may find a more unfamiliar product….a cleansing conditioner. This may be a foreign substance to some and "part of the family" for others. But what do we really know about a cleansing conditioner? You might have wondered, is this just a different name for a co-wash? Is it another sneaky name for a shampoo or can I just use my regular conditioner as a cleansing conditioner? Well take a closer look with me.
Fab Top Ingredients
Deionized water, glycerin, behentrimonium methosulfate (BTMS), cetearyl alcohol, behentrimonium chloride, carthamus tinctorius (safflower seed oil)
The Breakdown
Glycerin- a water soluble hygroscopic, also known as a humectant, a substance able to derive moisture from the air and to the hair.
Behentrimonium Methosulfate (BTMS) - a vegetable-based conditioning and emulsifying agent. Very popular ingredient for textured hair products.
Cetearyl alcohol- a conditioning emulsifier and stabilizer made of fatty alcohols found in plants like coconut and palm oil. Also prevents separation and is a foaming agent.
Behentrimonium chloride- an emollient, used as a thickening and emulsifying agent in hair products. This mild ingredient can enrich without buildup and aids in detangling.
Carthamus tinctorius (safflower seed oil) - an emollient rich in lineolic acid an essential fatty acid. Known to benefit dry and fragile hair.
Analysis
The formulation is made with very wholesome ingredients that are gentle and fine. Essential oils and fatty acids are plentiful, producing plump rich results. With a conditioning cleanser you reap the full benefits of a streamlined conditioner, while gently cleansing the hair. Conditioning cleansers will not leave your hair stripped and dry. They will have your hair clean and softened without heavy buildup that you might get from using daily conditioner for a repeated amount of time. You can frequently use cleansing conditioners without the fear of your hair drying out or accumulating buildup. Most importantly, based on the condition of the hair, you are not obligated to follow up with a rinse out conditioner! Damaged hair may want to use a follow-up treatment.
Camille Rose Naturals Owner Janell Stephens says, "This product (Camille Rose Naturals Cream Restore Conditioning Cleanser) removes buildup with coconut extracts, matric aria flowers, and marshmallow extracts which have light conditioning properties. Jojoba oils help to smooth the ingredients through the hair easily. In essence, it lightly conditions and cleanses."


Fab Top Ingredients
Distilled water, cocos nucifere (coconut milk), carthamus tinctorius (safflower) seed oil, elaeis guineensis (palm) kernel oil, cocos nucifera (coconut) oil, butyrospermum parkii (shea) butter, aloe barbadensis leaf juice
The Breakdown
Cocos nucifere (coconut milk)/ cocos nucifera (coconut oil)- a conditioning agent, emollient and solvent. These two coconut derivatives are penetrating to the cortex of the hair providing strength and structure. A tried and true addition to moisturizing hair products.
Carthamus tinctorius (safflower seed oil)- an emollient rich in lineolic acid an essential fatty acid. Known to benefit dry and fragile hair.
Elaeis guineensis (palm kernel oil)- a plant extract and strengthening oil, which also can also penetrate to the cortex of the hair, strengthening the inner layer. Functions as an emollient.
Butyrospermum parkii (shea butter)- derived from the nut of an African shea tree. An emollient for softening and moisturizing.
Aloe barbadensis leaf juice- derived from leaves of the aloe leaf, rich in vitamins, minerals, amino acids, enzymes, and proteins. Acts as a humectant for the hair and has anti-inflammatory and anti-bacterial properties to benefit the scalp.
Analysis
Throughout the list of ingredients you see a compilation of enriching and conditioning ingredients. When combined and emulsified into a product, these ingredients leave a lasting impression on the surface of the hair and within the hair shaft. Gentle, natural humectants are added to attract and maintain moisture levels within the hair. Oils are added for slip and detangling support to delicate strands. As rinse-out conditioner this can be used immediately following a cleansing session or you can use as a stand-alone conditioner as needed.
According to Janell Stephens, "Jansyn's 'Moisture Max' Conditioner is a highly moisturizing rinse-out conditioner with natural ingredients to nourish the hair. Every now and then you will still need a deep conditioner for intense conditioning. However, there's no way to tell a person what exact products to use. I believe people should try different products to find the best regimen for them."
So what does this mean for your hair type?
If you desire increased moisture levels, a balanced pH, and clean hair with minimal buildup, then you may find a cleansing conditioner to suit your fancy. If you desire increased moisture levels, ultimate hydration on a regular basis, and detangling bliss, a moisturizing conditioner would fit your profile.
All hair types need cleansing and conditioning. Frequent wash and go-ers will really get a kick out of cleansing conditioners. They add the moisture you need to combat the recurring manipulation that goes into a wash and go, yet they will gently clean away any excess product needed for styling. Women of every curl pattern can benefit from a moisturizing conditioner when their hair feels dry or if they have very thirsty, coarse strands. Based on your hair type, you can govern the regularity of usage.
The Bottom Line
As previously stated by Stephens, it can be difficult to know what is best for your hair type without trying various products. My suggestion is to find a product line that meets your general concerns. For example, these specific products address the condition of the hair. Look for words that speak to your need, read the ingredient list, and try it out!
What is your current hair need?
---
Reference for ingredient descriptions: Tightly Curly & Paula's Choice