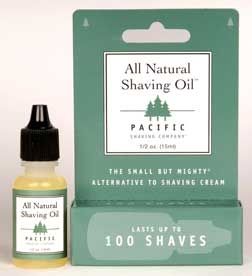 Stan Ades considers himself the average guy. He's not into fancy grooming products or perfumey, musky scents.
"I'm not a metrosexual," he says.
But Ades was frustrated by his daily shaving experience, which dried out his skin and left his sensitive face nicked. Shaving creams just weren't working for him. So when he came across a shaving oil in Europe, he was game.
He loved it, and decided to develop his own shaving oil back in the States. Six years ago, he launched Pacific Shaving Company, selling All Natural Shaving Oil and Nick Stick. His products have become a big hit with women as well as men, including a number of celebrity shavers.
"Just 7-10 drops of oil covers my entire leg and makes shaving without soap easy," "Our Seven Qtpies" said on the Family Review Network. "No nicks, cuts or dry skin. My legs were smooth and soft but not at all oily. Just a few drops really did cover a lot."
So far, Ades says his products have sold themselves.
"When you find something you really like, you want to tell other people about it," Ades says. "It's kind of like the TiVo of shaving. Once you use it, you can't imagine going back to life without it."
Ades says oil is a better alternative than foams and creams for several reasons.
"It's good for the skin, good for the wallet and good for the earth," Ades says.
Shaving creams lather, and lather is air. When air gets trapped, less lubrication touches your face, resulting in nicks, ingrown hairs and razor burn, he says. Ingrown hairs are an especially big problem for those with coarse, curly hair. Oil, on the other hand, allows the blade to slide easily on the skin.
Oil is more economical and environmentally responsible, he says. For every bottle of shaving oil sold, Pacific Shaving plants a tree. He estimates tens of thousands of trees have been planted since he started the company.
The 1/2-ounce size of shaving oil lasts for 100 shaves, while the 2-ounce size lasts over a year.
"It takes up 95 percent less space than a shaving cream can," Ades says proudly.
Because of its moisturizing qualities, it reduces the need for aftershave. The oil contains ingredients such as sunflower oil, bergamot fruit oil, avocado oil, meadowfoam seed oil, cucumber fruit extract, organic aloe vera leaf juice, kukui nut oil and tangerine peel oil.
And it's travel-friendly, meeting the requirements of the Transportation Security Administration.
The Nick Stick works better than traditional styptic pencil. In addition to stopping the bleeding, the Nick Stick contains Vitamins A and E as well as aloe to heal the cut. Because of its healing qualities, many people use it on their cuticles as well.
"Getting nicks is inevitable," Ades says. "You want to have it around for when you need it."
Ades believes he's made one of life's more mundane tasks a little more pleasant.
"Shaving is one of those things you have to do," he says. "If we can help make it more enjoyable, that's great."
The shaving oil and Nick Stick are sold at numerous retailers. Visit pacificshaving.com to find a retailer near you or to buy online.
Pacific Shaving is offering a special online deal for NaturallyCurly readers during the month of February. Type in "Curly" and get free shipping.
---
Check out other Spotlight stories here.