As the weather gets warmer, the products used for your hair tends to shift. Some people may experience excessive oiliness, while others may battle frizz. Whatever it is, there's no harm in having a rolodex of curly cocktails to help you maneuver summer hair maintenance. Often times, a combination of a few products will help you achieve the perfect summer time hairdo. Here are 10 curly cocktails every girl needs this summer.
For Hair that Needs Extra Moisture
With warmer weather, comes extra moisture. You body temperature tends to rise, causing you to sweat more than often. Still, some hair types manage to strip itself of moisture despite the heat. If that happens to your hair, using DevaCurl's Melt Into Moisture Matcha Green Tea Butter Conditioning Mask. Dehydrated hair thrives on masks because they help retain moisture. Partner the mask with SheaMoisture's Jamaican Black Caster Oil Strengthen & Restore Leave-In Conditioner to add a protective layer that will penetrate each strand to combat hair dehydration.
For Hair With Color
Many women go brighter during the summer months. In order to keep the hues bright, a curl cocktail mix of Olaplex No. 3's Hair Protector and Elucence Moisture's Balancing Conditioner will manage your color. Olaplex will coat and protect your hair so that all hair coloring products can be absorbed in a healthy way. Add an extra layer of protection with the Elucence Moisture Balancing Conditioner. This will allow you to make sure your hair is continuously being hydrated.
2 / 4
For Styles That Need Extra Hold
If you're trying to complete the perfect updo or a wash and go, then this curly cocktail is sure to do the trick. SheaMoisture's Make It Last Wash and Go Curl Primer is designed to define your curls, straight out of the shower. The Daily Hydration Styling Gel, also by SheaMoisture, will hold each curl in place or create a smooth, sleek ponytail while the SheaMoisture Jamaican Black Castor Oil Strengthen and Restore Edge Treatment will snatch your edges to perfection.
For Frizz Control
With all of the extra humidity in the air, a curly cocktail that will control frizz is vital. A combination of SheaMoisture's Curl Enhancing Smoothie, and Frizz-Free Curl Mousse, will leave your hair with no other option than to be luxurious. The curl enhancing smoothie will define curls while maintaining moisture, which will control unnecessary frizz. The frizz-free curl mousse was specifically designed to reduce breakage and retain moisture.
3 / 4
For Coily Hair Maintenance
When your hair is coily, there are 3 products that will make each style thrive. A great leave-in conditioner, a strong gel, and an oil to keep your hair moisturized and seal your ends. Cantu's Coconut Curling Cream is great because it will define and moisturize your curls. Ecoco Eco Styler Gel offers an effective hold every curl pattern. Tropic Isle Living Jamaican Black Castor Oil is perfect for massaging the scalp, sealing your ends, or gently coming through your hair. A small amount will ensure that your hair remains moisturized for days!
For Maintaining a Blow-Out
Every now and then, you may become curious what your hair would look like if it were blown out. Before applying heat to your hair, be sure to protect it with Cantu's Thermal Shield Heat Protectant. This will guarantee that any heat, whether it be a flat iron or blow dryer, won't damage your hair. Partner that with SheaMoisture's Jamaican Black Castor Oil Strengthen & Restore Blow Dry Creme to make the maintenance of straight hair seamless.
4 / 4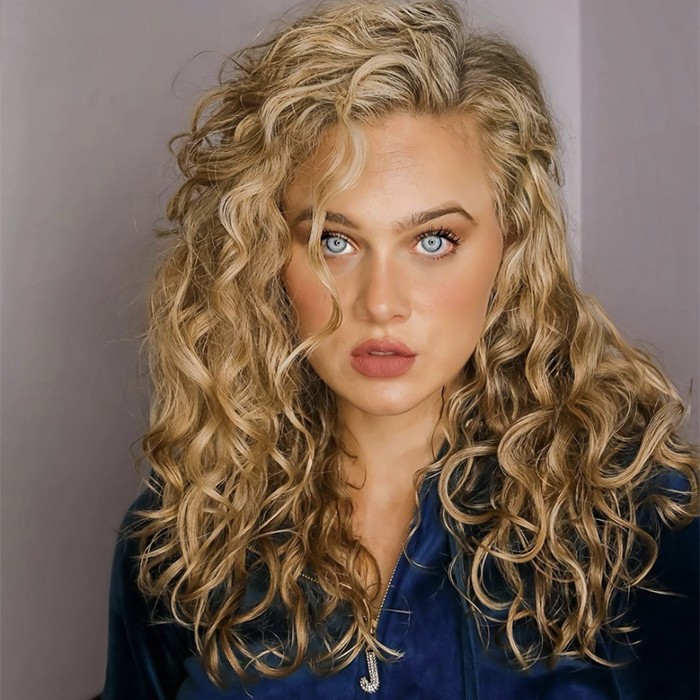 For Adding Definition to Type 2 Curls
If you have type 2 curls, there are great products that will bring out your natural curls or waves. The AG Hair Re:Coil Curl Activator works perfectly for hair types with a looser curl or wave pattern. It will rejuvenate your hair, bringing it back to life! When you're done with the curl activator, add KeraCare's High Sheen Glossifier. It's lightweight formula will moisturize your hair while highlighting your hair's natural shine.
For Adding Definition to Type 3 Curls
For those type 3 curls, you'll need a cocktail that can handle tighter curls and larger volume. Ouidad's Curl Quencher Moisturizing Styling Gel will coat your hair with the right amount of hold to keep your curls defined and moisturized. Finish your hair with Keracare's High Sheen Glossifier for a healthy, glossy look.
For Adding Definition to Type 4 Curls
If you want to keep your coils tight, SheaMoisture's Mongongo & Hemp Seed Oil High Moisture Seal Styling Gel will give you the ultimate hold. Sometimes high-porosity hair can be a lot to handle. The Mongongo & Hemp Seed gel will assist in managing your curls and making them easier to maintain.
For Low-Porosity Hair
Because low-porosity hair is prone to build up, a shampoo like Mixed Chicks Shampoo will eliminate oils, dandruff and excess product left on the scalp. Partner that with a light hair milk that won't weigh your hair down. Mielle Organics Moisturizing Hair Milk adds the right amount of hydration for dry hair.
Curl cocktails are a vital part of summer-time hair maintenance. Any of these 10 combinations should help your hair flourish during the warmer months. What do you think? What is your favorite hair concoction? Let us know in the comments!