There is no way to avoid the sweat that comes with having an active lifestyle and while you can prepare as much as possible before a workout, maintaining your hair between workouts is also very important. For those who workout regularly whether that's 2x or 5x a week, it can be tricky having to maintain our curls between workouts because of the frequency of an active lifestyle and the toll it can have on your hair health.Between workouts you want to refresh, style, and accessorize your hair in ways that replenishes and hydrates it until your next workout. You never want to take the position of doing nothing because you're going to workout sooner rather than later. Your curls need moisture and maintenance even if it's just a spritz from a refresher or a nice scalp massage to free your roots of the sweat and product build up. 
Here our 10 products and accessories to help you style and refresh your hair between workout days.
2 / 11
Are you ready to bring your curls back to life? We all know the struggle of post-workout sweat and how it can cause an itchy scalp and limp curls. This moisturizing spray features ingredients like argan oil and tea tree extract and can be used daily to refresh your curls and provide scalp relief between your workouts.
3 / 11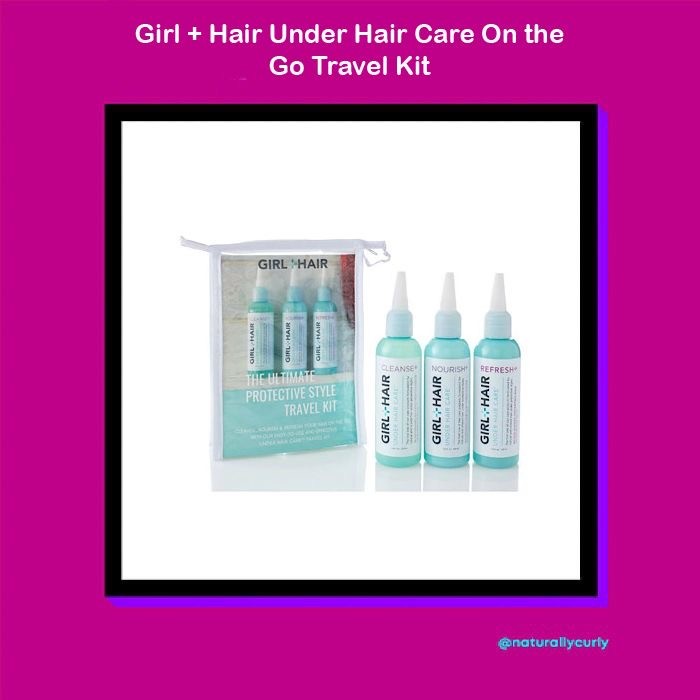 Scalp care is so important when you are working out because sweat can not only cause an itchy scalp, but cause product build-up which can prevent healthy hair growth. The Girl + Hair Under Hair Care is the perfect kit for keeping your products in your gym bag for easy use after a workout. The three-step system also makes it easy to cleanse, condition, and style your hair on-the-go! Whether you are working out at home or in a gym, this trio is perfect to keep handy between workouts to give your scalp the love it deserves.
4 / 11
We can all use a refresher between our workouts which can help reactivate any existing product in your hair. While you are maintaining your curly regime you won't be rewashing your hair after every gym session so a refresher is a great way to liven up your curls with less effort. Rizos Curl Refresh and Detangle Spray is one of our B.O.B winners that will lock in moisture without leaving your hair greasy. This is perfect curlies who don't plan to co-wash or cleanse their hair between wash days, but need to give their curls a moisture boost.
5 / 11
When you are rocking your favorite protective style, having a good gel is critical for helping smooth down your baby hairs and flyaways after a series of workouts. The frizz is real. We highly encourage embracing the updo, braids, or any of your classic workout styles to keep your hair off your neck and away from your face and securing it with a gel is the finishing touch. The key to remember with a gel is to use one like our 2020 B.O.B winner that is free of alcohol, doesn't flake, and has UV protection to protect your strands from the sun so you can keep your hair smoothed down between workout days.
6 / 11
Don't forget whenever you finish working out, cleansing your curls is very important whether you are about to hit the showers or giving your hair a refresh. There is nothing more important than cleansing your roots and Righteous Roots RX is very versatile for helping cleanse your hair whether you use it as a scalp massage, deep conditioner hot oil treatment, or use it to soften any gel buildup in your hair. Bask your curls with ingredients like mint, coconut, and tea tree for some relaxing post workout self care.
7 / 11
We all know after a great workout comes an intense set of tangles that can build up depending on your hairstyle, accessories, and sweat. When you are washing your hair post workout, you want to use a brush that is going to detangle and define your curls to bring them back to life. Whether your hair is wet or dry this is a strong, durable brush that is perfect for stubborn knots and sensitive scalps.
8 / 11
When you live an active lifestyle whether you need as much convenience as possible when styling your hair. As you develop your curly hair regime between workout days, you want to minimize the frizz as much as possible. This towel is perfect for protecting your hair between workouts because it can help it dry faster without frizz or damage.It's multipurpose use makes it a must-have in your gym bag because of its ability to absorb moisture quickly. 
9 / 11
There is nothing like trying to figure out how to keep a smooth, polished hairstyle between workouts and depending on your style, you may be limited to how you can transform your hair. Throwing on a chic headband is perfect for protecting your edges and stylishly holding your hair back. The versatility of a headband allows for your to wear your hair down, in an updo, or give your edges some love while they are exposed with a protective style.
10 / 11
Fighting the frizz is one of the most common hair problems you experience when you workout since you sweat out alot of products when you are working out. Wearing a hat between workout days can help eliminate the frizz and allow you to wear your hair comfortably in a ponytail, low bun, or protective style. This backless curl cap won't snap your hair and comfortable wraps around your head for a stylish comfortable fit.
11 / 11
Protection is the key your hair needs and nothing does it better than a bonnet. Wearing a satin bonnet can help your hair hold moisture and protect your curls whether you're rocking it during the day or night. Satin bonnets are a tried and tested staple of a naturalistas regime because they also protect your edges and ends of your hair to prevent breakage. After putting your hair through the ringer during a workout, you definitely want to wind down with a bonnet on your rest days.
Which one are you planning to try? Share with us in the comments!