Although Halloween festivities are for everyone, there's something particularly special about being a kid and getting the chance to transform into your favorite character or scary creature for a day. Not to mention the droves of treats and the occasional full-size candy bar that your parents actually let you to eat for that one night. Now, the real treat will be seeing your youngsters having the time of their lives ringing doorbells and collecting their goodies. Have little ones that haven't made up their minds about what they want to be? We're here to help.
To get your creativity flowing, we've put together a list of curly kids in their best spooky ensembles. Ahead, is a googly-eyed octopus, a sweet sugar skull, a precious witch and wizard duo, and more. Scroll through for some Halloween inspo for your curly cutie, or for yourself—even grown-ups want to dress up every now and again.
1. Mirabel Madrigal from Encanto
Curly kids were enthralled with the on-screen representation of curly characters in Encanto this year, and seeing their reactions warmed our hearts. This is a costume the whole family can join in on!
2. Hogwarts Students
2 / 14
If these two don't melt your heart, we don't know what will. This Gryffindor and Slytherin look ready to take on Halloween day. A long robe, a striped scarf, and a wand will transform your little witch or wizard, as well.
Need a last-minute Halloween costume idea for yourself? Here are 20 meme-inspired costumes anyone can do. 
3. Bride of Frankenstein
3 / 14
"It's the perfect night for mystery and horror. The air itself is filled with monsters." Halloween is the perfect night to dress up as a bride of Frankenstein, and a fun opportunity to get creative with waves or curls. 
4. Grandma
4 / 14
Grandparent-inspired looks are always a crowd favorite. You can even dress up your little one in their grandparent's go-to outfit.
5. Fashion Icon
5 / 14
This baby girl isn't fashionable, she IS fashion. Chanel's iconic quilt bag makes a surprisingly adorable Halloween outfit.
6. Queen Bee
6 / 14
Jordyn's bumblebee-esque attire combined with a honeycomb makeup theme is too stunning. An easy at-home take would be a bee costume with a crown!
7. Bedazzled Skeleton
7 / 14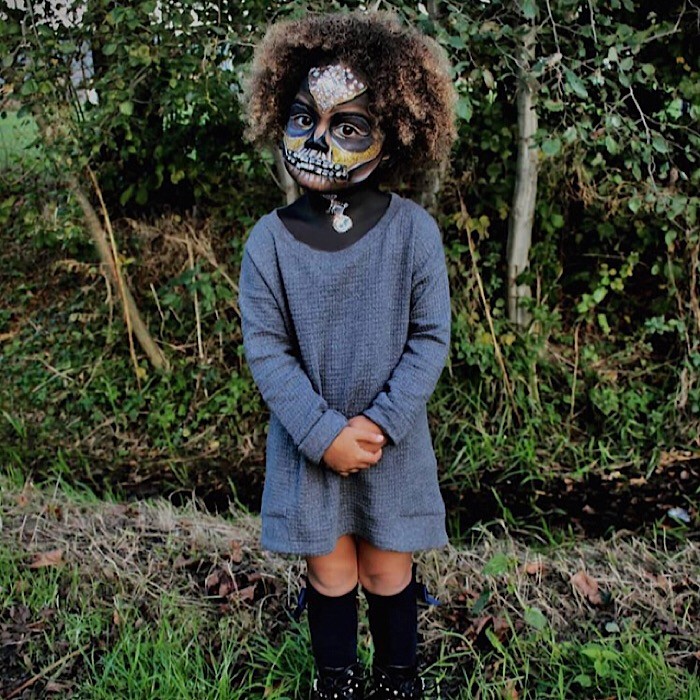 If you're a pro with facepaint, go all out with a bedazzled skull look. Zoey's detailed makeup is super unique and very festive.
8. Chucky from Child's Play
8 / 14
There's no way you can be afraid of this adorable Chucky look-alike. Throw some overalls, a striped shirt, and some temporary hair color on your baby for a quick "Child's Play" throwback costume.
9. Janet
9 / 14
Does your child have a favorite movie character or actor? Honor them with a side by side photo recreation like this Janet lookalike. The great part about this is you can use items you already have around the house and there are so many characters to channel!
10. Fairy
10 / 14
This little evil fairy looks pretty sweet, if you ask us. Jasmine's crochet tutu and fairy wings are a Halloween classic.
11. Spiderman
![70A4C4D4-B71E-4F99-8928-A81C48E63E8F](//images.ctfassets.net/naq2t3kc7ito/79Piq90FkTQNmSY7VzVuub/a197d2b1e9eb3a78bad1eb309d971d9f/70A4C4D4-B71E-4F99-8928-A81C48E63E8F.jpeg)
We love a good superhero costume! Noah fits the bill in his Spider-Man costume, complete with strapping muscles.
12. Spiderwoman
11 / 14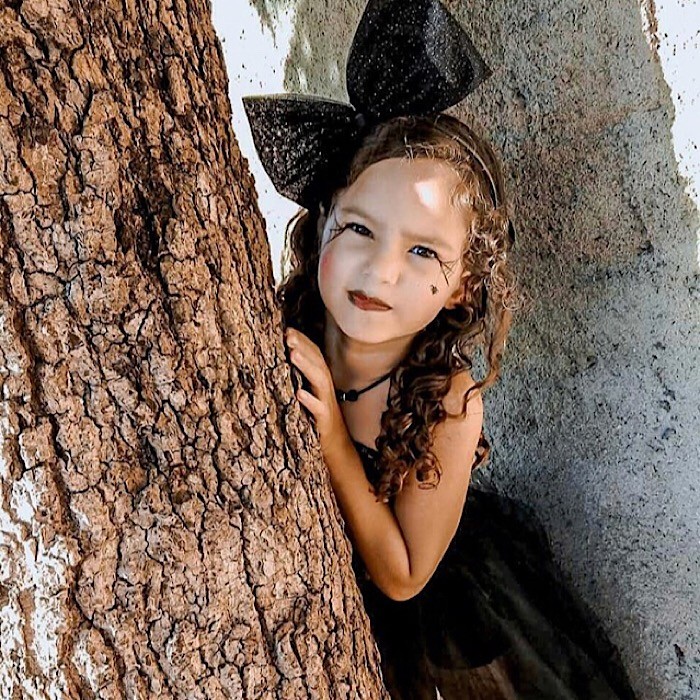 Mannu's look keeps it girly with just a little Halloween spice thrown in. The cobweb eyeliner is a charming touch.
13. Octobus Bun
12 / 14
A bun, but make it spooky! Transform your little one's normal bun into something fun and creative. We love this octopus. Maybe it can even be a spider?
14. Little Red Riding Hood & Wolf
13 / 14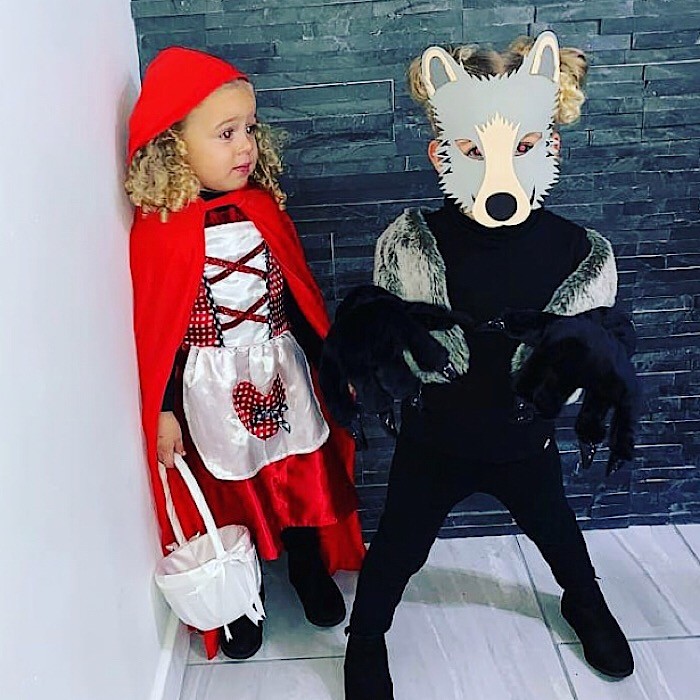 For parents of two siblings or even twins, Red Riding Hood and the Big Bad Wolf costumes are the perfect idea. Here, twins Nyah and Mylah play their role to a T.
15. Pennywise
14 / 14
Bill Skarsgård and Tim Curry are great actors, but you have to admit this curly Pennywise way cuter.
What are your little ones wearing for the 31st? Did one of these looks inspire you? Tell us about it in the comments below.
Don't miss out on our Trick or Treat Sale. Here are 20 Popular Curl Products that are 20% Off Right Now.