In the natural hair community shampoos sometimes get a bad reputation. When you first go natural you might have been told to shampoo less, or even co-wash instead of shampooing your hair.
Keeping your hair free from product buildup is very important to the health of your hair. When your hair is coated with tons of product it will be hard for products to penetrate and deposit into your hair shaft. This can prevent growth, and furthermore cause dry scalp and so much more. Shampoo your hair as it fits into your schedule and based on your regimen. One thing we do know is that nothing is worse than dry hair and scalp. Not all shampoos are created equal though, so make sure that the shampoo that you use are not drying your hair out. We've got you covered dont worry! Here are 15 of the best hydrating shampoos that will help you in your quest to find the perfect moisturizing shampoo.
This shampoo was created with type 4 naturals in mind. This moisturizing shampoo has natural ingredients like honey and babassu oil to help lift dirt and oil from your hair while also preserving and providing moisture. You won't be disappointed trust us! Your hair will thank you.
The Design Essentials Almond & Avocado Moisturizing and Detangling Sulfate Free Shampoo is amazing for those who lack moisture. The combination of Avocado and Almond allows the hair to be moisturized while also cleansing and detangling your hair. We love that it's sulfate free as well and will not strip your hair.
2 / 8
This shampoo is perfect for thirsty dry curls! If your strands are in need of intense hydration then this is the perfect choice for you. This shampoo is also gentle enough for daily use and also potent enough to improve the condition of your strands.
The Doux Sucka Free Moisturizing Shampoo is a one-of-a-kind shampoo! It cleanses hair while also providing the ultimate hydration for your strands. This shampoo is also safe for color-treated and chemically treated hair. It's a great shampoo for all hair types. We also love this shampoo because it also protects against damage and it provides the perfect combination of Shea Butter, Sea Silk, and Hibiscus.
3 / 8
Honey has many amazing benefits for the hair such as helping to attract and maintain moisture, and this shampoo does not disappoint.
Uncle Funky's Daughter Rich & Funky Moisturizing Cleanser is super hydrating. It has a blend of comfrey, rosemary, and willow bark to help cleanse your hair while also stimulating hair growth.
4 / 8
Looking for a sulfate-free shampoo that is also super moisturizing? Well look no further. The TGN moisture rich sulfate free shampoo does not disappoint. It is enriched with aloe vera which helps to gently cleanse your hair without stripping your curls of their natural oils. It also has Pro Vitamin B5, which helps to reduce breakage and also increases moisture retention.
This shampoo has the healing blend of honey and chamomile that will leave your hair and also your scalp moisturized. This special blend also helps to protect your hair and scalp against dryness.
5 / 8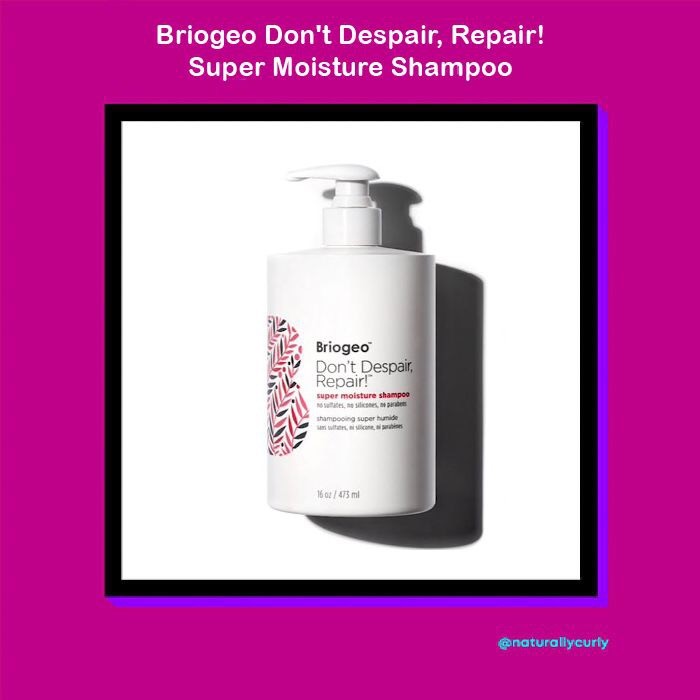 This ultra-hydrating and foamy shampoo will bring a surge of intensive moisture to your curls while also removing dirt, oil and buildup from the hair. It has ingredients that help to condition and repair your curls, like algae extract, panthenol, biotin, and rose oil.
This moisturizing shampoo is made with Jamaican Black Castor Oil with Vitamin C & Vitamin E to help cleanse the hair and scalp gently. This special blend will help to repair and restore your hair and scalp.
6 / 8
This hydrating shampoo is infused with honey & coconut to gently remove dirt and buildup from the hair without stripping hair of its natural oils. The blend of Honey & Coconut Oil deeply penetrate and hydrate the hair, leaving the hair soft, nourished and with a natural shine.
This shampoo gently cleanses the hair without leaving it feeling stripped. It's also safe for color treated hair. Give your curls an extra boost of hydration!
7 / 8
groSecrets Crème Cleanser helps to renew the hair as it also removes product build-up leaving your hair refreshed, soft and manageable. Its infused with Shea butter, olive oil, keratin, and coconut oil combine in an extra-moisturizing formula that helps to restore and promote healthy hair growth.
This shampoo has a unique blend of aloe vera juice and is also infused with pure coconut water. This is the first ingredient listed. The results help you achieve moisturized hair and a healthy-looking glow with every use!
8 / 8
This shampoo is infused with coconut oil, red palm oil and is also rich in antioxidants and Vitamins. It is also blended with Flaxseed Oil to create this anti-shrinkage formula. It will leave your curls soft, shiny and tangle free.
Which shampoo is your favorite? Let us know in the comments!