Do any other naturalistas absolutely dread wash day? I used to adore the opportunity to do nothing but pamper my curls for a few hours. Now that my life is a little busier, wash day feels like an inconvenience, and I tend to put it off for as long as possible. Unfortunately, I also have the type of hair that doesn't maintain its style for longer than a day or two.
That's where curl refreshing products come in. Back in the day, to refresh your second- and third- (and fourth- and fifth- and... fourteenth-) day hair, many of us used the same trick: we combined a little conditioner and a little water and spritzed that into our hair. It was like a homemade curl refresher.
These days, you don't have to make your own curl refresher because there are oodles of products specifically designed to revive your curls. They're light, typically water-based, moisturizing, and provide some hold for any quick re-adjusting you want to do to your curls.
Here are 12 amazing products for refreshing your curls to stretch wash day a little longer.
This herbal spray is excellent for softening and moisturizing hair, especially coils, braided styles, and locs. It features lavender, nettle, chamomile, and other herbs that stimulate your scalp and encourage hair growth. A little of this stuff goes a long way, and it smells like fruity goodness.
2 / 12
This spray contains aloe, antioxidants, and plant-based ingredients like ginseng and spirulina. It's great for thick curls as well as frizz-prone hair. It's moisturizing enough to reactivate your curl pattern and smooth away frizz, but not heavy or sticky on the hair.
3 / 12
This Revitalizing Hair Smoother can serve multiple purposes. Use it to detangle, as a daily leave-in, or as a curl refresher. It hydrates dry hair, defrizzes, and smoothes. It's light enough to use with other hair products, and it's beloved by all curl types.
4 / 12
This water-based curl refresher is creamy, so it's great for those who need a thicker product to really bring their curls back to life. It contains aloe juice, baobab, and argan oil to provide deep hydration without weighing down your curls.
5 / 12
A natural vegan curl refresher for only $10? Amazing. The two stand-out ingredients in this hydration spray are argan oil and rose oil. Naturalistas love it for refreshing all curl types, from waves to curls. It has won not one, but two Editor's Choice awards.
6 / 12
Loose curls and waves will appreciate this curl refresher from CurlFriends. It adds volume to limp curls, reduces frizz, and softens hair. It also contains rosemary extract, which promotes scalp health, boosts hair growth, and prevents dandruff.
7 / 12
Another NaturallyCurly award winner, the Hold & Shine Moisture Mist is a classic at this point. It contains silk protein, coconut oil, and neem oil. It moisturizes and adds shine at the same time. It's perfect for looser curl textures.
8 / 12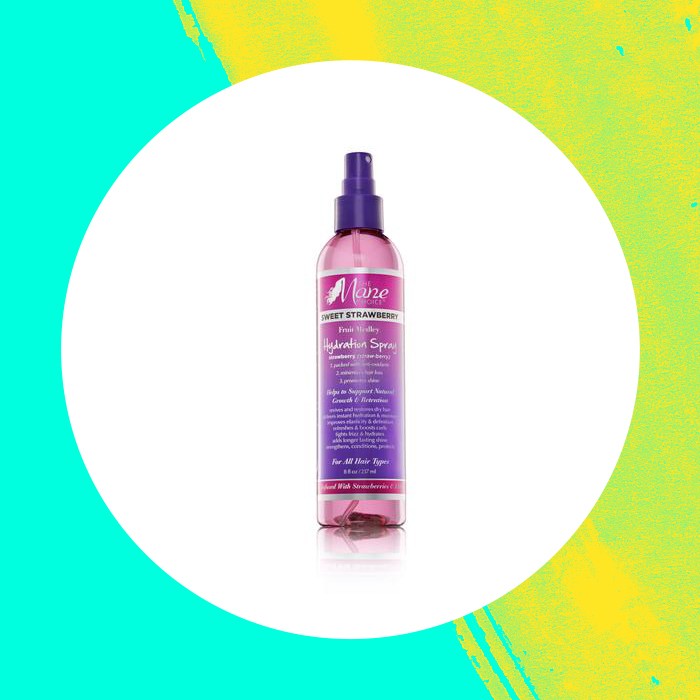 This product was chosen by type 4s for the 2018 NaturallyCurly Editor's Choice Awards. It contains aloe juice, biotin, and a nourishing blend of herbs. From the editors: "This power-packed product is filled with essential vitamins and nutrients. It is perfect for enhancing shine strength and manageability." Because sometimes kids products are the best products.
9 / 12
This curl refresher features sunflower oil, milk protein, and chamomile to hydrate and define your curls. It can be used on either wet or dry curls, plus it smells diviiiine.
10 / 12
This anti-oxidant rich curl refresher packs a lot of benefits into one bottle. It moisturizes, strengthens hair, reduces frizz, enhances shine, and prevents damage. Featured ingredients include wheat germ oil, pomegranate oil, and sweet almond oil.
11 / 12
Looking for a curl refresher that's not a spray? This curl enhancer from Aveda is water-based, but it comes in a creamy formula, making it easy to evenly hydrate all of your curls. It also contains wheat protein to lock in curl definition.
12 / 12
This miiight be the prettiest bottle on the list. This hair mist was picked by type 3s for the 2018 Editor's Choice Awards. It reactivates and hydrates curls with a "powerful blend of rose flower water pure aloe vera and handpicked bioactive floral ingredients and herbal essences."
What's your favorite product for refreshing your curls? Let us know in the comments.