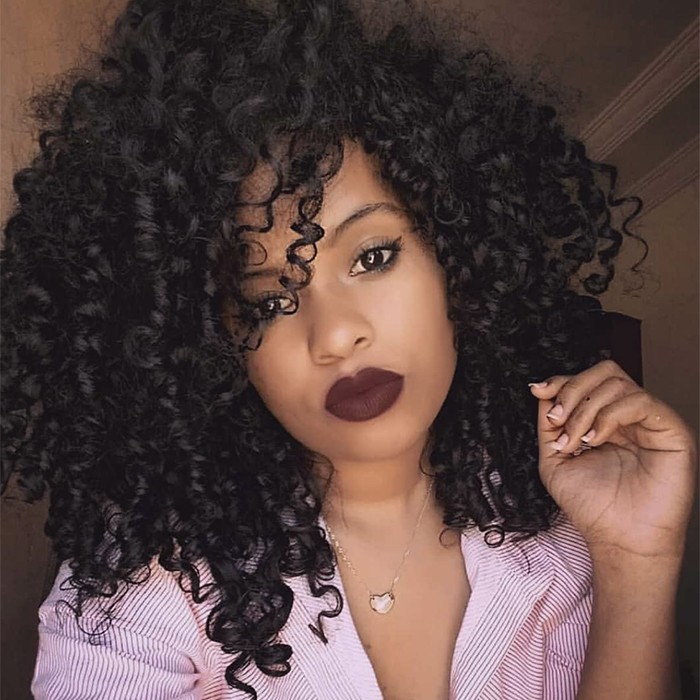 Preferences with regard to curly hair product and care differ around the world. Some curly hair products are very popular in certain countries; however, they are often not sold worldwide. Moreover, the demand for certain hair care products is often triggered, because of social media and online reviews.
We have searched the web to identify the most popular products in five different countries: The United Kingdom, Brazil, Mexico, Dominican Republic and the Netherlands. We even found shops, which sell natural hair products in these countries.
The United Kingdom
The most popular hair care products in the UK are Boucleme, SheaMoisture, and Cantu.
Boucleme is a British hair care brand. Their product range consists of 0% sulphates, silicones, mineral oils, petroleum, propylene glycol, PEGs, parabens, and artificial fragrances and colours. Also, the brand has a beautiful initiative: for every 300ml bottle sold they will plant a tree. This way you will contribute to making the planet a greener place.
SheaMoisture is one of the most popular hair care products in the UK. The brand aims to offer sulfate free products, without parabens and other types of chemicals, which your curls may dislike. It's safe to say that around 2011 the brand did not cross the UK borders. As soon as 'the curly revolution' grew, the demand of the brands products increased.
Cantu...you either hate it, or you love it. Many seem to love it and happily recommend these products via instagram and blogs. Cantu has expanded its offerings the last couple of years and when we read the reviews, we see that the brand mostly receives positive reviews.

There are many (online) shops, that sell Curly Hair Products.
Brazil
If you search #Cachos on Instagram, you will see that Brazilian curlies are rocking their curls too. This triggered our curiosity about the hair care products used by UK curlies. What do these curlies do to rock their curls? We found out that Novex and nuNAAT are popular brands in Brazil.
Novex hair care is a Brazilian company, which aim to provide hair products for women from different ethnicities.They offer great hair care products and the sizes of their products are often huge.
nuNAAT believes that with the right combination of natural ingredients, everyone can have beautiful hair. One of the most popular products of nuNaat is the is probably the Brazilian Keratin Mask. This product is not suitable for all curlies, if your does not lack protein, than it is better to avoid using this product. If you have high porosity hair, than this product may be the solution you have been looking for.
We have searched for shops, which sell natural hair products in two of the biggest cities of Brazil: Sao Paulo and Rio de Janeiro:
São Paulo
Ludovicus Total Beauty Supply
Sephora
Drogaria Iguatemi Shopping Market
Rio de Janeiro
Mexico
Many Mexican beauties are rocking their curls too! The favorite haircare products of our fellow curlies from Mexico are SheaMoisture, Bouncecurl and Kerastase.
Bouncecurl is founded by Merian a few years ago. In the meantime, the products are being sold in many countries across the globe. The aim of Bouncecurl is to encourage all curlies to embrace their curly hair.
We found the following store, which sells natural hair care products.
Netherlands
The Favorite hair care products of many Dutch curlies are SheaMoisture, Cantu and KinkyCurly. SheaMoisture and Cantu have been described earlier in the article. But KinkyCurly has not been explained yet.
The natural products of KinkyCurly are formulated to add moisture to your strands, while protecting it. Besides, the products do not consist of silicons, parabenes, alcohol, mineral oils etcetera.
The following shops sell natural hair care products in the Netherlands:
Online
Shops
Yari
MeGorgeous
Kruidvat
Trekpleister
Afro Indian Market
Dominican Republic
The favorite hair care products of many Dominican Curlies are SheaMoisture, KinkyCurly and Mielle.
Mielle Cosmetics offers 100% natural hair care products, which are tested and proven toxic-free. The brand believes that non-toxic ingredients will result in healthier hair and skin.
We have found a great webshop in the Dominican Republic, which is Afroliterd.com!
Did not we mention your country? Let us know where you come from and what your favorite hair care products are!