Short cuts have been all the rage recently. With big chops and natural hair journeys on the rise, it's the perfect time to let go of that some length! Pixie cuts are always easy, fresh and fun… until they start growing out. Some of us get stuck in that awkward, "Do I keep cutting it short?" or "Do I let it grow out?". Either way, here are some tips and tricks on how to slay your growing mane.
Finger waves
My favorite go-to hairstyle right now is finger waves! My hair is a bit too long to wear without styling, so this style works wonders. It still shows off your short cut, but gives you a sleek chic finish.
Before you start styling, you want to make sure your hair is still pretty damp. If your hair is too dry, you'll have a lot of trouble getting it to lay down properly. While your hair is still wet, you want to create a side part and comb your hair down to your head, as low as you can get it.
Once you've prepped your hair, you want to use some extra hold mousse. My favorite one to use is Cantu's Wave Whip Curling Mousse! Apply a generous amount all over your head until it's completely covered. It's important during this step to keep your hair laying down flat.
From here, you want to take a narrow-toothed, rat-tail comb, and start creating the waves. Place the comb at your side part, and create a swoosh motion towards the back of your head. As you create this motion, it's helpful to place a finger on the hair you're manipulating. This way, it keeps your hair still enough to get a more perfect wave.
Once you've created this first wave, use the comb to naturally follow where the wave should go next. Typically, you want to go in a more back and forth motion to really see a distinctive wave pattern.
Repeat on the other side, but start in the opposite motion. When it comes to the back of your head, I recommend using an extra mirror to really see what you're doing. But if you're in a rush, try your best to follow the waves using your hands.
Once you've finished all of these steps, you can wrap your hair with a scarf, durag or any other materials that work for you. This step is optional, however it helps keep the style in place all day!
2 / 3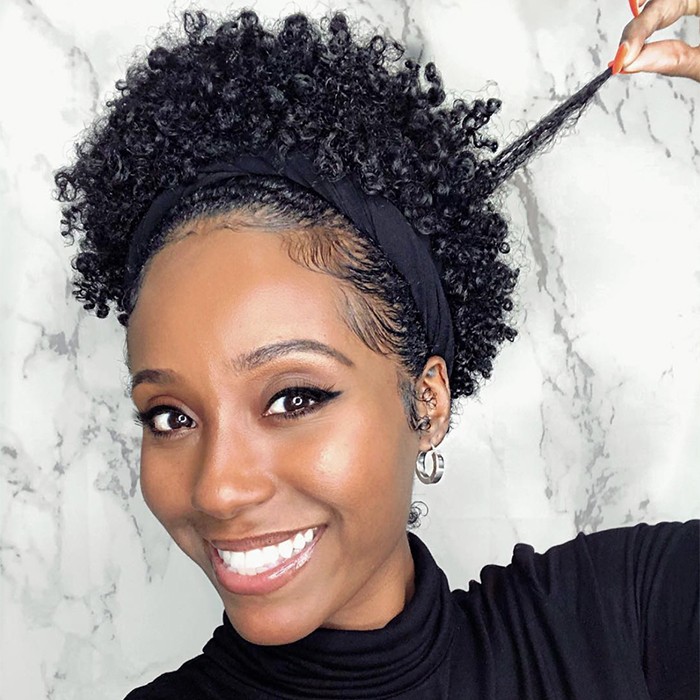 Lay your baby hairs
This is my favorite thing to do with a cut that has hit an awkward length! It always gives the appearance that your hair is much more sleek and unruly than it actually is. While laying your baby hairs may seem intimidating, I can assure you it's much more easy than it looks!
First, you'll need a toothbrush, a spray bottle, and your favorite extra hold gel. Typically, I use Eco Styler Professional Styling Gel with Argan Oil which keeps them in place all day!
After you've gathered your materials, you'll want to start by wetting your baby hairs so that they are damp. Again, this makes it easier to manipulate your hair and keep it in place all day. Then, you'll want to take your toothbrush and swoop the hairs in whatever direction you please.
Once you have a template of what you want your baby hairs to look like, dip your toothbrush in the gel to pick up a small amount. Then, go over the baby hairs you have already laid down. Once the gel dries, this will keep them in place all day.
After you've applied the gel, take a durag or scarf and tie it tightly over the area where you've laid your edges. Without this step, your hairstyle may not stay secure all day. Once your hair has dried, remove your scarf and go about your day!
Secure the wig
Out of all the styles we can try out, this is the easiest! Putting a wig on removes the need from dealing with your unruly length. You'll need a wig cap, some Got2B Glued Spiking Gel, and if you're feeling up to it, you can lay some baby hairs down too!
How you choose to wear your hair under your wig cap is up to you! Depending on your length, it may be easiest to slick it back or put it in braids. I typically op for slicking it back because I change my hairstyles so frequently.
3 / 3
Once you put on your wig cap, you can do one of two things: lay your baby hairs to compliment the wig or apply Got2B Glued right along your hairline to secure the wig. Both options work great, but it depends on what look you're trying to achieve!
After completing one of those two steps, secure the wig by tightening the straps to make it the most comfortable for you. Then, put the wig on by starting in the back of your head and making your way to the front. If there are clips attached to the wig, make sure to secure those to keep your wig from moving all day!
Pixie cuts are definitely a fire look, but they can be annoying as they grow out. Any of these styles will keep you on your A game, even when your hair isn't cooperating.
Do you have, or are you considering, a pixie cut? Share your thoughts with us in the comments below!