Whether it's glamorous and sophisticated or carefree and fun, the updo is a style that never goes out of fashion. You can wear it to work in the morning, and it will hold its shape for an evening party, provided you secure it properly and use lots of hairspray.
Here are my favorite updo tips for curly hair:
It is a good idea to practice your updo of choice before you have to wear it so as to avoid over-manipulation of the hair (which can lead to loss of curl definition).
Make sure your hair is well-moisturized, paying particular attention to any loose or flyaway pieces.
Use edge gel. Nicely laid edges can complete your style, particularly if you are going for a formal, elegant look. If you have grays at the hairline, black edge gel or another color that matches your own such as these can cover them as well.
Finish with shine-enhancing hairspray for sheen and hold.
For style inspiration, see below.
In need of a wash day, but want to extend it as much as you can? Try this quick and easy updo perfect for styling when you're low on time.
2 / 10
This twisted updo is simply stunning! Great for work, weddings or a holiday party to keep your curls poppin all night long.
3. Image Source: @joyjah
3 / 10
The classic high bun with a couple loose curly pieces to frame your face are the perfect combo. This timeless style is a forever favorite, plus it looks great on all hair types.
4 / 10
Tis' the season for big voluminous hair! This gorgeous yet effortless curly updo is the perfect style for any occasion from day to night.
5 / 10
For a pretty, carefree look that takes just minutes to put together, try this 3-Step bun. It is inspired by the 2-step bun from The Small Things blog.
6 / 10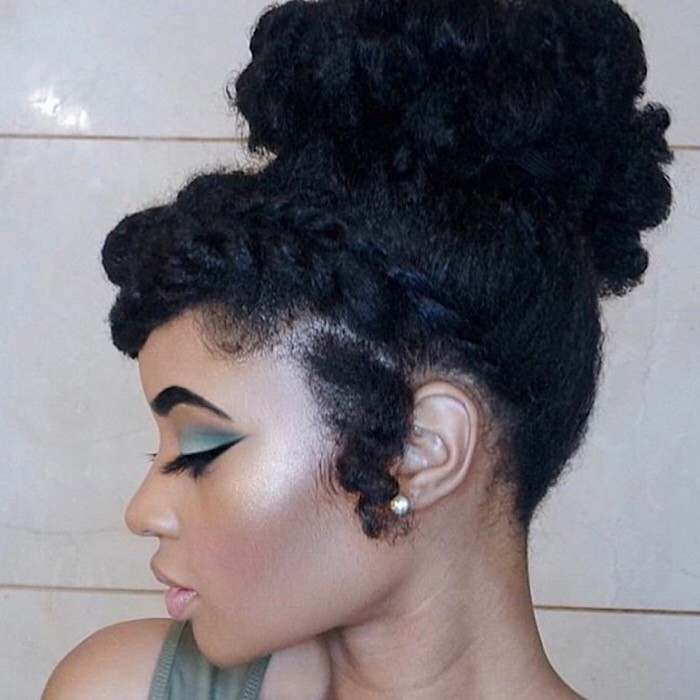 A mile-high bun and a cat eye go great together. Accent this look with a horizontal braid for a truly unique statement.•
7 / 10
Bebonia Curly Hair Extensions can take curls to new lengths. You are sure to love this soft, romantic look with loose braids and shiny waves.
8 / 10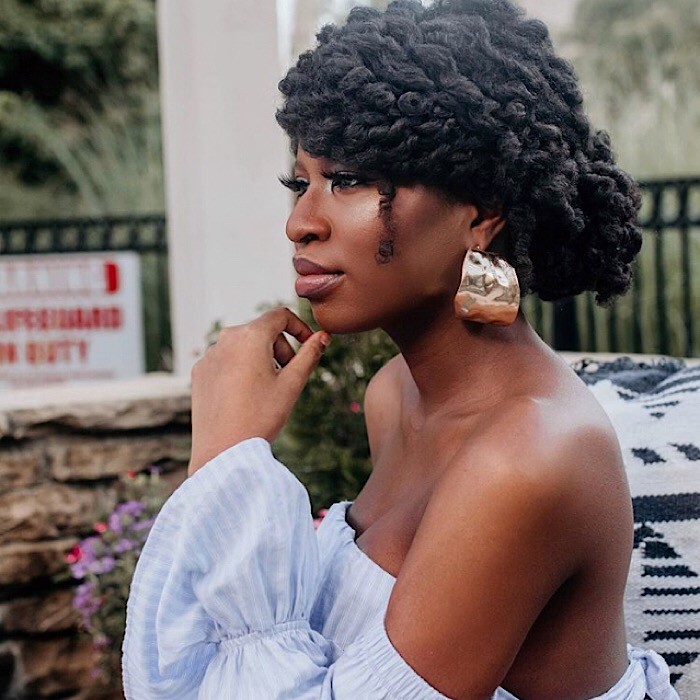 To pump up the volume, try a rod set for extra definition and volume. This gorgeous twisted low bun is a great way to switch up your everyday look in no time.
9 / 10
Spice up your top knot with gold string combined to create a stunning, sparkly style that is a great pick for the holidays.
10 / 10
This updo emphasizes spectacular curls. It has lots of height, along with perfect definition, plus even a few sparkles.
What is your favorite updo? Let us know in the comments below.