Not only can we enjoy a wider range of product lines made with textured tresses in mind, but we now have the option to choose healthy products that work to maintain the overall well-being of our hair and scalp--courtesy of the ingenious work of black creators and entrepreneurs, like the ones listed here.
So in the celebratory spirit of supporting Black businesses and we want to give you an idea of what hair care brands to add to your curl cabinet.
1. TGIN
Founder of Thank God It's Natural, Chris-Tia Donaldson, took an interest in natural hair care all the way back in 2002, when monthly relaxers and daily straightening was the law of the land. After years of research, her company TGIN has been more than successful at achieving their goal of delivering healthy, manageable curls and coils at an affordable price. The company prides itself on the organic ingredients in tgin products that never contain parabens or phthalates, and are never tested on animals.
Since being diagnosed with breast cancer in 2015, the Harvard grad uses this successful platform to advocate for women who are going through treatment and experiencing financial difficulties due to race and other socio-economic factors through the tgin Foundation.
2. Mielle Organics
2 / 50
Home of bestsellers like the Detangling Co-Wash and the NatruallyCurly Best of the Best winner the Moisturizing Avocado Hair Milk, Mielle Organics is an established heavy hitter in textured hair. After suffering from heat and color damage in 2014, CEO and founder Monique Rodriguez began to restore her hair with her very-own homemade product blends, which became the foundation for its product selection today.
3. Adwoa Beauty
3 / 50
Adwoa Beauty was founded by Julian Addo in 2017. Adwoa Beauty "adwoa (ahh - ju-wah) a name designated for females originating from the akan day naming system, "adwoa" means born on a monday" is a modern, non toxic, gender neutral beauty brand catering to multi-cultural hair textures. Julian has always had a passion for hair and began doing her friends hair at 14 years-old. From owning her own salon in Minnesota, creating one of the biggest natural hair expos, Bella Kinks , and now with creation of Adwoa Beauty she continues to show the true beauty and diversity of natural hair with the baomint™ collection, which prioritizes a healthy scalp for steady hair growth from root to tip.
4. Girl + Hair
4 / 50
Wise is the man or woman who wears a protective style and still takes care of the hair underneath--no other brand understands that more than Girl + Hair. When CEO and founder, Dr. Camille Verovic, discovered that wearing wigs, braids, and weaves made her busy life easier, she also found that there were really no products made specifically to care for natural hair underneath a protective style.
The lack of ability to cleanse and moisturize her hair while in these styles resulted in dryness and even breakage. Her solution came in the form of Girl + Hair's Under Hair Care line that is the first of its kind. Each product from this line is able to flow freely from the nozzle, through your braids, and to your hair and scalp. The line includes a cleanser, a hydrating milk, and even a leave-in!
5. Jane Carter Solution
5 / 50
If the fragrances in beauty products have ever bothered you, whether you're sensitive to certain smells or you're just not a fan of synthetic scents, Jane Carter might have a solution for you. A serious allergic reaction inspired founder Jane Carter to create her own line of products featuring ingredients obtained from plants, essential oils, and sea botanicals we now know as Jane Carter Solution.
Jane Carter and her team know the importance of diversity--Jane was one of the first Black students to be integrated into a White school at the age of six. They're committed to fostering a community that is inclusive of all hair types, textures, and natural beauty. Apparently, the Queen Bee herself, Beyonce, is a fan of their Wrap & Roll Mousse. Enough said.
6. EDEN Bodyworks
6 / 50
What started out as a childhood endeavor to correct damaged hair, turned into a mission to transform damaged hair all over the world. Founder Jasmine Lawrence began experimenting with kitchen-made hair products when she was just 11 years old--the results of which turned into the lovely EDEN Bodyworks. EDEN's products run the gamut from wash day, to moisturizing, to styling products, all centered around developing healthy hair at the most affordable price. Most of the products are less than $10, and the Coconut Shea Curl Defining Creme is a community favorite.
7. Alikay Naturals
7 / 50
Back in the early days of natural hair on YouTube, Rochelle Alikay Graham-Campbell began empowering naturals like herself with how-to styling videos. After gaining a formidable following and seeing a need for more healthy products for textured hair, Rochelle began concocting products in her kitchen with knowledge she'd acquired from an herbalist as a young girl. She founded Alikay Naturals at 22 and created a method and routine for applying products called the "LOC" method a few years later.
8. Qhemet Biologics
8 / 50
Qhemet is a clean, plant based hair care line founded and owned by a woman historian with 4C hair, Felis Butler. Inspired by African, Mediterranean and Ayurvedic hair care traditions, Qhemet products are carefully crafted with premium ingredients to provide the moisture and nutrients needed to nourish, strengthen and grow kinky, coily hair.
9. Miche Beauty
9 / 50
Miche Beauty was founded in 2016 by Michelle Ballard, a wife, mother of two and Youtube beauty vlogger. Michelle has an undeniable passion for educating women on how to properly take care of their hair and feel beautiful. She has been sharing her passion with the world through YouTube since 2012. Needing to have a line of products that worked for ALL textures of natural hair, Michelle was inspired to create the Miche Beauty haircare line. Michelle resides in Maryland with her husband, Jonathan (Co-owner & COO of Miche Beauty) and their two children.
10. Kinky-Curly
10 / 50
The naturalistas who put a lot of emphasis on detangling know that Kinky Curly's Knot Today Leave-in Conditioner/Detangler is the absolute truth--it's one of the best around. Shelley Davis, founder and the mind behind such products, had the idea for Kinky-Curly after being inspired by a family member's homemade natural products that left her hair looking and feeling stronger than it ever had. In her spare time, she began researching ingredients and took an online cosmetic chemistry course that allowed her to bring Kinky-Curly to shelves in 2003.
11. Camille Rose Naturals
11 / 50
A brand that currently boasts over 30 product ranges and 6 collections, Camille Rose Naturals ventures way beyond hair. Like other natural hair care brands, Camille Rose was kitchen-born out of personal need. Janell Stephens began making homemade skin and hair products for her children and saw huge returns after making them available on the Camille Rose website. As a vegan, Janell is very particular when it comes to ingredients, wanting only the best gourmet ingredients for her products. The Avocado Moisturizing Hair Milk and the Curl Maker are a couple of their best selling hair products to date.
12. Miss Jessie's
12 / 50
While catering to their customers' daily needs at Miss Jessie's salon, sisters and stylists Miko and the late Titi Branch realized that there were very few products that addressed the needs of their clientele's kinky, curly, and coily hair. Inspired by their father's mother who mixed her own formulas to style her granddaughters' hair, founders Miko and Titi created their own line of products in her name: Miss Jessie's. Miss Jessie's line is derived from hair concerns from their clientele and consists of mostly styling creams, moisturizers, and deep conditioners for curly, textured, and multi-textured hair.
13. Hair Rules
13 / 50
Hair Rules founded by Anthony Dickey and his love for textured hair. He shared his knowledge and expertise in his book: Hair Rules! The Ultimate Hair Care Guide for Women with Kinky, Curly, or Wavy Hair. After decades in the beauty industry, he started Hair Rules Salon NY, the first texture laboratory, and by doing so started a texture movement and launched his own haircare collection to cater to all hair textures.
14. NaturallClub
14 / 50
Avocados can work wonders for natural hair, and NaturallClub has a fabulous line of avocado-based products that you'll definitely want to add to your list of products to try. Muhga Eltigani founded NaturallClub after discovering the magic of her 100% natural products (some so natural that you have to put them in the freezer to keep them fresh!). Since 2016, she and her team have been dedicated to researching the newest ingredients, looking to create natural substitutes for products already available on the market. For dry hair like mine, I recommend any product from the avocado collection, especially the deep conditioner.
15. Oyin Handmade
15 / 50
The word oyin is Yoruba for honey. In 2001, life-long natural Jamyla Bennu started creating her own organic hair products for her own tightly coiled hair. In 2003, after partnering with her husband, the company launched online for the first time. The formula is highly focused on combating dryness and styling for curly and highly textured hair. All Oyin products are made with organic and food-grade ingredients, with none of the extra chemical additives. Oyin has won several NC awards for their standout products and with good reason. A couple holy grails include the Hair Dew and the Honey Hemp Conditioner.
16. CURLS
16 / 50
CURLS was created by Mahisha Dellinger to make CURLS accessible to every curl, everywhere. From babies to adults, CURLS Beauty Brands of products are specifically formulated to cater to each textured hair needs, at all age ranges. NC favories includes the Curl Souffle and the Blueberry Bliss Reparative Leave-in.
17. Briogeo
17 / 50
Briogeo is a brand that truly has something for everyone. Whether it's controlling frizz, adding volume, or repairing damage, Briogeo has something for all your hair woes. All its products rely on the "NOVA" complex, or a blend of natural oils, vitamins, and antioxidants (and no sulfates, parabens, or silicones). Briogeo is the brainchild of Nancy Twine, who combined her grandmother's priceless beauty recipes with a brilliant chemist team. The NaturllyCurly community loves the Curl Charisma Rice Amino + Shea Curl Defining Conditioner.
18. Mixed Chicks
18 / 50
Wendi Levy and Kim Etheredge found common ground while discussing the specific hair issues that they faced as multi-cultural women trying to care for hair that seemed to be somewhat in-between with altogether different concerns. Instead of continuing to blend different products together in hopes of finding something that worked, they came up with the idea to create their own product line, Mixed Chicks, to address their issues--and it wasn't long before encouragement from friends and family turned into an entire business venture. Curlies of hair types rave about their leave-in conditioner that defines and moisturizes curls, coils and waves.
19. Curl Theory
19 / 50
Founder Jamellah Ellis, with her salon and product line dedicated to textured hair, she is giving people the tools they need to embrace and take care of their hair in the salon and at home. Curl Theory's is color-safe and made without silicones, sulfates, parabens or phthalates. The hero products for Curl Theory are the Leave-in Miracle Worker and the Super Deep Conditioner.
20. Taliah Waajid
20 / 50
Since she was 14, Taliah Waajid has been involved in natural hair care by styling and braiding hair. As a cosmetologist, moving to become a manufacturer was an easy transition for her. Once she met with the right team of chemists that understood her mission was to enhance curls and not straighten them, the business took off. Taliah Waajid was the first natural brand to offer a complete line of chemical-free products.
Great Detangler
Curly Cream
21. Luster's
21 / 50
Most naturalistas that remember natural hair care before the big revival will remember Luster's famous Pink Lotion (which has undergone a little facelift since our childhood). When my mom did my hair as a child, Pink Lotion was a must-have--some people even still swear by it today. Luster prides itself on products that will make detangling a cake-walk from start to finish, with no flakes, drying, or residue. Although the original company was founded by a barber named Fred Luster, Sr., the current CEO of Luster's name is Jory Luster. Luster's has since evolved its formula to fit the needs of curly and coily girls today.
22. Soultanicals
22 / 50
Soultanicals wants to provide you with a stress-free vegan hair and body care experience, and tackle the challenges of multi-textured hair care. Mother of six Ayo Ogun began to create hair products when "tearful detangling sessions" with her daughter drove her to try and find a solution. Founder Ayo Ogun loves organic African botanical ingredients and strives to make the best decisions when choosing ingredients for healthy hair and a healthy planet, taking a holistic approach to hair care. Soultanicals is 100% toxin free including preservatives, dyes, and fragrances. A few of their top sellers that have won NC awards by our community and editors include the Soultanicals Can't Believe It's Knot Butta , Soultanicals Hair Sorrell Knappylicious Kink Drink and the Soultanicals Mango Dip Detangling Slip.
23. True by Made Beautiful
23 / 50
For Owner and Managing Partner of Made Beautiful Dana Pointer, the discussion of "good hair versus bad hair" as a child had lasting effects in the way she treated her own hair, and even her daughter's hair, giving her a relaxer at only six years old. Later in her life, Dana's daughter decided to go natural and she began to search for quality hair products to no avail--she, like many other women, created her own. Made Beautiful is rooted in the idea that natural beauty comes from within. The brand's products are made to be inclusive and informative, labeling them by texture and the natural ingredients featured to make the shopping process easier. Herp products form this brand include the Nourishing Leave-in Conditioner and the Intense Treatment Masque.
24. Curls Dynasty
24 / 50
When your textured curls are extremely difficult to moisturize, Haitian-American entrepreneur and founder Nickie Nougaisse and Curls Dynasty guarantee hydration, definition, and shine. Like many naturals new and fully-transitioned, maintaining moisture was a difficult task for Nickie, inspiring her to create a line geared toward kinky and coarse hair that launched online in 2016. A NC favorite is the Pumpkin Mint Deep Treatment Masque.
25. Curl Junkie
25 / 50
Owner and Product Developer Marsha Coulton's goal is to create one product that every person with textured hair can't live without--something for everyone. This process has led to the development of truly unique natural products. Although Marsha may not have created a product for every person with textured hair just yet, Curl Junkie is well on its way with 18 products for all hair types, from pin straight to tight coils. Curl Junkie wants to leave your hair feeling healthy, soft, and defined. A hoyl grail that is a staple for all curlies is the Curl Junkie Hibiscus & Banana Deep Fix Moisturizing Conditioner.
26. Design Essentials
26 / 50
Salon-quality products that are accessible to anyone at affordable prices--that's the driving force behind Design Essentials. President and CEO Cornell McBride Jr. of the manufacturer that makes Design Essentials, envisioned products that were sophisticated yet easy enough to be used at home. This was the inspiration for the Wave by Design line. Top performing products from Design Essentials are the Almond & Avocado Moisturizing & Detangling Sulfate Free Shampoo, Daily Moisturizing Lotion and the Mousse.
27. Tailored Beauty
27 / 50

In 2011, Keya James decided to toss the relaxers and start her natural journey, focusing on retaining length. Although not completely displeased with the products on the market, she felt as if they could have contained healthier ingredients; not long after, she began mixing her own homemade shea butter, which is now sold as Everything Butter. After the birth of her daughter, she only felt comfortable using her all-natural products on her baby girl's hair. Tailored Beauty was birthed just a couple of years later in 2015. Products like the popular Everything Butter and the Golden Herbal Collection Moisture Penetrating Deep Conditioner Treatment are NC faves to keep in rotation.
28. Rucker Roots
28 / 50
Rucker Roots, as the brand name suggests, is inspired by the influences within the Rucker family. In the early 80's, Ellen and Ione Rucker's mother used to use vegetables and fresh food ingredients like mayonnaise and eggs to keep their hair strong and healthy. When Ellen and Ione became mother's they wanted to provide that same experience for their children, and it would eventually lead them to launch Rucker Roots. Rucker Roots believes good hair starts at the root, and a lot of their products are derived from ginger root, carrot root, and turnip root.
29. Koils by Nature
29 / 50
Proud U.S. Army Vet and founder Pamela Booker oversees the production of Koils by Nature products from start to finish. The brand promises vegan-certified plant based products that you can trust--no hidden ingredients. Pamela being a Southerner, she grew up appreciating all things that come from the earth, and Koils by Nature reflects that. No gimmicks, just healthy natural products for healthy natural hair.
30. Naturalicious
30 / 50
Naturalicious aims to turn your wash day into minutes. Grooming your hair shouldn't fill you with frustration, and CEO Gwen Jimmere is looking to save you time and a headache. While experimenting in her kitchen, Gwen discovered a product combination that cut her wash time down from 5 dreadful hours to only 30 minutes. Making use of her skills in marketing, she started up Naturalicious. What do you say, maybe save some time this upcoming wash day?
31. Obia Naturals
31 / 50
The Founder of Obia Naturals, Obia Ewah, is a trained chemist who values pH balanced, vegan, and herbal-based products for both women and men; and because of her education, the way products are created at Obia Naturals is very intentional. In addition to leaving out all of the usual culprit ingredients like sulfates and parabens, Obia Naturals is also free of gluten and artificial colors. In spite of forgoing many common ingredients, Obia is dedicated to scientific results for all textures and transitioners.
32. Uncle Funky's Daughter
32 / 50
If ever there was such a thing as curl magic, Uncle Funky's Daughter just might have it--literally. It's called the Curly Magic Curl Stimulator and it's a styling gel for all textures. Curly Magic was the first product in the Uncle Funky's Daughter product line up, meeting the needs of smart ingredients, moisture, elongation, and definition. After 16 years of admiring the products developed by Uncle Funky's Daughter, Renee Morris, ended up acquiring the company in 2014, reintroducing discontinued products and continuing to add more to the catalogue.
33. Wonder Curl
33 / 50
Wonder Curl started with the quest for the perfect hair gel. Tired of using 4 or 5 different products to achieve a sleek look, founder Scarlett Rocourt decided to create a humidity-proof, weightless product. After some time, the Get Set Hair Jelly was born, a long-time bestseller, and the rest of the Wonder Curl line followed thereafter. If you love a defined wash n go, you may want to consider the Get Set Hair Jelly.
34. The Doux
34 / 50
This bold hair care brand makes hair products that are customizable for the customer. You can use different combinations of The Doux products according to the results you're looking for--they can even be used on straight hair. Coming from a salon in Macon, Georgia, The Doux products are formulated to achieve the same high quality results you would get at a salon. Maya Smith, CEO and professional stylist is just as vibrant as the Doux salon and its line of products, bringing a 90's artistic aesthetic to the brand.
35. Diva by Cindy
35 / 50
Like other natural brands, Diva by Cindy is conscious of its ingredients and is enriched with healing ingredients and scalp stimulants. Unlike other brands, Diva's products are created to address the concerns of cancer patients who are experiencing hair loss due to chemotherapy, as well as those suffering from alopecia and thyroid disorders. CEO and former registered nurse, Cindy Tawiah, has taken years to research how to bring the most effective products to her audience.
36. Tropical Isle Living
36 / 50
Tropical Isle Living is known for delivering on all of our Jamaican Black Castor Oil needs. The founders Michael Anthony Hines and Lois Reid-Hines got their start at a retailer in the Bronx selling herbal products. Lois and Michael continued on to start a brand that celebrated Jamaican tradition and wholesome ingredients. After Michael's passing in 2016, Lois made the decision to become the sole owner of Tropic Isle Living, continuing to add new products and spread out into major retailers.
37. Treasured Locks
37 / 50
CEO Tywana Smith describes Treasured Locks as a family-owned hair supply store. Treasured Locks serves all sorts of clientele, but their main demographic are customers with highly textured hair, selling high quality salon grade products at an affordable everyday price. With no satisfactory hair products available in 2002, Tywana and her husband Brian started Treasured Locks as an online retailer specializing in hair, skin, and body products geared towards Black women. Since its founding, Treasured Locks has served more than 30,000 customers.
38. MoKnowsHair
38 / 50
Monica Stevens, founder, remembers playing with hair from her formative years onward. Although she was often careful to inform people that she was not a licensed stylist or doctor, she has gained her license as a cosmetologist and amassed a huge following of people through her internet popularity. MoKnowsHair products are non-toxic and free of parabens and sulfates, and propose restoration of scalp and curls after repeated use.
39. Karen's Body Beautiful
39 / 50
Founder and CEO, Karn Tappin created Karen's Body Beautiful in 2004 and transformed her natural hair and skin care line from a modest home-based business into a blossoming enterprise located in Brooklyn, NY. From bath, body and haircare, Karen's Body Beautiful products are made with natural ingredients like Shea, Cocoa Butter, Mango and Aloe Butters and does not include parabens, mineral oil, phthalates, sulfates or drying alcohols.
40. Strands of Faith
40 / 50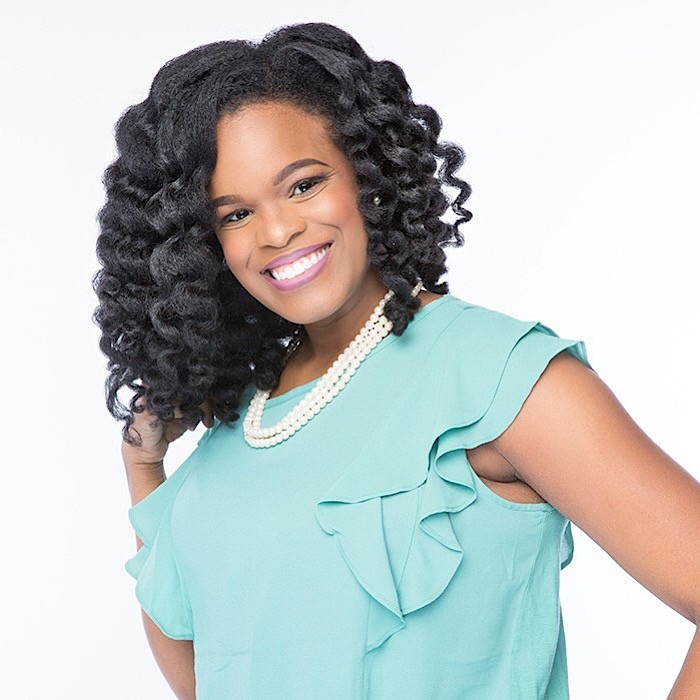 As a natural hair enthusiast with type 4 hair, Ameka Coleman wanted to inspire and build community around women with type 4 hair by building her own product line, walking in her "God-given purpose." With an education in research and business development, Ameka was able to create every product in the Strands of Faith Holy Grail Collection--all free of harsh chemicals and toxic ingredients.
41. Pattern Beauty
41 / 50
The debut of Tracy Ellis Ross's affordable natural hair care line was probably one of the most anticipated curly hair moments of 2019. Pattern's culture is steeped in positivity and acceptance of how our kinks and curls exist naturally, focusing on hair health rather than transforming curls into something else--in fact it "encourages hair to take up as much space as it desires." Pattern has a full product list, of shampoos, conditioners, deep conditioners, and leave-ins for each and every hair type.
42. TPH by Taraji
42 / 50
You're used to seeing her on the big screen, but Taraji Henson admits that if she wasn't an actress, she just might have been a hair stylist. Her passion for hair comes from her own experiences of taking care of her own hair. TPH is overall scalp oriented, inspired by Taraji's use of wigs and weaves--the products color-coded in yellow are all dedicated to scalp care. If you're looking to try one product, try the Master Cleanse, it's supposed to be the stand-out product.
43. Melanin Haircare
43 / 50
If you follow Whitney White, aka Naptural85 on any social media platform, you'll know why this brand is becoming a quick fan favorite in the textured hair world. Known for her helpful YouTube videos on Natural Hair, Whitney's tips and tricks saved a lot of us from disaster back in the transition days, and even now. It was only a matter of time before she would release her own line of products for us to indulge in. Melanin Haircare is branded as affordable luxury hair products featuring only the best ingredients.
44. Curly Coily Tresses
44 / 50
Struggling to take care of her newly natural hair and dealing with allergic reactions to fragrances (as nearly 20% of the general population does), Angela Fields of Curly Coily Tresses threw in the towel and made her own products. She kept them to herself until a stint with unemployment pushed her to make a move on her own hair care business. When it comes to ingredients, Curly Coily Tresses values the safety of the products above all else and her products are made with 100% pure natural ingredients and fragrance-free.
45. Chocolate Kinks & Kurls
45 / 50
When it comes to instilling natural hair confidence in children, we have to lead by example. Mom of four and CEO of Chocolate Kinks and Kurls, Juanita Henderson, began her natural hair journey with a transition and a big chop after her daughter questioned the beauty of her own hair after observing her Juanita's habit of constantly straightening at the salon. Chocolate Kinks and Kurls celebrates young women and girls on their journey to healthy textured hair.
46. TreLuxe
46 / 50
At TreLuxe, CEOs Kiprono and Cortney believe that every curly should be able to access healthy products for their hair, they should have access to salon-quality products, be able to enjoy a simple product regimen that isn't overrun with products, and they should feel confident enough to flaunt their curls--sounds like a solid list of requirements to us. The TreLuxe products contain active botanicals, aromatic scents and different textures, and perform at high levels. There are no parabens, sulfates, or other common possible irritants.
47. CurlMix
47 / 50
With a passion for natural hair and educating others, Kim and her husband Tim had what it took to start their own business. When they needed the capital to get it started, Kim had the idea to sign her husband up for Who Wants To Be A Millionaire--and he won $100,000, which they used to invest. Starting out as a box subscription service that went stagnant, they decided to combine some of the best-selling boxes into one hair care line that made $1 million in 12 months. CurlMix has 10 employees, employing people of color from the community.
48. Ecoslay
48 / 50
You can't get more homemade than Ecoslay. In spite of the company's growth, each and every product is still handmade in the founder's (Adria's) kitchen. Team members Sydney, Adria, Jasmine, and Chris deeply believe that you are what you eat, and what you put on your body. All products are vegan with absolutely no fillers. Their hero product is the Orange Marmalade Gel that provides hold and definition for all hair types.
49.Twisted Sista
49 / 50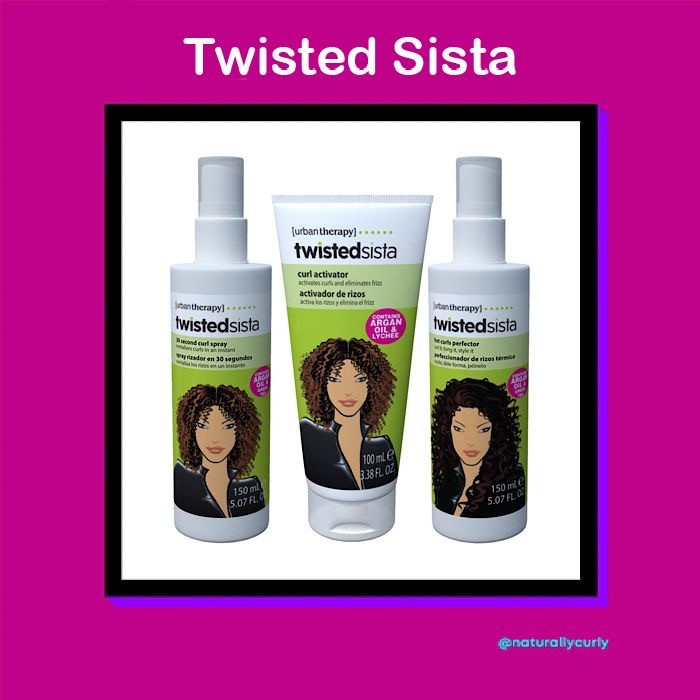 Inspired by the women with textured hair in the busy city of London, Stephen Durham of Urban Therapy Hair Salon, began to plan for Twisted Sista, a line of hair products that meets the needs of the modern, fast-paced life of a woman. Products that perform well, are cost-effective, and are conducive to a busy lifestyle. The line or products varies from those used for everyday styles, to those used for more sophisticated styles--all less than $10.
50. Righteous Roots
50 / 50
Righteous Roots sells only two products: the Righteous Roots Rx hair oil, and the Righteous Roots Pre-Wash Detangler. Curlies swear by the hair oil, so much so, that it won a NaturallyCurly Best of the Best award. The serum is a rejuvenating serum that promotes growth when applied on the scalp and can also be used to seal the ends of your hair.
This article has been updated for clarity to accurately reflect black-owned hair care brands.
Which of these are your faves? Did we miss any other black owned brands? Let us know in the comments.