For women with curly hair, the right conditioner is vital to maintaining the strength of each strand. A conditioner not only reconstructs your curls to be healthy, but it also restores moisture, prevents damage, combats breakage, and adds shine and luster to your hair. Daily shampooing can be destructive because it strips your hair of needed oils and nutrients. Using daily conditioners helps to continuously rebuild your mane, strand by strand.
2018 has produced great products when it comes to conditioning curly hair. Whether you're co-washing or shampoo and conditioning, these 15 curly conditioners will keep your hair lively on a daily basis.
SheaMoisture Jamaican Black Caster Oil Strengthen & Restore Conditioner
2 / 12
By now, everyone has learned to incorporate apple cider vinegar into their hair regimen. The combination of ACV, black caster oil, and shea butter in SheaMoisture's Jamaican Black Caster Oil Strengthen & Restore Conditioner create a superfood that is sure to maintain the health and strength of your hair.
3 / 12
The Elucence Moisture Balancing Conditioner aims to protect the hair without weighing it down. Mixed with natural olive and coconut oils, your hair is guaranteed to feel soft, moisturized and manageable.
Hydrate, hydrate, hydrate! One of the keys to maintaining healthy curls is retaining moisture in your hair. SheaMoisture's 100% Virgin Coconut Oil Daily Hydration Conditioner will re-hydrate, detangle and soften your hair with each wash. SHOP NaturallyCurly customer Latoya Foster says, "This conditioner provided amazing slip for my 4c hair. It melts my tangles and leaves my hair soft and moisturized."
If you're experiencing breakage, EDEN BodyWorks Coconut Shea Naturally Creamy Conditioner is sure to aid each strand with ingredients like shea butter and coconut oil, which work to combat split ends and dry hair.
4 / 12
Want to maintain the curls and the color? Some products contribute to fading, but Cantu's Anti-Fade Color Protecting Conditioner will assist in keeping your color fresh, and your curls tight. One reviewer writes: "It left my hair soft, light, flowing and manageable, without feeling weighed down and coated."
5 / 12
As the weather changes, so does the temperament of your hair. Colder weather brings drier hair, which results in unwanted frizz. Ouidad Advanced Climate Control Defrizzing Conditioner works overtime to re-hydrate and balance the moisture in your hair.
6 / 12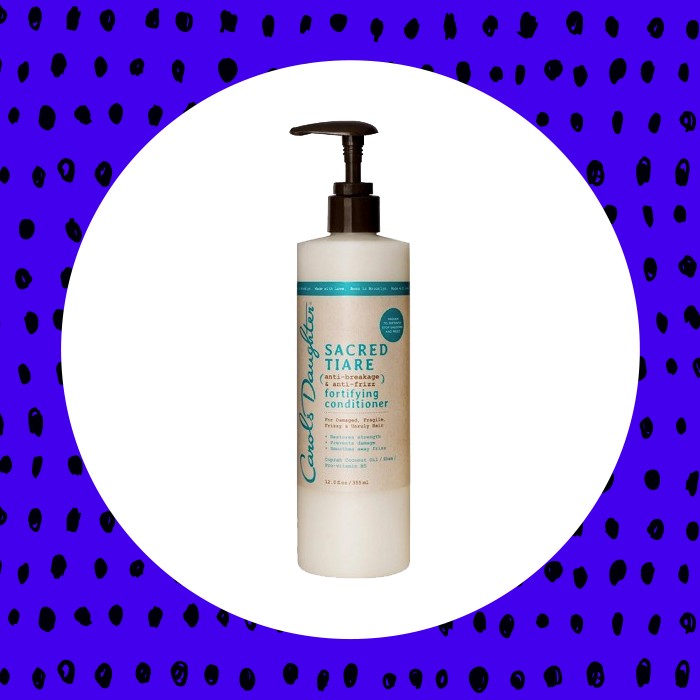 If you haven't fully mastered a healthy regimen for your hair, chances are you're not feeding it the necessary nutrients. Frizzy, damaged hair can be cured with Carol's Daughter Sacred Tiare Anti-Breakage and Anti-Frizz Fortifying Conditioner. The fusion of coconut oil, tiare gardenia, shea butter, moringa Oil, babassu oil, jojoba, hibiscus, silk, and olive oil will restore moisture and nutrients back into your hair, rebuilding it from the inside out.
7 / 12
Get ready to restore moisture and body into your hair with EDEN BodyWorks Jojoba Monoi Revitalizing Conditioner. It is known to penetrate your hair from root to tip, leaving your curls with a healthy shine.
SheaMoisture's Coconut & Hibiscus Curl & Shine Conditioner has been rated the best of the best in 2016. SHOP NaturallyCurly customer Sarah T says, "I love how it feels as I work it through my hair. It leaves my hair feeling clean and SOOO SOFT."
8 / 12
If you're looking to repair your curls, and add definition to your hair, CURLS Coconut Sublime Moisturizing Conditioner will do the trick. Made with organic coconut oil, panthenol and arnica flower extract, this conditioner will hydrate and detangle your curls.
9 / 12
Briogeo Blossom & Bloom Volumizing Conditioner is made of everything that will help you grow long, healthy curls. Key ingredients include plumping collagen, vitamins B5 & biotin, ginseng, and argan & sweet almond oil.
10 / 12
Infused with natural mango and shea butter, Creme of Nature's Mango & Shea Butter Ultra-Moisturizing Conditioner will leave your hair soft, hydrated and healthy.
11 / 12
If you need to combat frizz, Curlfriends Nourish Rinse-Out Conditioner has essential ingredients to tame your curls and eliminate split ends.
12 / 12
The DevaCurl One Condition Original Creamy Daily Conditioner formula restores moisture to dry, brittle hair. One reviewer writes, "This is a great conditioner for my dry, porous, 2b-c hair. It's moisturizing without weighing my hair down, has an addictive sweet, citrus, almost Skittles-like smell, and my comb slips quickly and effortlessly through my hair when I comb it wet while it is saturated with this conditioner."
Manage frizz, split ends and dryness with this daily conditioner that is perfect for all hair types.
Keeping your hair healthy and vibrant doesn't have to cost you. The great thing about these products is that they range from $5 to $30. For a product that you'll use daily, it's refreshing to know you won't spend an arm and a leg for maintenance. Another fun fact? You can find most of them in the NaturallyCurly shop! What do you think? What are your favorite daily conditioners from 2018? Share with us in the comments below!