New year, new curls! This past decade we learned so much about how to properly care for our curls, coils and waves. Natural hair is not only inspiring a movement, but a lifestyle to living a conscious and confident life. 2020 is in full effect and January is filled with lots of new haircare launches for the product junkie that lives within us that eagerly awaits for new products to hit shelves to nourish our curls. At the top of the year, hair care brands tend to drop major launches such as Taraji P Henson's new line, TPH, to Emerge, for the Gen Z curlista. Keep reading to find out what's new in the curly world where there's something for all of our curlfriends to try to reach our hair goals.
Wonder Curl 
Using ingredients like castor seed oil and shea butter, WonderCurl aims to help you achieve moisturized hair that helps define curls. Recently added to the collection includes a hair butter to seal in moisture and a hair treatment to repair damaged hair. Give this vegan line a try to combat dryness this season. 
72Hair 
2 / 11
This vegan international brand is expertly formulated to deliver salon-style results, at home. Your hair will be manageable, frizz free, and impossibly shiny, effortlessly. The 72 Hair line includes an entire collection of products for all hair types such as an intense moisture shampoo, hydrating conditioner, nourishing shampoo, mask, repairing oil, and blow dry cream.
Originals by Africa's Best Honey & Castor Collection
3 / 11
The Honey & Castor Collection combines the strengthening & hydrating benefits of 100% all-natural Honey with the vitamin-rich & antioxidant growth properties of Castor Oil to give your hair the healthy foundation it needs for all of your styling wants.The collection includes a co-wash, curl creme, thermal moisturizer, edge gel, plus a texturizer. 
Adama Beauty Co. 
4 / 11
Whether you rock curl, kinks, waves, braids, up-do's, extensions, locks or twists– Adama Beauty has you covered. Adama Beauty Co provides satin accessories designed to keep your crowning glory beautiful from curl caps to satin pillow cases protect your curls overnight. 
The Mane Choice Peach Black Tea 
5 / 11
If you have medium to fine hair and are experiencing excessive shedding, the Mane Choice has something just for you in mind. The Peach Black Tea Anti-Shedding and Intense Volume collection is jam packed with vitamins and nutrients to bring your curls back to life. You can grab the entire collection including the shampoo, conditioner, mask,  mousse, and hairspray.
Swirly Curly
6 / 11
Formerly known as Snapee, Swirly Curly offers premium accessories for curly girls. From headbands to scrunchies, these accessories are stylish and adjustable to keep your curls fabulous on the go.
Maui Moisture Combing Cream
7 / 11
Detangling curly hair can be a struggle at times, especially if you don't have enough slip or patience. Maui Moisture has created two new vegan, silicone-free combing creams to answer all your curl wishes. The Maui Moisture +Coconut Milk Combing Cream  and the Heal & Hydrate Shea Butter Combing Cream are multi-benefit creams that work to moisturize, detangle and tame frizz for added shine and for your most hydrated, bouncy curls yet.
TPH Collection
8 / 11
It's no secret that healthy hair starts at the root. Tarji P. Henson, actress and natural hair queen, created TPH collection to prioritize scalp care and show the versatility of natural hair care with her inclusive hair collection that includes scalp scrubs, cleansers, heat protectants and so much more. 
Carol's Daughter Wash Day Delight
9 / 11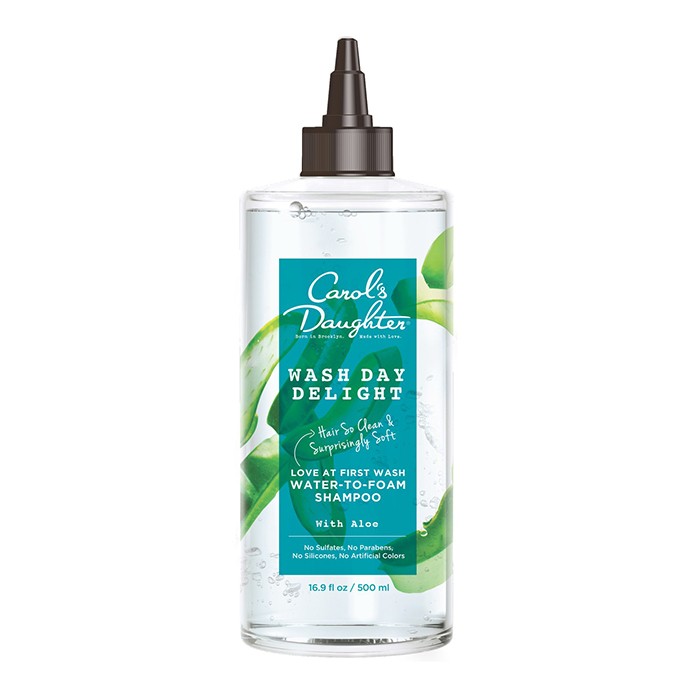 In need of a deep cleanse, but don't want to leave your hair feeling stripped of its natural oils? The Wash Day Delight  is formulated with micellar water which acts like a magnet to attract and lift away buildup for a thorough hair and scalp cleanse without stripping hair. Perfect for curly hair and coily hair, our targeted applicator helps the liquid formula instantly flow through hair providing easy scalp access and quickly rinses clean. 
Emerge
10 / 11
The new haircare line created by Unilever is a hair care line designed for the Gen Z natural girl who's just as innovative as her coily, curly and wavy styles. Whether it's braids, twist- outs or a well-defined wash-n-go, her creativity shines through with every hairstyle she rocks. The line is available at Target and includes a six products from a shampoo to a buttercream all under $10.
Prose Curl Cream
11 / 11
Imagine the perfect curl cream, that was created for your specific hair type. Prose introduced a truly personal approach to curls, from 2A to 4C: a curl cream created to speak to your unique flow. Since all curls have different needs, each cream is custom-made to fit its user, so light waves get their lift and thick coils get their moisture. Use it when, where, and however you need—it's yours to define.
Which of these launches are you most excited to try? Let us know in the comments.