Curly girls have a reputation for being Product Junkies. According to our research, they continue trying new products long after they find their Holy Grail. So every year we poll our NaturallyCurly community in our Best of the Best survey to find out their favorite curly products. You voted and we voted, here are the best curly hair products according to over 3,000 curlies.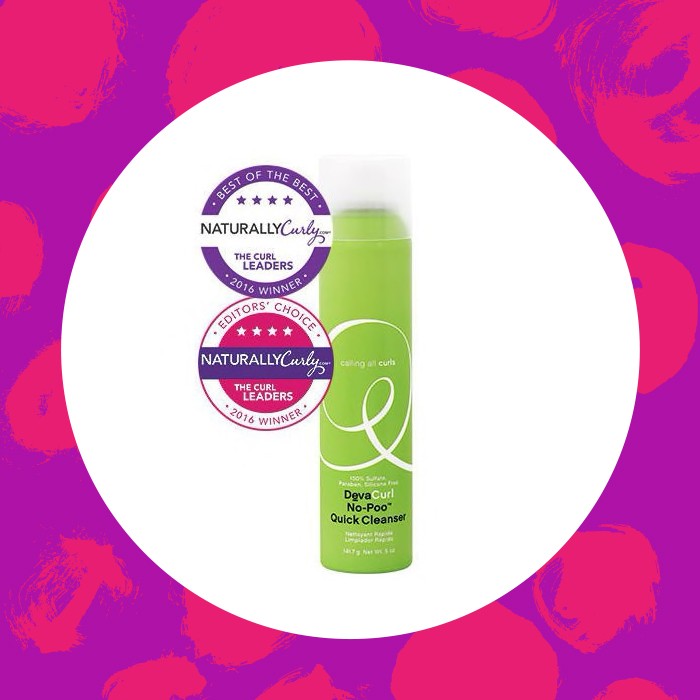 Shampoo:
DevaCurl No-Poo Quick Cleanser
A botanically infused conditioning spray that cleanses without water, instantly refreshing hair while adding texture to curls and invigorating the scalp.


Shampoo Bar:
OBIA Naturals Hair Care Neem & Tea Tree Shampoo Bar
This invigorating shampoo soothes dry scalp and helps remove unwanted buildup. Neem Oil and Tea Tree Oil are excellent astringents that will leave your scalp refreshed.
"Love the smell. Love the way my EXTREMELY dry, low porosity coily hair feels after washing. Even the suds are velvety soft!" -mrpt912
Dry Shampoo:
Need an instant refresh? You'll want to try the classic dry shampoo that instantly makes your hair feel clean, fresh and full of body and texture.
"I absolutely love this dry shampoo and use it all the time! It leaves hair smelling great and actually absorbs the oil unlike some dry shampoos."-Katie
2 / 9
Cleansing Conditioner:
The moisturizing, non-lathering formula with peppermint and grapeseed oil, stimulates and cleans the scalp and hair without stripping away the natural oils your curls need. No-Poo leaves you with shiny, bouncy curls that are just plain gorgeous.
"I've dealt with an itchy, sensitive scalp for almost a decade. No-Poo leaves enough oil to moisturize my skin and travel through my hair. It's hard to adjust to spreading it without lather, but adding some water helps. The scent if light, and the peppermint soothes my head. My curls and scalp are happy!"-Gillian
Daily Conditioner:
DevaCurl One Condition Original Creamy Daily Conditioner
This rich, creamy conditioner is made with moisturizing olive oil and nourishing botanicals to deliver softness and hydration.
"In the past, I would use a lot of conditioner because my hair was so knotty, and this weighed down my curls. Also, I would spend so much time detangling in the shower. But, when I started using one condition, my hair was way easier and faster to detangle. Now my hair has less knots, feels so soft and i don't have to use so much conditioner." -Betty
Leave-in:
This leave-in conditioner and detangler is designed to smooth the cuticle and remove knots, snarls and tangles from wavy, curly and kinky-textured hair. It's been on the holy list for years for its reliability and multi-purposeful use. It can be used as a regular rinse out conditioner for wavy hair or as a leave-in for thicker curlier hair types. Plus, it's an excellent product to use after removing braids and extensions.
"I have 3a/3b curls and I love this product. No crunch, lots of slip, and leaves my hair super soft and moisturized."- Erica S.
3 / 9
Deep conditioner:
DevaCurl Melt Into Moisture Matcha Green Tea Butter Conditioning Mask
This nourishing treatment mask is like a magical elixir for dehydrated waves or curls. This nutrient-rich, buttery formula effortlessly melts into hair without feeling heavy. All curl types are left feeling shiny, silky-soft and completely transformed.
"This has to be the best deep conditioner ever! Leaves my curls looking fantastic!." -Paula P.


Hair Treatment:
A home hair repairing treatment, this treatment relinks the broken bonds in every type of hair providing real, structural repair that works from within. Leaves hair stronger than ever.
"HOLY GRAIL. This is the best purchase I have ever made in regards to my hairs health. In one use, this stuff totally transformed my hair into shiny, manageable, smooth, frizz free gorgeousness! Will never stop buying for as long as I live!"-chels1101
4 / 9
Hair Oil:
Righteous Roots Rx is a hair rejuvenating growth serum with 11 essential oils featuring both anti-frizz and detangling properties, blended to transform your hair into the best that it can be. It can be used as a hot oil to deep condition, pre-poo, scalp oil and finishing oil to scrunch out the crunch.
"I started my curly hair journey and heard so much about this so oil, I ordered some and I can't wait to order more!! I've had 7 children and was losing hair at my hairline like CRAZY. I have serious heat damage from heating tools from straightening my hair for YEARS So my hair needed some TLC! I've definitely noticed a huge difference since using Righteous Roots oil. My hair is growing back where I barely had any and overall my hair is getting thicker. I can really see and feel the difference in my thickness around my ears. I can't say enough good things about it."- Tiffany
Hair Color:
Creme of Nature Moisture-Rich Hair Color with Shea Butter Conditioner
Ultra-Moisturizing Mango & Shea Butter Conditioner, for multi-dimensional color with radiant shine. Ammonia Free. 100% Grey Coverage. Liquid Permanent Hair Color.
"I only use Creme of Nature when it comes to my hair color! It doesn't strip my hair of moisture. The ingredients infused in the hair color I know are good for my hair type."-Jessica Petaway
5 / 9
Curl Cream:
DevaCurl Supercream Coconut Curl Styler
This rich, coconut oil infused styler gives you total freedom to express yourself with your curls. Whether you want to smooth, soften, shape, stretch, moisturize, define, control, boost volume, twist-out, tame frizz, add shine or switch up your look, SuperCream helps you do it all.
"An absolute favorite and staple in my routine. Smells amazing. Gives my curls such definition and shine and hold. LOVE LOVE LOVE. 3A and Thick." -Phoebe93
Gel:
An ultra hold moisturizing and defining gel. Dissolves instantly when applied to wet hair and dries forming a moisture-protective cast to enhance curls.
"I love love love this gel!!! I normally use store bought gels that have unnatural ingredients and wonder why my hair looks odd. However, with the devacurl ultra defining gel, it makes my curls pop and does not dry my hair out!!! my hair is 4a so keeping moisture in my hair is a challenge. If you're looking for a good smell and moisture this gel will do it." -anonymous
Mousse:
DevaCurl Frizz-Free Volumizing Foam
If you want fullness, plus frizz protection, make this airy, boosting foam your new go-to. An alcohol free, humidity resistant conditioning foam for volume, curl retention and shine. Provides long lasting, incredibly soft, frizz-free curls.
"I absolutely LOVE this mousse! At the suggestion of my hairdresser, I started using DevaCurl products. This is by far my favorite mousse. Keep in mind, a little goes a long way! I have thick, medium-length hair and only use 4 pumps."-M.J.


Stretch Product:
DevaCurl Super Stretch Coconut Curl Elongator
Do you have super curly hair that craves moisture, definition and curl elongation? Then this cream styler is for you! This coconut infused cream weightlessly elongates curls and maintains definition. Coconut oil delivers nourishing moisture and shine while shea butter conditions for long lasting softness. Versatile and lightweight, this styler has a rich velvety texture that the provides the moisture and softness of a cream with the hold of a gel.
"This product does exactly what it says it will. It elongates curls and leaves them super defined and manageable. The product itself is very thick and creamy. You can feel it moisturizing your hair the minute you put it on. Worth the $30 and I didn't have to use much product, although I have very thick curly hair." -Tish


6 / 9
Hair Butter:
Camille Rose Naturals Curlaide Moisture Butter
An oil-enriched softening hair butter with sweet notes of vanilla and macadamia, crafted to deliver intense everyday moisture.
"This product is the most moisturizing product I've ever had, has a butter it is thick but it melts into my hair and provides great moisture and semi-hold. It smells like cake batter (very sweet) and it's just amazing, it lasts me three months (a little goes a long way and it's simply amazing)" -Nia
Product to Cocktail & Frizz Fighter:
Curly hair solutions Curl Keeper Original
Curl Keeper Original is a water-based formula, which means you can use it every day without product buildup. Your curly hairstyle will last for days as its unique formula re-activates with water making Curl Keeper Original 100% effective in all weather conditions, especially humidity.
"This product has turned me into a curly girl. I have 3a curls and for the first time in my life I have chunky, pretty, evenly defined curls. My hair is no longer a frizzy tangly mess. And the amazing thing is, my hair feels completely soft and clean." -travelnlite
7 / 9
Tool/ Accessory:
The D3 is a medium styling brush with 7 rows of nylon pins. The famous Denman anti-static rubber pad provides maximum grip and control during blow-drying for shaping hair. The most famous styling brush in the world!
"The curl definition I get with the Denman brush is amazing!" -Brooke T.
Product for Twist/Locs/Braids:
Camille Rose Naturals Almond Jai Twisting Butter
Botanical blend of oils and butters will aid in managing coarse/thick hair, leaving a soft and smoother feel. Softens and moisturizes hair while nourishing the scalp and stimulating growth.
"I love using this product along with the Camille Rose Curlaide Moisture Butter as a leave-in first and then the Almond Jai twisting butter as my styler. My 3b/3c/4a high porosity Hair stays moisturized, shiny, and defined. When using this on wet/damp hair and in sections is key to flake free and defined curls. This a great styler for the fall/ winter time." -Tamara


Hairspray:
Bounce Curl Alcohol-Free HairSpray
Medium-to-strong hold hairspray. It is perfect for any time of year, and works well in the humid environments of summer. Our ultra-fine mister distributes hair spray evenly, but remember that you only need two or three spritzes (sprayed 6 inches from your hair) to get a good result.
"I've never used a hair spray and I will admit I was scared but I absolutely loved it. I love how it sprays out and that it doesn't take much and my curls stay beautiful all day." -Ginuwine
Finishing oil:
DevaCurl Set It Free Moisture Lock Finishing Spray
The lightweight, nourishing formula, made with olive oil and beeswax, zaps frizz and brings back softness. Set it Free blasts curls with essential moisture and adds bounce and shine.
"This spray will kill frizz in an instant. The moisture it provides is just so good and it's incredibly lightweight on my curls. And the smell omg!" -Jan
Refresher:
This lavender oil-infused formula is the perfect secret weapon when you're in no mood to get your hair wet. The hydrating spray brings curls back to life and refreshes the scalp and curls, saving you time in-between wash days.
"Honestly this product is life changing. I go into work at 7am and get off at 7pm. On nights when I have plans after work I use this product and my curls come right back to life!! No joke this is awesome." -WeezyFTaylor
8 / 9
Moisturizer:
Mielle Organics Avocado Hair Milk
Infused with a hydrating extract blend and filled with botanicals and certified organic ingredients, it smooths and softens your hair, providing moisture, manageability, and shine.
"This product is an all rounder. You can use as a leave in, a moisturizer, or a twisting cream. I get beautiful twist outs with this cream." -Latoya
Heat Protectant:
CHI Keratin K-Trix 5 Smoothing Treatment
Thermally activated smoothing treatment combines with the heat of a styling iron to smooth the hair cuticle, lock in moisture and seal out humidity.
9 / 9
Edge Control:
Creme of Nature Argan Oil Perfect Edges
Maximum hold, non-flaking edge gel for long-lasting wear. Perfect for taming stubborn edges and creating sleek, smooth styles. Great for sculpting, ponytails, high buns and natural up-dos.
"I have been using this edge control for about 6 months now. It is my favorite. No, it does not work miracles. If you sweat, live in a humid climate or are extremely active, it will not hold all day. Even when the hair starts to come up a bit, it still looks soft, moisturizing and flattering. I love the smell." -SSmall
Volumizer:
Deva Curl B'Leave-In Curl Boost and Volumizer
This lightweight gelée contains a conditioning and strengthening blend of wheat protein, lemongrass and chamomile. The moisturizing formula adds instant shine, volume and plumpness to curls.
"This product is nothing shy of incredible. I have really curly hair and have tried for years to find a product that makes my top layer not so frizzy and that keeps my curls together." -Alexis

Did your holy grail(s) make the cut? Let us know your favorites in the comments below. See the list of the winners here.