Michelle Guzmán: My name is Michelle Guzmán and I'm seventeen. I was born in Manhattan, New York. I come from a lovely Dominican family. 
NC: How and when did you start embracing your curls?
MG: I really started embracing my curls during my junior year of high school, at the time that I found my love of anything that had to do with beauty. I was finally able to figure how to manage my curls, frizz and everything else that comes with having my kind of curly hair.
NC: What's your current routine?
MG: After I wash my hair, I use Organic Root Stimulator Olive Oil, the Organix Moroccan line and Garnier Fructis Leave-In. I keep scrunching my curls as I apply these products, and when my hair is at least 50% dry, I flip my head every few minutes and shake them out. Then I just re-wet my curls to bring them back to life the next day. I basically just go with the flow of my hair. Wash when it needs washing, deep condition when the curls need it. Messing with my hair too much is what makes it unmanageable for me!
NC: On a curly day, what's your process?
MG: If it's a day where I washed my hair, I'll apply some leave-in conditioner and put it in a bun to go to bed. In the morning, I use a quarter size dollop of conditioner mixed with water and scrunch my curls to refresh them.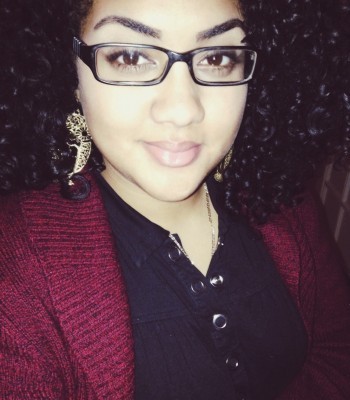 NC: What are your favorite hairstyles to wear with your curls?
MG: I love to wear my hair down and parted to the side. I make sure my hair is big and wild with this style! My other favorite style is a huge fluffy, curly bun. 
NC: What are your must-have products and tools?
MG: My must have products are the Garnier Fructis Leave-In and ORS Olive Oil. They keep my curls so alive and moisturized.
NC: Do you color your hair?
MG: Yes, my natural hair color is brown. Since I naturally (and oddly) have black eyebrows and brown hair, I dye my hair black to match my eyebrows. I do it myself and I use Revlon ColorSilk in blue black.
NC: What do you do at nighttime for your hair?
MG: I put my leave-in conditioner on my ends and put my hair in a big high bun.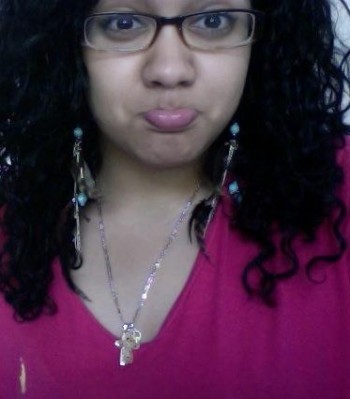 NC: What reaction did you get when you first decided to go natural? If you've always been natural, did you ever have any curly girl insecurities?
MG: I've always been natural, and my insecurity that came along with it was the frizziness. It took me a really long time to learn how to control it, to learn what products are my friends and which are my enemies. I learned that until I research and try all kinds of methods and products, I would never be able to conquer the frizz!
NC: What is the best thing about being curly?
MG: The best thing about being curly is that I will always have big hair. My hair has a ton of volume and it gets big and wild when I flip my hair and separate my curls. I love big hair!
NC: How do you think having curly hair impacts your life?
MG: It makes me very confident! I have never felt better about my hair until this year.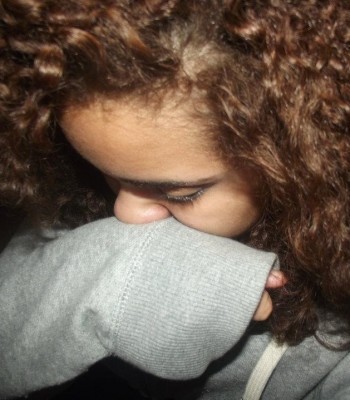 NC: What would you tell others to encourage them to embrace their curls?
MG: Do a lot of research. Research any questions you may have about curly hair, different methods, hairstyles, products, things you shouldn't do to curly hair, ways to protect it and how to take really great care of it! I feel that that is the most important step to embracing your curls. Try everything you are able to so that you are able to find what exactly works for you. Then know that it's your hair! It was given to you for one simple reason: because you were meant to proudly work it!
NC: Tell us about your current and upcoming projects! 
MG: I am currently a senior in high school and a few months from graduating! I'll be going to college next year to start my journey of becoming a registered nurse. 
You can find Michelle on Facebook or on Instagram.