Sadie Lidji:
My name is Sadie. I'm sixteen and a sophomore in high school. 
NC: How and when did you start embracing your curls?
SL: I started embracing my hair two years ago when I discovered hair products. I didn't realize before then that frizz didn't have to be something I deal with everyday, that the stuff I didn't like about my hair could be controlled.
NC: What's your current routine?
SL: During the school week, I only have time to shower at night. After I get out of the shower, I run Aussie Instant Freeze Styling Gel completely through my hair. Then I use Herbal Essences Totally Twisted Mousse and finally, Garnier Fructis Hydra Recharge Moisture Whip. I let my curls dry completely, put them in a bun and sleep on it. When I wake up and take my hair out, it's done!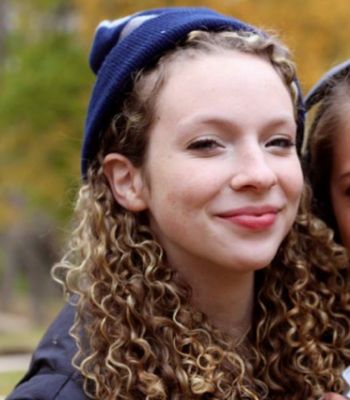 NC: What are your favorite hairstyles to wear with your curls?
SL: Lately I've really liked wearing my hair down with a sort of mini-Beehive. It's really easy to just bump it a little and give it volume. I also always wear a headband or flower clips or some kind of accessory, just for fun.
NC: What about your hair stylist?
SL: I get my hair cut twice a year.
NC: Do you color your hair?
SL: Yes, I've gotten blonde highlights twice at the salon.
NC: What do you do at nighttime for your hair?
SL: I always sleep with my hair in a top knot bun. 
NC: What reaction did you get when you first decided to go natural? If you've always been natural, did you ever have any curly girl insecurities?
SL: When I was twelve, I felt very frustrated and saddened by my hair and, in a fit of insecurity, I cut all of it off. This turned out to be a big mistake for me, because I did NOT anticipate the shrinkage and how long it would take to grow back. Now my hair has gotten to the length I'm comfortable with, so a lot of my hair insecurities have faded.
NC: What is the best thing about being curly?
SL: I know everyone says this...but you really DO stand out in the best way. Your hair makes you YOU! It reflects your personality and gives you a unique vibe. 
NC: What would you tell others to encourage them to embrace their curls?
SL: Understand that products are your friends. The sooner you accept and love the fact that this is your hair and this is who you are, the sooner you can establish a routine that works for you and makes you feel the most confident.
NC: Tell us about your current and upcoming projects! 
SL: I want to be a director when I'm older, and I recently finished my second short film, which you can see here.
You can find out more about Sadie on YouTube, Twitter, Tumblr, or Instagram.