Carissa Janay: Hi, I'm Carissa! 
NC: How and when did you start embracing your curls?
CJ: I spent most of my childhood wearing my natural curls, but started relaxing my hair in high school. I then went back to being a naturally curly girl in college.
NC: What's your current routine?
CJ: I co-wash my hair about twice a week, I only finger detangle because it doesn't break my hair as much as a comb or brush. And I do a wash and go on most days but sometimes I do braid outs or twist outs.
NC: So from start to finish, on a curly day, what is your process?
CJ: I co-wash with a cheap conditioner and finger detangle, then dry my hair with a t-shirt to eliminate frizz. When the excess moisture is out, I apply a moisturizing product such as a cream or leave-in and "scrunch" my curls. I ALWAYS air dry my hair.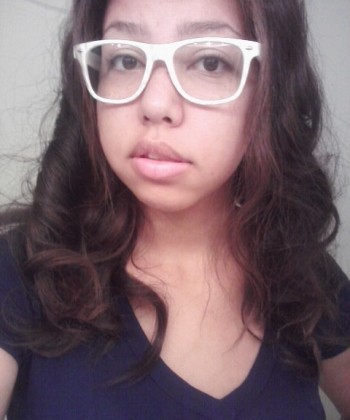 NC: What are your favorite hairstyles to wear with your curls?
CJ: I like to keep my curls free and out…just let them do their thing! Sometimes, I wear a messy bun with ringlets spilling out everywhere or a half-up/half-down with braids at the front. I'm always looking on YouTube to find new hairstyle ideas.
NC: What are your must-have products and tools?
CJ: Aussie Moist Conditioner, Simply U Conditioner, any Suave or White Rain Conditioner (these are the ones I use to co-wash). I also just tried the Curls Milkshake and Goddess Glaze and they are great! I used to use a Denman brush, but have found that my fingers make better detangling tools than anything else.
NC: What do you do at nighttime for your hair?
CJ: After a long day, at night, I just toss my curls up into a pineapple and go to sleep.
NC: Did you big chop or transition?
CJ: I transitioned from relaxed hair to my curly hair as it is now. I stopped relaxing my hair in fall 2010 and my curls grew to about "under the ear length." My relaxed ends were still there and I had an awkward half-curly-half-straight look for a while.
I read "Curly Like Me" by Teri La Flesh during my freshman year of college in May 2012 and immediately cut my dead ends off. I fell in love with my curls and started to take care of them to make sure they grew longer and longer. I've been without chemicals for three years now and every day I find something new to love about my natural curls.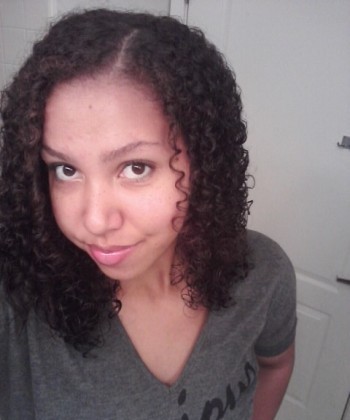 NC: What is the best thing about being curly?
CJ: Being able to try new styles every day! I can wear my hair super big and wild or soft and tame. I can try braid outs, twist outs, coils, buns, braids…basically anything is possible for curly girls. 
NC: How do you think having curly hair impacts your life?
CJ: Having curly hair makes me feel special and gives me confidence. I feel like I can always change up my look with curly hair so it's like my best accessory. I feel gorgeous when my curls are just big and defined and out there like "HEY!" I love having curly hair.
NC: What would you tell others to encourage them to embrace their curls?
CJ: Curly hair was given to you for a reason. Curls make you beautiful and special and different because no two curly girls' curls are alike. Rock those curls!
You can find Carissa on Instagram.