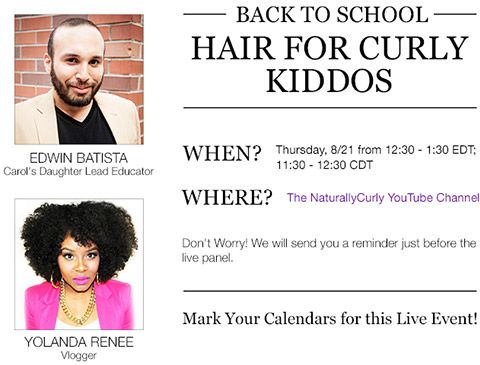 Are you strapped for time when it comes to styling your kids' hair every morning? Join us for a live Google Hangout with Carol's Daughter National Director of Education Edwin Batista and one of our favorite vloggers Yolanda Renee. Edwin Batista will be sharing expert tips and Yolanda will be giving her advice as a mommy of two curly kiddos. If you want to learn quick tips and tricks for a stress-free morning, or if you have questions you'd like to ask our panel then come join us. You can submit your questions by commenting in the YouTube comments section.
Details
When? Thursday, 8/21 from 12:30 - 1:30 EDT; 11:30 - 12:30 CDT
Where? The NaturallyCurly YouTube channel
If you can't make it to the live Google Hangout, don't worry! The video will live on our YouTube channel and you can watch it at any time that's convenient for you. If you'd like to participate and get your questions answered live by our panel come join us Thursday, August 21st at 12:30 EDT.
If you'd like a reminder to be sent to you before the live panel, sign up for our newsletter.