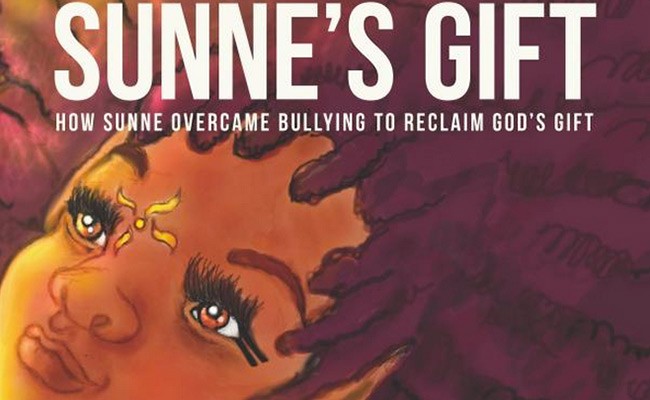 Curly kiddos, heartwarming stories, and the curly community coming together - these are a few of our favorite things. So when the author of Sunne's Gift wrote us to say that our article about her children's book Kickstarter helped to get the book fully funded, it gave us a case of the warm and fuzzies. We're very happy to announce that Sunne's Gift: How Sunne Overcame Bullying to Reclaim God's Gift is now available for purchase on Amazon, and even more excited to share that we will be giving away two copies to our readers!
Ama Yawson wrote the book when her 3-year old son's coily hair was repeatedly shaved at the barber, despite her requests to let his hair grow. When she protested, the barber told her it's because "his hair isn't pretty."
Sunne's Gift is a modern fable that honors afro-textured hair while teaching lessons of self love and celebrating diversity in all of its forms. The book is about a magical creature named Sunne. God imbues Sunne with the power of the sun and for that reason Sunne's skin is a sun-darkened red shade and Sunne's hair grows out in spirally twists towards the sun. Sunne has the power to make the sun rise and set. God also imbues Sunne's siblings with other powers.
But Sunne, is the only one with kinky, spirally, twisty natural afro-textured hair. One day, her siblings tease Sunne about having different hair. Sunne does not want to be different so Sunne takes a stick and attempts to beat the kinks out of Sunne's own hair. When Sunne beats the last spiral out, the world changes for the worse and the children have to figure out how to fix the problem.
"The book is a metaphor for racial diversity," Yawson said. "The goal is to let people know all of us are necessary. The world needs you to be you."
Giveaway
If you'd like to enter the giveaway, comment below telling us why you'd like to win.
This giveaway is open until August 8, 2014.
This giveaway is now closed.
Two winners will be randomly chosen.