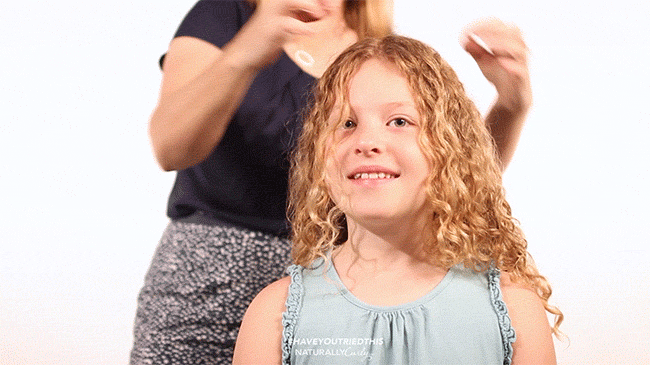 Any given weekday, you wake up before your child does.
You prep your morning coffee, pour waffle mix into the griddle, let the bacon sizzle (if you're into meat, that is), and take a deep breath because you know there's a challenge coming: waking up that curly haired child of yours.
It's already tough enough getting her out of bed after the umpteenth try, but to wrangle that crazy mane is a feat of superhuman proportion!
I won't get you wrong... I know how much you love your darling baby, but goodness gracious aren't you just frustrated when styling those unruly kiddie curls, runaway frizz spirals, and gravity-defying cowlicks? Uggggh!
To alleviate these styling pains, SoCozy formulated a creamy styler that enhances your child's natural curl pattern while reducing frizzies in a matter of seconds - how exciting is that?!
For kiddie curls that dare to do their own thing, parents need SoCozy Boing Curl Gel-Cream to reign in those rebellious ringlets, waves, and coils.
You'll be delighted that this gel-cream won't leave residue on curls nor will strands be left crunchy after drying.
Every parent wants to maintain their child's silky soft hair, and that task can be achieved with SoCozy Boing Curl Gel-Cream since it's enriched with soybean oil, white willow bark, and blue poppy extract.
For parents who want to go the extra mile to provide moisture to their baby's hair (I mean, seriously, what parent doesn't want that), this formula is remarkably safe and free of formaldehyde, gluten, nuts, parabens, phthalates, propylene glycol, sulfates, synthetic color, and wheat. That's right - there's zero percent ick! in this gel-cream.
If you're ready to give this perfect kiddie curl gel-cream styler a run, visit Shop.NaturallyCurly.com right now to purchase a tube!
BONUS TIP: If your tyke is a little wriggly during style time, find fun ways to help her or him settle into the process.
"Be sure to allow the child to read a book, play a game or watch a show of your choice," suggests NaturallyCurly.com Contributor Emilia Obiekea, "This pleasant distraction takes their mind off of the fact that you are doing their hair, and will make the experience much more enjoyable for you both."
Can you say, 'Hooray'?
Now that you've filled your child's belly with breakfast and her curls are perfectly styled, it's off to school!
But wait... just as you head for the door, you realize that you don't have your car keys!
DRAT!!!
As you scour the living room for your keys and your cell phone and your life so that you can get baby girl to school on time, your child may get the bright idea to cover her hands in the sweet-crème scented gel-cream! Even though its ingredients are responsibly sourced, it's not safe for her to use to the gel-cream unsupervised or to ingest it. That's why you must remember to store the gel-cream in a place where she cannot reach it when you're not looking.
Phew! It's not easy being a parent, but it sure is rewarding. That's why we at Naturally Curly know you'll love getting more hair styling help and kid-friendly maintenance tips through our subscription service so, sign up today - Or whenever you feel like it... no pressure!
In the meantime, I want to help you make your child's curls standout! That's why I encourage you to enter this SoCozy-sponsored giveaway now for a chance to win remarkable gel-cream that will help your little one look super cute all day long!
When
June 23, 2016 - June 30, 2016
Prize
5 lucky winners will receive:
How to win
Comment below, telling me and SoCozy why you'd like to win this naturally curly hair solution for your child!
You can also enter by commenting on our Facebook or Instagram posts about this giveaway.
This giveaway is open to U.S. residents only, as per our Terms and Conditions.
*Please make sure you have liked us on Facebook, so that when we can notify you if you've won.
Just so you know, this post is sponsored by SoCozy, and we're really pumped about that because they've made a stellar styling product for you to maintain the health of your kid's beautiful curls. Tell us how you like their gel-cream :)
As ever, stay curly!