Occasionally I write stories that provide updates about people in the past who did something hair raising enough regarding nappiness and things related, to make the news.
I call my feature "Whatever Nappened To . . .?
Ten years ago Ruth Sherman, a white schoolteacher in Brooklyn, made national news for the stir she caused when she read an award-winning children's book called "Nappy Hair" to her class of predominately African American and Latino third grade students. She was essentially run out of school for doing so.
"Nappy Hair," written by black author Carolivia Herron, was a story about the kinky hair texture of a little black girl. Herron's reason for writing the book was to celebrate one of the unique characteristics of many African Americans. Sherman's reason for reading the book to the students was to celebrate diversity and teach them about racial tolerance.
A parent of one of the students saw photocopies of a few pages from the book in her child's homework and became offended over the images and the content. The parent, who had not read the entire book, circulated the pages to other parents who also got upset.
It turned out that most of the adults who were outraged also had not read the book and did not have children in Sherman's class. That did not stop them from accusing Sherman of reading from a book that reinforced racial stereotypes. During a meeting held by school officials to discuss the matter, several of the adults threatened Sherman. She ultimately asked for a transfer and left the school.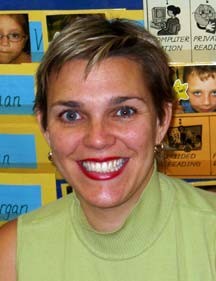 Ruth McCloskey
So whatever happened to Sherman?
She is no longer the single, 27-year-old third grade teacher in Brooklyn. Sherman is now Ruth McCloskey who lives in Suffolk County with her husband and two young boys and teaches first grade at a predominately white elementary school on Long Island.
"I'll always be teaching," said Ms. McCloskey. "That is just meant to be."
She said that when she left the school in Brooklyn, she transferred to an elementary school in Jamaica,
Queens where she taught for two years.
"That was just the perfect place for anybody today," she recalls. "I can't tell you how many different nationalities there were."
She eventually had to leave the school when her husband's job required them to move out of the school district. She says the she loves her current job but misses the multicultural mix.
"It's so very different," she says. "I hated to leave. But we moved to Suffolk County which was a two-hour drive away.
McCloskey says that she hasn't read "Nappy Hair" since the incident in Brooklyn.
She says that she has not read from it because it was written for an older audience of children, and since the incident she has been teaching kindergarten and first grade. McCloskey recalls how the book was a refreshing departure from so many of the other books that she had been reading to her students.
"I wanted to think out of the box and do something different. What attracted me to the book were the pictures and the awesome colors. The little girl was so happy and so excited. I wanted to be that girl. I felt that if I felt that way that about the book, the students were going to love it."
McCloskey says she still regrets how her intentions were misinterpreted by the parent who read portions of the book out of context.
"Most of the parents in the class who knew me never felt I would do anything racist to hurt their children," she said.
"To this day it's just sad."
Herron, the "Nappy Hair " author, heard about the controversy and came to McCloskey's defense at the time.The two of them have done occasional speaking engagements together.
Even though McCloskey hasn't read the book since the incident, she hasn't totally abandoned it. Herron has asked her to consider writing a "Nappy Hair" workbook together. It's a collaboration that McCloskey is excited about pursuing.
"I thought it was the greatest book ever," she said.