We had to share this amazing experience with you, NaturallyCurly community!
The Austin Area Jazz Festival invited NaturallyCurly editors to their annual fundraiser, entitled The Jazz, Blues, Soul Experience this year. Featured musical artists included Betty Wright, Najee, and Kindred The Family Soul. Israel McCloud and Chris Rogers were also on site, painting stunning works of art while attendees listened to musicians and bands, mingled, and danced to the soulful tunes spun by local DJs. 
Sponsors of the event included Six Square Austin Black Cultural District, TeQava, and Miss Jessie's. There were also media partners present, representing Central Texas communities such as 88.7 FM - KAZI, 94.5 The Beat (Waco, TX), and Q 101.9 (San Antonio, TX).
The reason why we are sharing this recap is because this event is about much more than music.
It is an event that supports the East Austin Music Academy, which is a program of the Boys & Girls Club of South Central Texas. That is right! The event keeps curly (and, yes, non-curly) kids inspired and in school! This is thanks to the Austin Area Jazz Festival's focus on keeping music and arts in the lives of school-aged children.
The East Austin Music Academy is a program focused on empowerment and learning through music instruction for K-6 grade students. This kind of community-focused organization is creating positive change, not only in the lives of children but within the Central Texas.
So, just how does this remarkable program work?
East Austin Music Academy is operated by the Boys & Girls Club of South Central Texas, headquartered in San Marcos, TX. One of the most unique features is that it is one of only two Clubs in the United States that operates charter schools: Texas Preparatory - San Marcos and Texas Preparatory - Austin. While Texas Preparatory - San Marcos solely operates as a traditional Boys and Girls Club after school program, the Austin campus' after school program is the East Austin Music Academy.
Why the event is so vital to communities:
Their mission statement reverberates throughout Austin and its surrounding areas: "Our mission is to enable all young people, especially those who need us the most, to reach their full potential as productive, caring, and responsive citizens."
In addition to this event being a boon for the community, it is something to look forward to every year!
This event was truly spectacular! I especially enjoyed learning about various hair and body care products from locally-owned Divine Luxury, one of the vendors at the event. Owner and Founder Nikki Jackson-Sagirius's presence at the event was a testament to how truly connected the curly and naturlista community is in Austin, TX.
It was a pleasure to see her at the Austin Area Jazz Festival, and when asked who she was most excited to see perform, she exclaimed "Kindred!" I couldn't agree with her more.
The performance by Kindred the Family Soul was electrifying! If you are following @BeyondTheShea on Instagram, you most likely caught a few live videos of their performance and many other remarkable talents.
Make that change!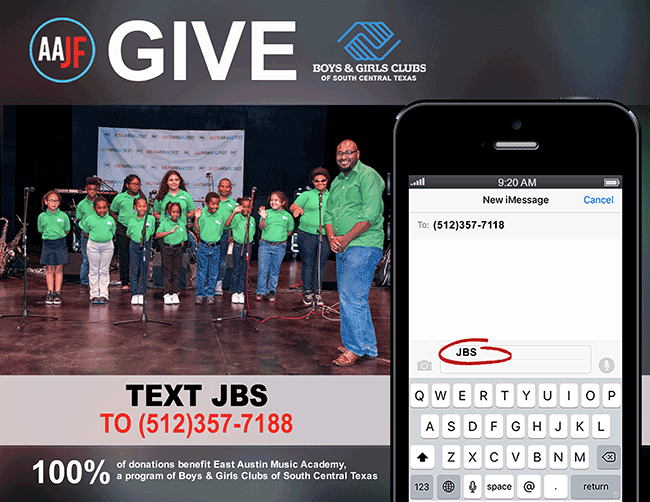 Although the event is over, you can still donate by texting JBS to (512)357-7188!
Feeling inspired to make a difference in the lives of curly kids in your community? Learn how to get involved with Boys & Girls Club of America.
Stay up-to-date with all of the Austin Area Jazz Festival events by following them on Facebook.
To see live, local event coverage that supports the community-at-large, follow Beyond the Shea on Instagram today!
As ever, stay curly!