It's that time of year where we're getting ready to splurge and save all in the same sentence in honor of the holiday savings known as Black Friday. Black Friday is a time honored tradition that allows us to shop our favorite brands in person and online with the tiniest hope that we save a few dollars. Whether you've been looking to stock up on your favorites or try out the new brand that you've been eyeing for some time, Black Friday is coming in bigger and better with deals that can't be topped. While Cyber Monday is right on the heels of Black Friday, you don't want to miss out on any of your favorites being out of stock. Here's our roundup of the best Black Friday deals on natural hair products to start shopping, a few had early releases before Black Friday so make sure to RUN...don't walk for these sales.
1. Alikay Naturals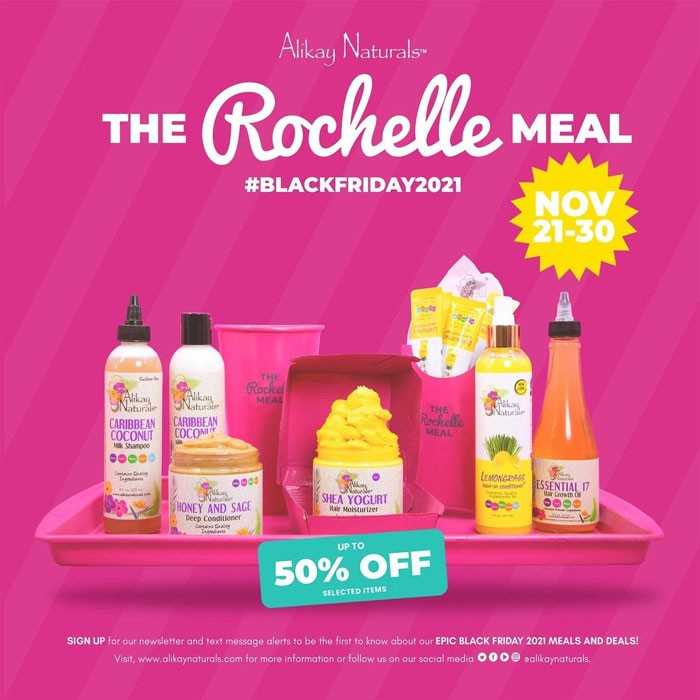 Get up to 50% off your favorite Alikay Naturals products starting from November 21-30.
2. Carol's Daughter
2 / 14
#BlackFriday is happening now for Carol's Daughter which is featuring a major sale with up to 50% OFF sitewide! Stock up on your faves while supplies last and mix and match your favorites.
3. Curls
3 / 14
Curls is serving up a sale with a $30 bundle box that features their blissful lengths liquid hair growth vitamin, blueberry bliss reparative leave in conditioner, so so fresh vitamin v + mint scalp treatment, lavish curls moisturizer, a curls full sized mystery product and a custom "It's the CURLS for Me" t-shirt.
4. Curl Keeper
4 / 14
Curl Keeper is celebrating Black Friday all week long until November 27th with amazing sales that range from 20%-25% off based on your total order amount.
5. Design Essentials
5 / 14
Hurry and stock up on your favorite Design Essentials products, their sale runs from 11/22-11/30 with 30% OFF while supplies last! Their Almond and Avocado Curl Enhancing Mousse was our 2020 Best of the Best award winner.
6. Flawless By GU
6 / 14
With the recent relaunch of her haircare line, Gabrielle Union will be featuring 20% off the entire Flawless by Gabrielle Union collection between 11/26 - 11/29 on Amazon.
7. Girl + Hair
7 / 14
Your favorite scalp treatment products just got better with 35% OFF all items of $25 or more from 11/24-11/30. Get rid of the itch and give your scalp the much needed TLC it has been craving during these colder months.
8. It's a 10 Haircare
8 / 14
There is an incredible sale happening with 30% off sitewide from November 26th to November 29th. The leave-in remains a holy grail of naturalistas everywhere and should be added to your daily hair routine.
9. Mielle Organics
9 / 14
Every single product is $6 sitewide with free shipping on orders over $100. This is a classic sale that never fails to please the masses. We recommend Moisture RX Hawaiian Ginger Moisturizing Scalp Treatment which was one of our 2020 Best of the Best award winners.
10. Mixed Chicks
10 / 14
Get stocked up on your favorite products ranging from their infamous leave-in conditioner to classic accessories you can't live without! Their newest line "Hair Four Days" helps to revive and revitalize curls during non-wash days.
11. The Mane Choice 
11 / 14
Starting 11/24- 11/29 you can buy One Get One Free (of equal or lesser value) with your favorite Mane Choice products. Shipping will be free within the US.
12. Rizos Curls
12 / 14
Rizos Curls will be having a sale on RizosCurls.com from 11/25 through Cyber Monday where products will be up to 60% off sitewide. Keep an eye out for their announcement of 3 new products to their lineup!
13. Sunday ll Sunday
13 / 14
Looking to improve your hair care during your gym sessions? Take 40% off when you shop any 4+ products with this Black Friday sale.
1 item = 20% off⁠
2 items = 25% off ⁠
3 items = 30% off ⁠
4+ items = 40% off ⁠
14. TPH by Taraji Henson
14 / 14
Shop the newest line that naturalistas are embracing from Taraji P. Henson which features a scalp-focused approach to helping improve your haircare. Save 20% for every 3 products you purchase!
Let us know in the comments what brands you plan to shop this season!