NaturallyCurly: How long have you been natural?
Charmaine: All of my life! 
When did you start embracing your curls?
Charmaine: I started embracing my curls about six years ago when I accidentally stumbled on natural hair videos on YouTube! I learned to appreciate my hair and how to treat it.
What's your daily hair routine?
Charmaine: I typically do a wash and go. I have fine and low density hair so I don't have much luck with twist outs and braid outs. I generally stick with what works best for my hair type.
What's your nighttime hair routine?
Charmaine: Some nights I'm lazy and I just sleep with it out on a satin pillowcase. When I am really trying for second day curls, I will sleep with my hair in a loose pineapple. At least once a week, I will saturate my hair in a deep conditioner, cover it with a cap, and let it sit in my hair overnight. I do the same thing once a month with coconut oil.
What are your go-to styles?
Charmaine: I typically do a wash and go or an updo that is similar to the pineapple but I use clips to keep my hair in place.
What are your favorite products? 
Charmaine: My holy grail products include Aussie 3 Minute Miracle Deep Treatment (inexpensive and really effective), Giovanni Direct Leave In Weightless Moisture Leave in Conditioner, Ouidad Climate Control Heat & Humidity Gel, and Carol's Daughter Monoi Repairing Hair Mask.
What ingredients does your hair love?
Charmaine: My hair loves water based products.
What ingredients does your hair hate?
Charmaine: My hair doesn't like too many oils because they're too heavy for my hair.
How do the seasons affect your regimen?
Charmaine: I deep condition more often during the colder months because I tend to air-dry my hair. If I have to go out in the cold, I will wear my hair in a bun/top knot rather than a wash and go if I don't think it will dry in time.
A big part of what makes natural hair fun is the versatility with various colors and styles. How do you prevent chemical damage?
Charmaine: For the most part, I try to make sure that my hair is very healthy before applying any hair dye that could compromise my curl pattern. That being said, I have definitely experienced chemical damage from bleaching or too much box color. Honestly, I try to be good but there are moments of impulse that have caused damage. In those cases I usually cut off the damage and start over. I kind of like putting myself in a time out lol.
What are inspired you to start a vlog?
Charmaine: I've always been a go-to person for my friends that want advice on fashion, beauty, career, and love so I thought if I can help them perhaps I can help others. In terms of hair vlogging, I had a very hard time finding YouTubers with my hair texture (still do) and I know it's very helpful to watch vloggers that have similar textures. What may work really well on someone's hair that is on the thick side, can be an absolute disaster for someone that has thin hair so I was hoping to help those girls out!
What do you like most about vlogging?
Charmaine: I love hearing that I am helping women feel good about themselves. Sometimes women just need that community and I think social media has an amazing way of connecting people from all walks of life from all around the globe.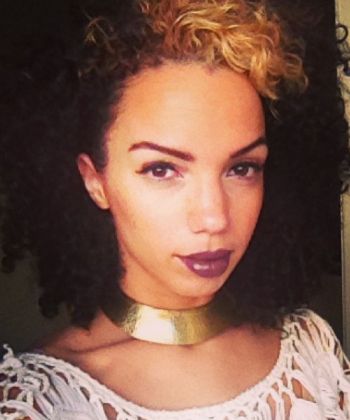 What do you want to do beyond YouTube?
Charmaine: I work in the apparel industry and I aspire to create something of my own one day. A brand, a line, I'm not quite sure what it is yet as I am interested in many things. I'm definitely using YouTube as an opportunity to learn what my strengths are.
Do you have any advice for new natural hair vloggers?
Charmaine: Don't focus too much on what everyone else is doing. You don't have to follow a specific checklist for your videos. People  like when you're unique so focus on what makes you different!

What is your number one piece of advice for women with curly hair?
Charmaine: Love your hair, but don't obsess over it! Make sure there is a healthy balance. I recently created something on my Instagram called a hairstrike (you can look up the hash tag #hairstrike2014) because I noticed that with all the hair vlogs and IG pages it is very easy to take something that we should love and be proud of and turn it into an unhealthy obsession. I told my followers I would be wearing my hair pulled back for a month to send the message that this part of me that draws a lot of attention is not the essence of me. By taking a break I wanted people to understand that I am ok without it and they can be too. I am aware of the power of influence through social media so I thought it might be a great exercise for women that may need it. I received so many touching stories from women suffering from hair loss due to fighting cancer to women with major insecurities that made them afraid to wear their hair pulled back. Anyway, love your hair, but don't obsess over it. A healthy balance in life is always best for our mind, body, and soul!
You can find Charmaine online here: