There's no excuse to wear your hair in a top knot or ponytail every day. Especially when curls, coils and waves are this versatile! Here are 30 different braided hairstyles to get you out of your topknot rut.
Many women curl their hair before starting a braid because they find that it helps give them the hold and volume that they're looking for, but if you have naturally curly hair you can skip that step and get right into the fun part!
1. Easy Messy Side Braid
You don't have to hide away your gorgeous curls in your braid. This quick, messy side braid by HoneysCurls lets you show off all of that curl definition.
2. French Braid
This tutorial by Luhhsetty will show you how to do one of the most basic braids there is: the French braid. Getting a grasp of this template will help you achieve many of the other braids on this list.
3. 2-Minute Half Crown Braid
You may (mistakenly) assume that a braided hairstyle has to be a time-consuming. That's not true with this 2-minute look by Hair Romance.
4. Ghana Braids
These braids go by many names, banana cornrows, Cherokee cornrows, invisible cornrows - just to name a few. No matter what you call them, they look gorgeous on J'AdoreMyCurls, who is lucky to have a sister who knows how to braid.
5. Inverted Braid
Once you've mastered the 3-strand braid, you are so close to being able to do an inverted braid! With a couple  minor adjustments you'll have two braids in your toolbox, just watch FarahDhukai's easy tutorial.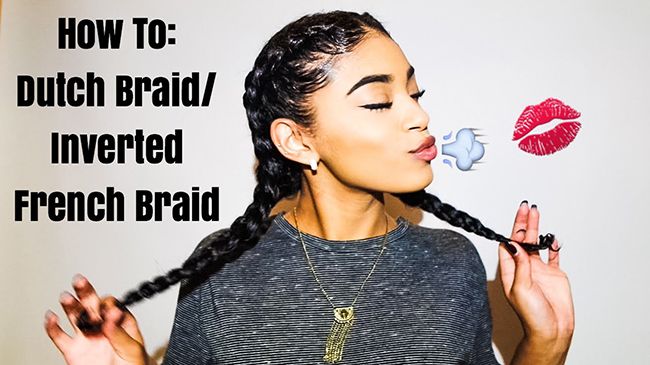 6. Double Dutch braids
A Dutch braid is another name for the inverted French braid. Once you know how to do one, you can easily do two to create Jasmine Brown's gorgeous double braid style.
7. Faux Goddess Braid
If you want the big, full braids that you see on Pinterest or Tumblr, but you don't have long or thick hair, you can create the look with Kanekalon hair. In this tutorial Yolanda Renee covers up her own twist with braided Kanekalon hair.
8. Waterfall Braid
This waterfall braid by Sandra aka Just Curly is another great way to showcase your curls, while keeping your hair out of your face.
9. Milkmaid Braid
If all you know is a simple 3-strand braid, you can still create an enviable look with this milkmaid style. We like that AsplashofDR left a few of her curls out in the front like bangs.
10. Lazy Curly Braid
If you love the look of a big, loose braid but you find that your hair is always falling out of the braid and you have to re-do it partway through the day, this hack by  CurlsBeauty could change your braiding life.
11. Braided Bun Loc Hairstyle
Whether you wear your hair in locs or not, this braided bun by Chescalocs will save your everyday bun from getting boring.
12. Faux Braid for Very Short or Pixie Cut
If you have very short hair, you may be accustomed to seeing hairstyle tutorials for "short hair" and thinking -- that's not short! If you're rocking a pixie then your hair is likely too short to actually braid, but this tutorial by JaaackJack shows how to fake it.
13. Braided Faux Mohawk on Short Natural Hair
Just because you have short hair doesn't mean you have to miss out on the fun of rocking a mohawk. In this video both Sadora Paris and Yolanda Renee show how they create a braided fauxhawk on their natural hair.
14. Jumbo Braid
Even if you have short hair, you can be whipping a long braid back and forth with Marley hair and a couple of minutes if you follow ImShineStruck's tutorial.
15. Box Braids
This style will take some skill to section evenly and time to complete (4-6 hours), but once you do you'll have amazing box braids like ForeverCryssy!
16. Half Up
If you love to wear your curls down but hate the feeling of having hair touch your face, this quick fix by MaddieCuan will give you the best of both worlds.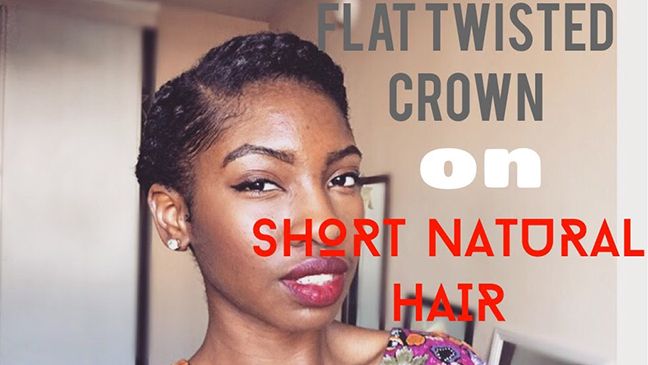 17. Flat Twisted Crown for Short, Type 4 Hair
If you are growing out short hair you may go through challenging stages. Yoli G says this is an especially useful style for the awkward stage of your natural hair journey.
18. French Braided Bun
Remember when we said those French braid skills would come in handy? This version uses a French braid up the back of the head, and while TheChicNatural styled her hair in a bun I think this would look gorgeous for a pineapple updo too.
19. Dutch Side Braid & Bun
The key to making this side braid look professional? Tug at the sections of the braid for volume and an imperfect look, just like Hair Romance does in her tutorial.
20. 
Micro Braids on Your Own Hair 
Sometimes it can be hard to see the steps in detail when it comes to braiding videos. That's why Breanna Rutter's detailed tutorial on how to micro braid using blonde hair as a demonstration is so helpful. 
21. Rope Braid for 2nd Day Hair
It doesn't get much easier than Waterlily716's rope braid. If  you haven't gotten the hang of a 3-strand braid yet, give this a try.
22. Half French Braid Ponytail
Do you wear a ponytail every day? Be honest. If you do, this quick embellishment by JustCurly can take your go-to style to the next level.
23. 
Bubble ponytail 
Here is an alternative for those who don't braid. Naptural85's bubble ponytail creates the appearance of a jumbo braid, but secretly it's not.
24. Cornrow Your Own Short Hair
YouTuber cynthikay obi says this technique takes a lot of practice to master, but keep trying because it's worth it. It works on most lengths, including short hair.
25. Fishtail Braid
Your Pinterest is full of fishtail braids, but they just look so... complicated. Hair Kandy breaks it down in this easy to follow tutorial. She uses close ups and different camera angles to make sure you really know what's going on.
26. Dutch Fishtail Braid
You could call this look by Fancy Hair a Dutch fishtail braid, but most people call it the Elsa braid (from Disney's movie Frozen). If Elsa were real, this is how she would have styled her hair.
27. Box Braids Fishtail
Once you've installed your box braids you have so many options to play with them. Here is one easy look by MyBlackHair.
28. Braided Topknot
Chronic topknot wearers, this simple twist by Hair Romance on your favorite style is just the change you've been looking for.
29. French Wrap on Locs
Chescalocs was inspired to create this look by a braided style she saw of runway models - who incidentally had straight hair. But she still made it work for her locs, and you can too.
30. Easy Braided Updo
Updos can run the risk of looking too "done" for every day wear. But when you have textured hair the slightly imperfect look of a few loose curls and flyaways works in your favor! We especially like that this look by Hair Minute only takes a couple of minutes.