Lively peppermint can get you going on those cold fall and winter mornings. Besides its exhilarating aroma, real peppermint oil can stimulate your scalp, keep dandruff in check, and even promote healthy hair growth. If you enjoy the signature scent of candy canes and peppermint lattes, these products are for you.
This treatment masque is made for parched curls that need both serious hydration and strengthening. Besides moisturizing oils of soybean, red palm, and pumpkin, it has rich shea butter, and hydrolyzed wheat protein. Botanical extracts of peppermint, yucca, nettle, horsetail and Melissa leaf leave you with smoother strands that are less prone to breakage. Reviewer Tiffany writes "…SCENT: The smell is a lime/mint/cookie scent. The mint can be felt very faintly on the scalp, but the scent is pleasant and smells like mint cookie to me.
2 / 10
Calm your scalp and soothe the itch while removing impurities with this hydrating conditioner. It has a jelly texture that is easy to distribute throughout your hair. It strengthens with panthenol and coconut oil to help your roots thrive, too.
3 / 10
This mega-hydrating masque will keep your protein/moisture balance intact. It is infused with fortifying silk proteins, and moisturizing baobab, argan, and avocado oils. It also contains aloe vera juice to smooth curls that tend to frizz easily. Its peppermint oil will calm any dry air-induced scalp woes. If you need great slip for detangling, this masque is a good choice.
4 / 10
Canviiy ScalpBliss Itch-Calming Organic-Based Serum is perfect for super itchy and inflamed scalps that need some extra TLC to get them back into balance. Just a drop or two will immediately stop the irritation. Its botanical blend of peppermint, lavender, witch hazel and manuka honey will help to calm inflammation and redness, and leave your scalp feeling restored. The itch relief is long-lasting, too.
5 / 10
This serum comes in a bottle with a nozzle for easy application when you are wearing protective styles, allowing you to effectively reach any areas of your scalp that feel itchy or tight. You can use it daily to help keep your scalp moisturized, while strengthening and fortifying your hair. If you tend to get flyaways avocado oil and aloe vera will help smooth them.
6 / 10
If you are looking for a light, yet moisturizing oil, look no further than this soybean and sweet almond oil blend. It will nourish your roots, and stimulate your scalp while helping to keep it free of flakes. The almond oil will help seal in moisture, making this an excellent choice for the LOC method.
7 / 10
For those days when you want to freshen your hair and scalp, but you don't have time for a wash, reach for Moisture Clenz. It can be used to keep waves, curls, and coils looking their best. Along with the peppermint you love, it also has green tea extract to moisturize and invigorate your scalp, and to prevent irritation.
8 / 10
Caring for your edges has never been easier with this once and done edge gel. It contains rosemary, mint, and castor oils which support growth. Its botanical extracts to calm frizz and flyaways. Biotin and coconut and babassu seed oils keep your edges strong and resistant to breakage. This flake free-formulation will give you the hold your need, too.
9 / 10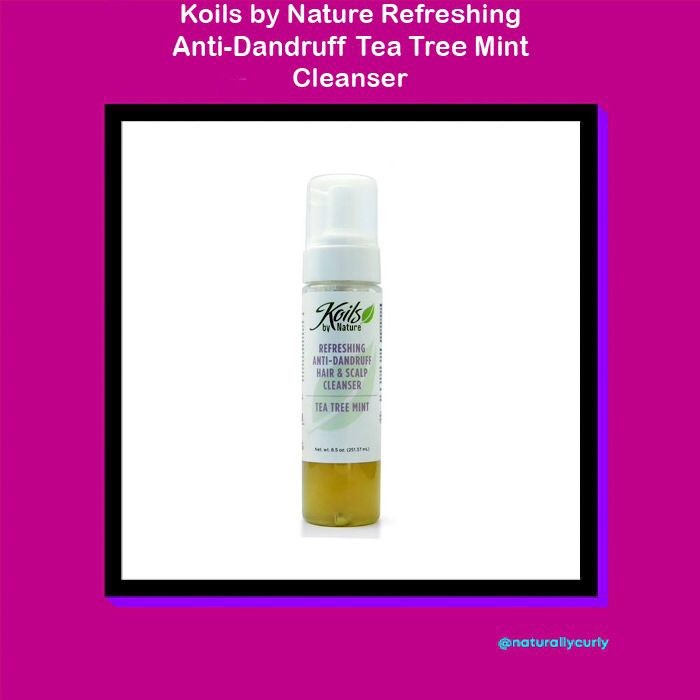 If you suffer from dandruff this time of year, this tea tree and mint cleanser can help restore your scalp back to its healthy best. It contains burdock root and bay leaf which are antiseptic powerhouses, and calendula which is excellent for getting the scalp back in balance. This cleanser will leave your hair smooth, shiny, and frizz-free.
10 / 10
Use this hair milk as either a leave-in or a light styler. You can apply it root to tip and not have to worry about it weighing your hair down. It contains a blend of apricot, sweet almond, carrot, and coconut oils that restore dry, parched, flyaway hair that has lost its luster. It gives your curls great sheen, and keeps them intact all day.
What is your favorite peppermint-scented product? Let us know in the comments. For more about peppermint oil, click here.